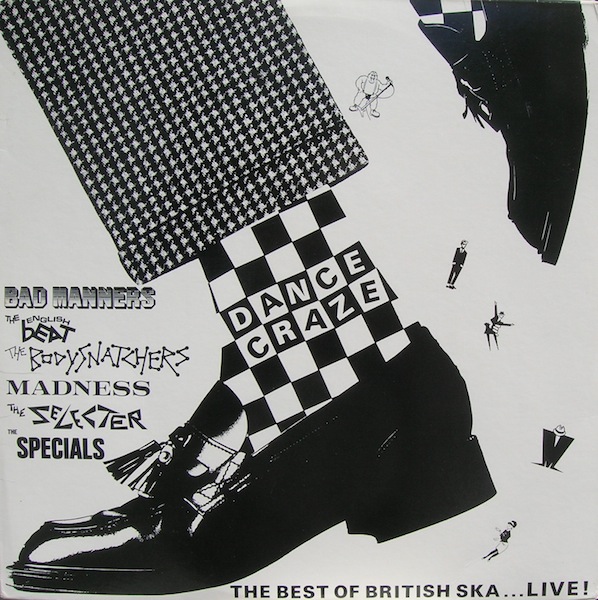 Dance Craze (Complete Album Download)
I love ska!
Okay, that was a lie. I just lied to you, and I apologize.
The truth is, I've never loved ska, no matter how much I try. I blame The Mighty Mighty Bosstones. Seriously, it's all their fault.
Like most stupid Americans, I never heard of ska until the mid-90s, when barely-ska acts like the Bosstones, Reel Big Fish and No Doubt broke the sound through to the mainstream. And, let's be honest, those bands and others like them were at their best slightly better than horrible. The Mighty Mighty Bosstones remain one of my most-hated bands of all time, right next to Creed and The Nixons (I have my reasons, okay?). I've done my best to forget about Reel Big Fish completely, and I only grew to tolerate No Doubt when the abandoned their ska roots for a more electronic sound.
So it's all their fault, they're why I hate ska. But I've been trying my best to educate myself, broaden my horizons. In doing so I've discovered that I actually like early ska! I know, I was shocked too, but the  2 tone (second wave ska) stuff out of England, I'm really beginning to dig that stuff. And this album is a big reason for that.
Dance Craze is like a Ska Urgh, a great compilation of early 80s tracks by artists both big (Bad Manners, The Beat, Madness) and small (The Bodysnatchers, The Selecter). It's actually the soundtrack to a movie that came out in 1981, although it's never been released on any format since, aside from VHS and that was only in England. (Although you can watch it on YouTube). The movie has 27 great performances, but the LP soundtrack cut that down to a slim 16 songs, which is a drag, especially considering amazing tracks like Madness' "The Prince" and "Too Much Too Young" by The Specials were among those cut.
But that doesn't mean the album was left with nothing but the dregs. The radical "Three Minute Hero" by The Selector is here, as well as an excellent version of The (English) Beat's "Mirror In The Bathroom." Thankfully we're also gifted with a rocking jam of "One Step Beyond" by Madness AKA the greatest ska song of all time ever in the history of anything ever (don't you dare try to correct me.)
Download and enjoy, and tell me about other 2-tone artists that you think I might dig.
Just don't try to sell me on the Bosstones okay? Many have tried, and I have destroyed all of them.
And in case you're wondering, here's the complete tracklisting:
Side One
"Concrete Jungle" – The Specials
"Mirror In The Bathroom" – The Beat
"Lip Up Fatty" – Bad Manners
"Razor Blade Alley" – Madness
"Three Minute Hero" – The Selecter
"Easy Life" – The Bodysnatchers
"Big Shot" – The Beat
"One Step Beyond" – Madness
Side Two
"Ranking Full Stop" – The Beat
"Man At C&A" – The Specials
"Missing Words" – The Selecter
"Inner London Violence" – Bad Manners
"Night Boat To Cairo" – Madness
"Too Much Pressure" – The Selecter
"Nite Klub" – The Specials
Also, a note to longtime readers of The Lost Turntable. I posted this soundtrack eons ago, but you should still download it again (if you like it). This rip is much better.
And one more thing. I was serious when I said I don't care if you like the Mighty Mighty Bosstones, Reel Big Fish or any other of those shit bands. If you leave me a comment about how my taste sucks I'll just delete it, so don't bother.