The world ended in 1990.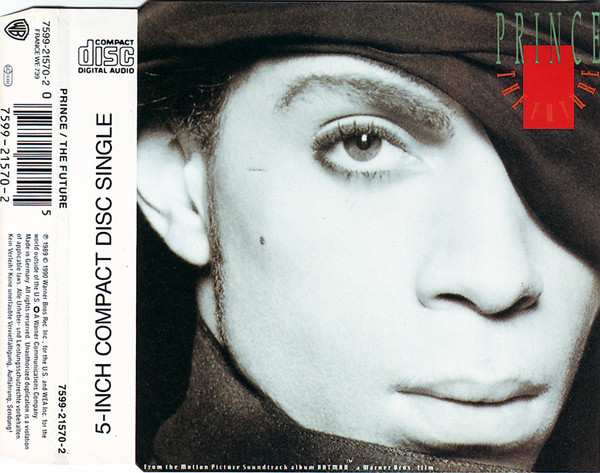 Prince
The Future (Remix)
Electric Chair (Remix)
These tracks are new to me. The original versions first appeared on the Batman soundtrack, which I still haven't bothered to pick up, one of the more embarrassing Prince-sized holes in my record collection. I found this single for just a couple hundred yen so I figured why the fuck not.
As I've never heard the original versions, I can't compare these remixes to them. If what I've read is any indication though, the mixes are pretty different from the album versions, especially "The Future" which is transformed into a straight-up house track thanks to the remix work of William Orbit. Geez, remember that five minutes when he was the hot shit producer? He did some great stuff with Madonna, but I don't think his work has aged particularly well, especially his solo stuff. Although to be honest, I think a lot of it wasn't all that great the first time around. I had a friend who kept a copy of one of his albums for years, specifically because there was a song on it that she thought was so bad that it was hilarious. That's some cold shit.
Anyways, yeah, Prince. He was cool. Fuck. I sure miss Prince. I was just getting back into his music when he died. Yo, Plectrumelectrum is a damn good record. I really recommend it, especially if you dig this remix of "The Electric Chair," it really reminds me of that album's groovy guitar funk. I hope Donna Grantis, the guitar player on that album, goes on to do some more work soon. She fucking slays man.
As much as I dig Prince, I remember that Batman was one of the first times I wasn't 100% up with what he was putting down. I didn't really dig the Batman movies as a kid all that much, I guess. I mean, I liked them. But they were a little too dark for my tastes. God, if 10-year-old 1990 me thought that Tim Burton's Batman was too dark, he probably would've pissed his pants and crawled into a fetal position if he had seen any of the Dark Knight movies. Burton's Batman movies are absolutely day-glo happy fun times compared to those flicks, which I have kind of grown to despise because of their grimdark bullshit wankery And even my 10-year-old self could tell that Prince schilling for Batman wasn't exactly cool. "Batdance" is a stupid, stupid fucking song. And the video is just as dumb. Holy hell, speaking of shit that didn't age well.
Come to think of it, Batman kicked off my cold spell on Prince. While I dug "Gett Off" (not understanding what it was about) I didn't like most of the other tracks off of Diamonds And Pearls, and when Prince went full symbol on us all I (along with most people) dropped off completely. Coming back to a lot of those albums now, I really do enjoy them. But I think they would've bored grunge-era teenage me to death. Best I avoided them at the time.
Whilst I was complaining that the Michael Jackson estate hasn't given the fans what the want, the Prince estate seems to slowly getting their shit together. Did you know that earlier this year they put TWENTY-THREE out-of-print Prince albums on iTunes and various streaming services? Yeah, sure a lot of them aren't exactly great (although Emancipation is fucking rad as fuck) but hey, at least they're out there now. Prince's estate even curated a special digital only best of that encompasses his 1995-2010 work, which has historically been very hard to dive into thanks to its eclectic nature. My next vacation I'm going to have to buy all of this and just spend a week in Prince World.
Prince World is great, everyone. It's all purple (duh) and all the clothes are custom-made to fit out that day, just as Prince would've wanted. And absolutely nothing is on high shelves.
Because Prince was tiny.