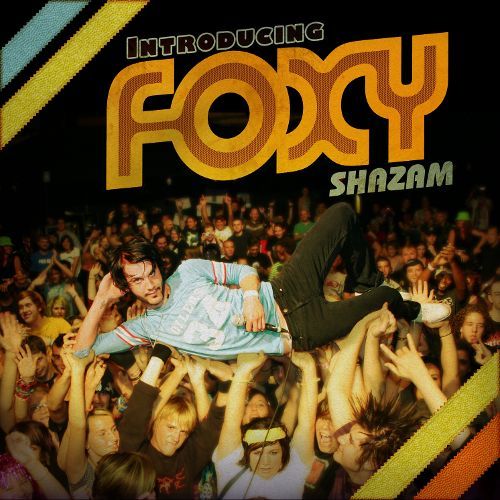 Foxy Shazam
Born To The Devil
Sky In A Room
Drain You
I'll Be Home Soon Mother Earth
Yesterday, Today and Tomorrow
If you're reading this close to its original "publication," then you still have a chance to own one of the greatest albums of all-time on vinyl for the first time. Enjoy The Ride records recently released Foxy Shazam's self-titled album (their third overall and their major label debut) on vinyl. While the colored variant has sold out, some copies of the equally-limited standard black vinyl variation remain.
I really, really (really really really really….really) cannot express in words just how great that album is. When I reviewed that album in 2010 I thought "this will probably be the best album of the decade." Now, here we are, nearly nine years later, and I'm still standing by that. And here we are, nearly nine years later, and I still can't find the words to properly describe it. I think the best I came up with at the time was something like "one part screamo, one part Queen, and one part a kick in the genitals." I guess that's still the best I can do. But if you don't like screamo (I sure as hell don't) still give them a chance. By the time of their third album, that element of the group had definitely been put on the backburner. It was still there, that's for sure, but the glam and classic rock influences had more than taken over.
Of course, as their self-titled album is in-print (and I'm actively encouraging you to buy it) I can't share tracks from that. Instead, above are a few of my favorite Foxy rarities, taken from various sources. The first two numbers, "Born To The Devil" and "Sky In A Room" a bonus tracks to the Japanese edition of their second album, the oddly-titled Introducing. "Born To The Devil" sounds a lot like the other tracks on that (awesome) album, a bizarre combination of howling and yelling with a strong piano base, whilst "Sky In A Room" is a solo instrumental number by the keyboardist Sky. Low-key and pretty.
Their bewildering cover of "Drain You" is taken from a 2011 online-only Nevermind tribute album, put out by Spin Magazine. That album is not very good. It has Amanda Palmer butchering "Polly" as only she can, and other ill-advised reworkings of Nirvana classics. Midnight Juggernauts are a good band. Their electropop cover of "Come As You Are" is bad. The only solid tracks on it are The Vaselines' cover of "Lithium," EMA's take on "Endless, Nameless" and this insane reworking of "Drain You" by Foxy, which all but deconstructs the song entirely into something else. If you're coming to this hoping for a faithful rendition of the Nirvana song, you'll be let down. But if you've ever wondered what Nevemind-era Nirvana would sound like as if sung by Freddie Mercury and with a horn section, then hey, this cover's got you covered.
The final two tracks are, at least from what I can gather, vinyl only B-sides. "I'll Be Home…" serving as the B-side to "I Like It," and "Yesterday, Today and Tomorrow" the B-side to "Oh Lord."
"I'll Be Home Soon Mother Earth" finds Foxy in full classic rock mode. If you told me this was a track by some long-forgotten 70s has-been act that was oddly proto-screamo I'd believe you. It's a good number, but it pales in comparison to "Yesterday, Today and Tomorrow," which I still think is secretly Foxy's best damn song. How the hell this ended up as a vinyl-only B-side will forever remain a mystery to me. Not only should this have been on the album proper, it should've have been the lead fucking single. This track is a distillation of everything that made Foxy the powerhouse they were. Amazing vocals as always by Eric, fantastic work on the keys by Sky, a boundless energy that demands you get up on your feet, and absolutely incredible lyrics of self-reflection that rival Aerosmith's "Dream On." Fuck. This song kills me. If Foxy reformed tomorrow and released this track as the lead-off single, I bet it would chart better than any of their other tunes.
So, if you like anything I'm sharing here tonight, I implore you, with all my heat, buy Foxy Shazam. Buy it on vinyl if you can, but hell, pick it up on iTunes or even on CD if you want. It's best album by the best band of all-time. And keep on the lookout for Eric Sean Nally's solo album! He keeps alleging it'll come soon. I hope it does. Dude made Macklemore sound cool, he can do anything.