I think I've made it abundantly clear over the years that I enjoy buying really stupid records for no apparent reason other than the fact that I find them really funny.
Those are just some samples, dig deep into the "Complete Albums" category if you're in the mood for some completely random nonsense (many of those posts' MP3s are still active because I don't think anyone is going to sue me over any of that idiocy).
Living in Japan has afforded me a whole new opportunity to find weird and wonderful (and wonderfully stupid) obscurities. Just a few weeks ago I shared a track from the Street Fighter: The Movie soundtrack, and now here I am about to write about an all-synthesizer compilation of Lupin the 3rd theme music.
Lost Turntable: Because If I don't who will.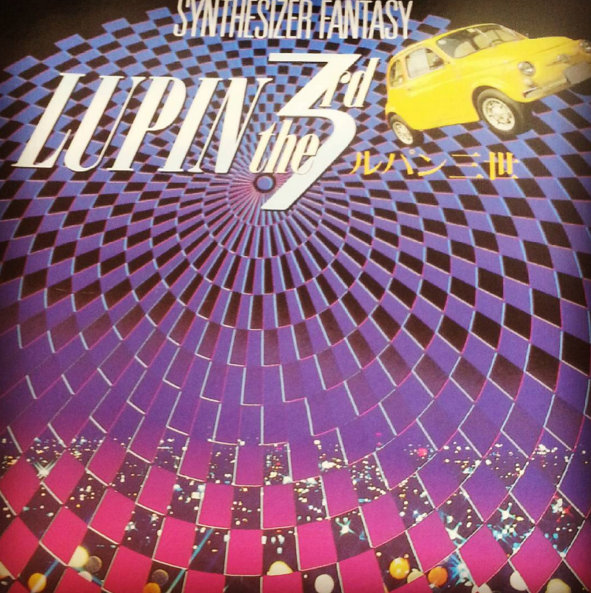 Lupin the 3rd Synthesizer Fantasy
I totally bought this for laughs and thought it would be a fun goof. While I love me Moog and/or synthesizer covers records, I've soured on them slightly over the years because so many of them are boring and usually nothing more than obvious cash grabs.
So for me to buy one now it really has to stand out. Or, in the case of this record, cost me less than five bucks.
Not a big investment, so I took the risk. And guess what? This record is fucking rad! Seriously, even if you don't have any interest in Lupin at all (and if you don't what the fuck is wrong with you, Lupin is dope), you need to check this one out.
This album came out in 1984, and as such it's actually a pretty impressive considering that was still fairly early in the history of the all-digital synthesizer. The linear notes don't mention specifically what type of synthesizer was used in the creation of this album, but if I had to guess I would say it was composed using a Synclavier, and probably one similar to the one used by Frank Zappa for Jazz From Hell. It certainly has that vibe, and even shares some of the sound effects found on that record (which I really recommend for synthesizer enthusiasts.
If I had to describe the sound of this record I would say it's probably half Super Famicom video game music (those steel drums!), one-third background music for 80s commercials, and one-sixth (I think that math checks out) cheesy 80s pop music. Parts of it makes me think of Level 42's "Something About You" although that comparison might be a little off-base.
(Unrelated: I just discovered I have an eight-minute remix of that song on my computer for some reason. So guess what I'm listening to right this minute.)
So yeah, it's a bit on the cheesy side of the synth-spectrum. But it's authentic, perfectly aged cheese like a nice gouda. I appreciate the real cheese. Fuck fake cheese.
This reminds me, and I'm sorry to go off on a tangent here, today I was in a cool little indie record store and they were playing this song by Aussie artist Kirin J. Callinan, and my god that's the kind of shit that pisses me off the most. Look at those assholes. They think they're better than the music they're playing. An insult to a genre and time of music that had more influence and lasting appeal than anything they'll ever try to force upon the public.
Fuck that and fuck them. Don't discount an entire style of music just because it's old and hasn't aged entirely well. We're 10 years removed from Arcade Fire's first LP, and who's to say? Maybe in ten more years people will be making ironic baroque-pop videos spoofing their style. And they'll be inauthentic boring assholes too.
I wrote a whole thing about this. It's an issue for me.
Anyways, where was I? Oh yeah, synthesized covers of Lupin themes.
You can tell this record was made with sincerity. You can also tell, with it's incredibly narrow focus and probably small target market, that it was definitely a product of Japan's bubble economy.
The album was performed by Osamu Shoji. Apparently he started out in the 70s creating original electronic albums that appear to be very much like Tomita and other synthesizer performers of the era. But then he branched out into the covers arena, first releasing an all-synth Bee Gees album (HOLY SHIT) and then a synth/disco take on Star Wars.
I need to find that album.
Anyways, he really went into high gear with the synth cover albums in the mid-80s with the"Synthesizer Fantasy" series. In addition to Lupin, he also released all-synth versions of themes to animes such as Vifam, Gundam and Orguss. Additionally, he composed the original score to the acclaimed (and hyper-fucked up) anime Wicked City. The soundtrack of that was actually just re-released on vinyl by Tiger Lab.
Nearest I can tell, he's still kicking it. Although he hasn't released a new record in over 20 years. I definitely need to track down more of his work though, if this album is any indication it must be pretty damn great.