Yo today I met HIRO, the composer behind the music to every great Sega game ever so I'm in a great mood and here's some weird shit to celebrate my great mood of greatness I feel great yay.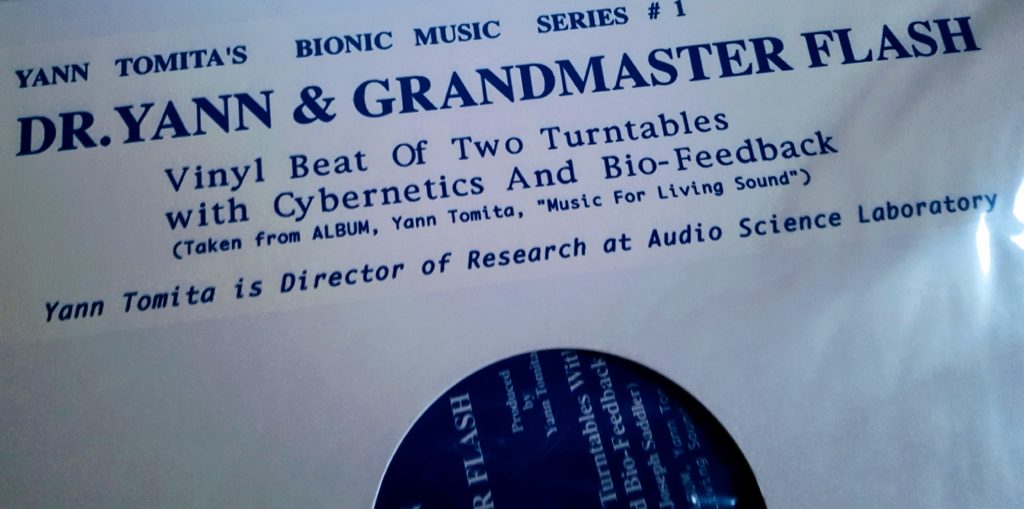 Dr. Yann Tomita and Grandmaster Flash
Vinyl Beat Of Two Turntables with Cybernetics and Bio-Feedback (English Version)
Vinyl Beat Of Two Turntables with Cybernetics and Bio-Feedback (Japanese Version)
I got two turntables and…a lot of other stuff.
Dr. Yann's full name is Yann Tomita (no relation to other Tomita). I don't think that he is a real doctor, but judging from his discography he's certainly a musical visionary of sorts. He seems to enjoy dabbling in just about everything in every genre, often with some form of experimental electronics.
Take this track, for instance, in which he combines the turntable skills of the legendary Grandmaster Flash with a few different biofeedback devices. Some are hooked up the Grandmaster, some to Tomita. All convert the signals they receive into some kind of sonic output. The track itself actually explains the process in the introduction (the only differences in the tracks are the introductions, by the way).
This is experimental music in the most direct sense, this is an experiment to make music. Does the experiment work? You be the judge. I certainly find it interesting even if it does kind of all apart near the end.