I got a few new followers it seems, so I'd like to let all of you know that I actually have another website called Mostly-Retro, where I ramble about all things music, movies and games (but mostly music). Check it out. Right now I'm writing about obscure grunge rock. I'm sure that appeals to someone either than me. Maybe.
Moving on. When I posted Hulk Hogan & Itch-Band a few weeks back I had a sneaking suspicion that it would catch on and gain some traction with the online wrestling community. However, I didn't suspect that it would be the most popular thing I've written all year. Like, by a lot. My hits usually hover in the mid-to-high hundreds. That one garnered me a few thousand. And if I'm anything I'm a sucker for attention so, congratulations you all, you made me do this.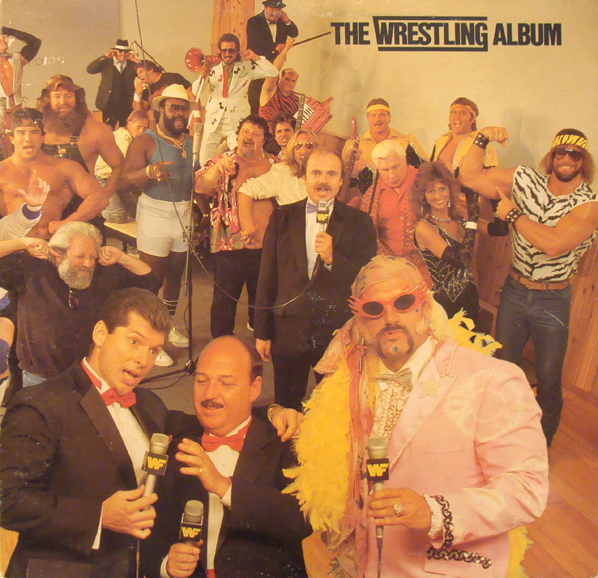 The Wrestling Album (Complete Album Download)
The Wrestling Album, released in 1985 and the he first WWF/WWE album. It was produced mostly by Rick Derringer with some assist by Cyndi Lauper, under the pseudonym of Mona Flambe. It features 10 tracks in total, and is a combination of wrestler theme music, oldies covers, a few comedic bits and original tunes. All singing duties on the album are performed by either wrestlers or other WWF personnel, with appearances by Junkyward Dog, Jimmy Hart, 'Captain' Lou Albano, and many others. The album is mostly known for its all-star single, a cover of "Land Of 1,000 Dances ?!!?" that features pretty much every wrestler the WWF had at the time.
Oh. And its the worst album I've ever heard in my entire life.
And that's really saying something! Because A: I've listened to a lot of shitty albums and B: I actually like two tracks on this record. But it goes to show you just how damn bad the rest of it is.
But before I get to the dogshit, the good tracks. First up, Derrenger's "Real American." While it's most famous for being Hulk Hogan's theme music during the majority of his time in the WWF, here the song is billed as the theme music to the U.S. Express tag team. However, they bailed on the WWF not long after this album came out, so the song was re-purposed as the Hulkster's theme music. Still a classic, I get goosebumps of nostalgia every time I play it. Not just that, I do think it's an honest-to-goodness good song. Not many songs can be blatantly patriotic while avoiding sounding nationalistic, so good job on Derringer for pulling it off.
Trivia note: the backup vocals are by Cyndi Lauper!
The other good track is "Hulk Hogan's Theme." This served as the theme to Hulk's cartoon and was, as the title suggests, was also Hulk's theme song for about five minutes in 1984. This track was written by Jim Steinman of Meat Loaf fame, and would go on to be reworked as "Ravishing" by Bonnie Tyler. So yeah, it's an alright tune.
Okay, now that I got that out of the way – everything else on this album is dogshit of the worst variety. "Mean" Gene Okerlund covers "Tutti Frutti" and it's abysmal. Jimmy Hart drops the dis track "Eat Your Hart Out Rick Springfield" and – wait a second, "Hart?" Is Jimmy Hart asking Rick Springfield to eat…okay I'm gonna move on now before I get incredibly unfortunate mental pictures stuck in my head.
One of the stranger tracks on the album is "Rowdy" Roddy Piper covering the obscure Mike Angelo & The Idols' track "Fuck Everybody" renamed to "For Everybody." This, of course, completely changes the meaning of the song into complete nonsense, but that's the least of its problems as Roddy can't sing for shit. Seriously, he sounds like someone is pulling out his testicle hair with a pair of tweezers. There's a reason why They Live didn't have a musical number.
Junkyard Dog, Hillbilly Jim's , and Nikoli Volkoff all have songs too, but they're just run-of-the-mill horrible and barely worth talking about. What is worth talking about, however, is "Captain Lou's History Of Music/Captain Lou." This is the worst song I've ever heard in my entire life. No question. The constant wailing by The Animal, the hideous carnivalesque music, the bland production (thanks to Cyndi Lauper) and, at the forefront of the shit, Captain Lou's atrocious, hideous, craptastic singing. If you have any esteem for Captain Lou, wrestling, Cyndi Lauper or pretty much "the 80s" as a singular thing, you've been warned – this might destroy all of that.
As for the all-star rendition of "Land of 1,000 Dances ?!!?," well, that's just kind of cute. I mean, yes, its horrible and not a single wrestler who makes an appearance on the track can actually sing, but none of them are really trying to. It's just a joke track, a novelty number and nothing more. Yeah, the joke is horrible and the novelty wears off after about one minute, but it's a hard song to outright hate. Or maybe my hatred for it is just dulled because, when compared to the sonic manure that makes up the rest of the record, it's downright Grammy-worthy.
The WWF certainly thought the track was noteworthy. It was the only song from the album to get a video, and they even released it as a 12″ single, complete with an extended version and an instrumental. Now, I know what you're thinking, what idiot would be dumb enough to buy that?
Yo.
The Wrestlers
Land Of 1,000 Dances (Dance Version)
Land Of 1,000 Dances (Instrumental Version)
So if you were listening to the album version of this track and thought, "you know what? This needs to be about two minutes longer and end with a wicked drum solo," then you are in luck. As for the instrumental, you should download it just so when people ask you "what's the dumbest, most pointless song in your MP3 collection? you have an easy answer.
Enjoy the horribleness. One more wrestling album coming soon.
It's slightly better than this one.
Slightly.