Another week, another amazing 2LP bootleg. This time it's from David Bowie.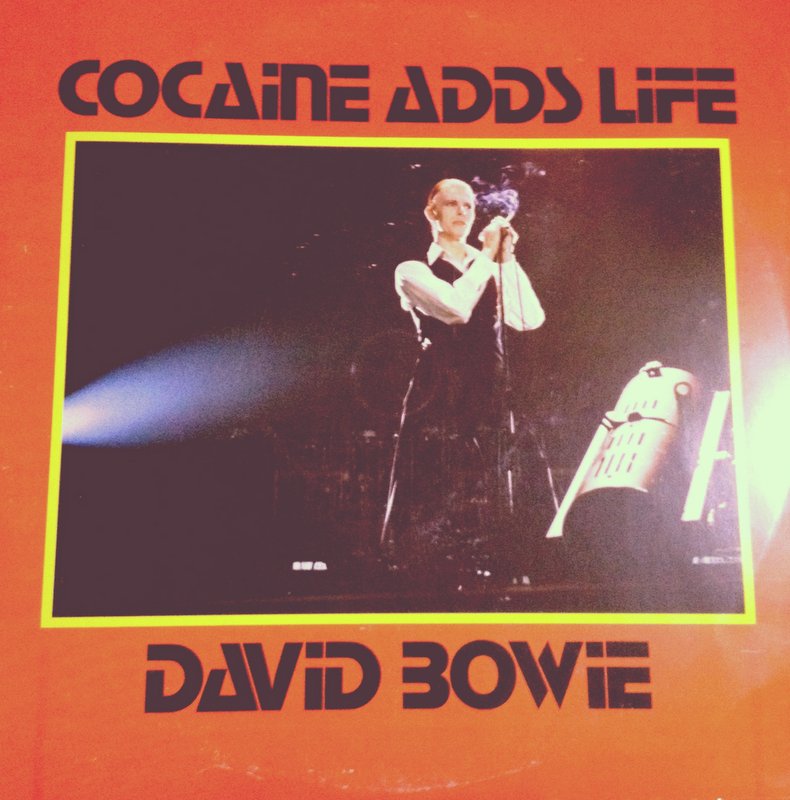 Cocaine Adds Life
The wonderfully titled Cocaine Adds Life mostly features tracks from mid-70s Thin White Duke Bowie (hence the title), but it also throws in some random 80s stuff on the last side. While Discogs sites the album as coming out in 2008, I think that's a repressing, and that the version I have actually came out in 1984 (as this site claims). If the back cover of my version is to believed, the bootleg label responsible for this release only printed 200 of these bad boys (mine is number 66), making it a pretty rare find.
Regardless of where and when it came from, and how rare it is, it's a great bootleg full of some pretty interesting stuff. The first three sides are a complete concert, recorded live at the Rotterdam Sports Palais Ahoy on May 13th, 1976. The recording is from a soundboard, so it's crystal clear, if a little flat. Although Bowie complains on the recording that he's suffering from a bit of bronchitis, he sounds great as the band plays through some of his best material of the time, including "Station to Station," "TVC15" and "Diamond Dogs."
The final side of the bootleg is a grab bag of bonus cuts culled from a variety of sources. First up is a recording of Bowie performing "Sweet Jane" with Lou Reed on July 8th, 1972 in London. It's a real rarity, which makes up for the fact that the recording kind of sounds like garbage. After that there's another super-rare one, Bowie doing a cover of The Beatles' "This Boy," performed on July 18th, 1972 in Aylesbury. It also sounds pretty bad though.
That's followed by "Sister Midnight," taken from a performance in Toronto on February 26th, 1976, and a version of "Sound and Vision," that's from a show in London on July 1st, 1978. These sound bad, but better than the previous tracks.
Finally there are a pair of tracks taken from two shows in Brussels on April 18th and 19th, 1983. The first is a rare live version of "Joe The Lion" and the second is a cover of The Who's "I Can't Explain." These also sound okay, but not great.
Truth be told, the final side is pretty much a wash when it comes to sound quality, although those versions of "Sweet Jane" and "This Boy" should probably be of interest to Bowie completists out there. Like I said before, the real treat here is the complete concert from 1976. It sounds great and is well worth a listen. I hope you like it.
Complete Track Listing
Rotterdam Concert – 5/13/176
Station to Station
Suffragette City
Fame
Word On A Wing
Stay
Waiting For The Man
Band Introduction
Changes
TVC15
Diamond Dogs
Rebel Rebel
Jean Genie
Additional Tracks
 Sweet Jane – 7/8/72
This Boy –  7/18/72
Sister Midnight – 2/26/76
Sound And Vision – 7/1/78
Joe The Lion – 5/18/83
I Can't Explain – 5/19/83