How you been?
In the past three weeks my computer died, my three-year visa was denied (leaving me with another shitty one-year visa) and my body decided to revolt against me (again), striking me with what I think might be a recurring bout of atypical pneumonia.
So what I'm saying is, I don't want to hear any complaints about tonight's musical selection. It's my shitty month and I'll listen to ambient soundtracks of anime if I want to.
Fumio Miyashita – Hino Tori Uchu-Hen
Like I said, it's been a rough week, so I'm going to be real with you, I had no idea what Hino Tori Uchu-Hen was when I bought this album. I also had no idea who Fumio Miyashita was. I bought this album solely because of the back cover, which lists about a billion different digital synthesizers and computers as the instruments used.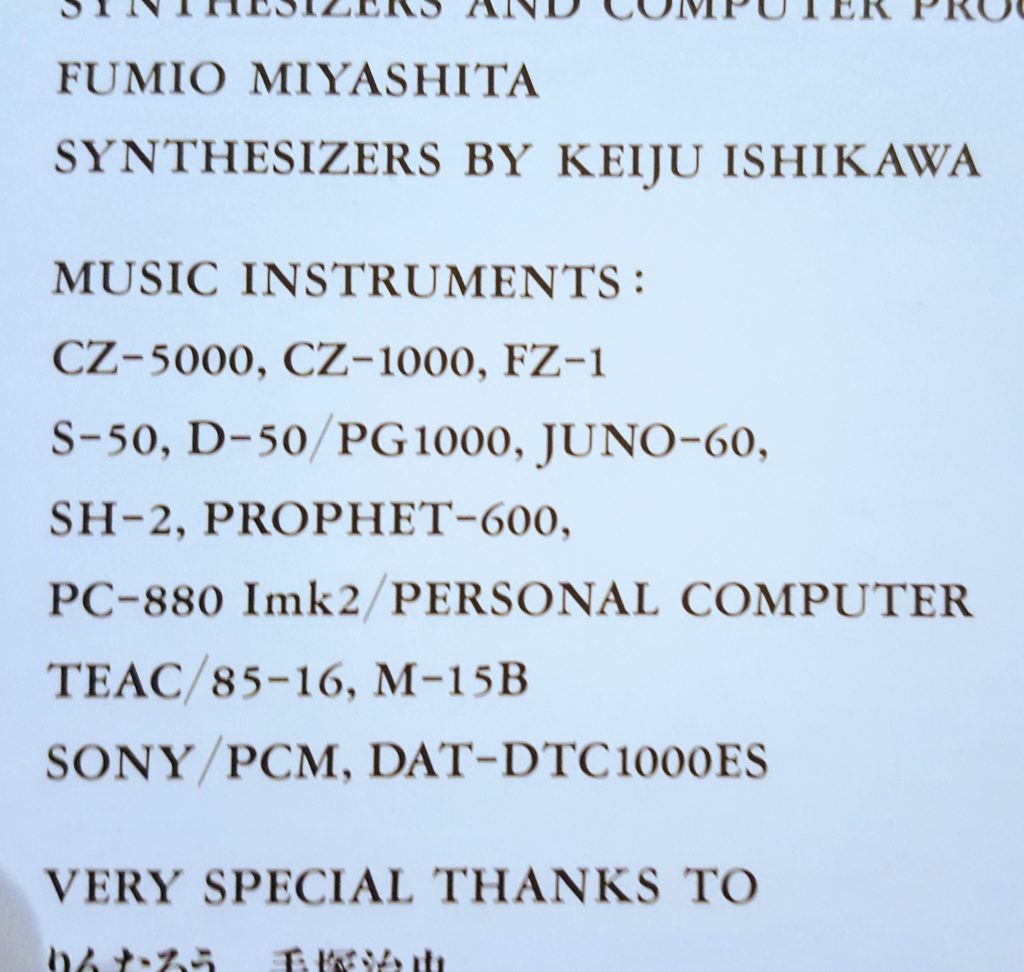 That's usually a guarantee for me that I'll dig something on the album. And I certainly found a lot to dig here. Some of this is straight-up ambient background music you'd expect to find in a mid-80s anime, but it also diverges a bit into Tangerine Dream sequencer territory (aka my favorite territory) as well as some more traditional-sounding pieces that sound like they were performed on an organ but were no doubt performed on a synthesizer doing its best impersonation of an organ. It even has a pop song on it, the not-at-all-bad-but-entirely-forgettable "Showers of Gold."
And it's not about that kind of golden shower you pervs.
This is good chill out music for me. I just had this on loop for about two hours yesterday while I organized my iTunes library and tried not to think about the fact that I couldn't breathe.
It turns out that the composer, Fumio Miyashita, was somewhat well-known for his chill out music. Even my boyfriend owns a couple of his CDs, which he listens to when he wants to, surprise, chill out. According to him, people used to go to his concerts to lay down and just relax (with no drugs I swear – it's Japan).
I want to get more of his stuff, and that shouldn't be too hard as it turns out that a lot of his anime soundtracks are pretty easy to come by here. I'm not interested too much in his "relaxation music" though. I like my new age in small doses for the most part.
What I do want to dig into more is his prog history though. In the seventies the dude was in two very influential Japanese prog acts; The Far East Family band and Far Out. Their stuff is slightly less easy to find, which is a bummer. But what I heard online I dig. It's weird as hell. Turns out Kitaro was in that group. Did they invent new age prog? I don't know if that would be a good thing or not.
I should also probably mention what this is the soundtrack to. Hino Tori Uchi-Hen is an animated movie from 1987, based on the mange by the same name. The manga was the work of Osamu Tezuka, who is best known as the creator of Astro Boy. Like I said, I never saw the movie, but if it's half as chill as this, maybe I should check it out.
It's kind of hard to get into anime when you live in Japan, as almost none of it has English subtitles. It's like that episode of the Twilight Zone with the dude and the books, but with way more anime boobs.
Oh, one more thing happened this week. I met Hideki Matsutake, aka Logic System, aka the guy who played the sequencers on all the best YMO albums as well as a dozen other classic Japanese techno-pop records.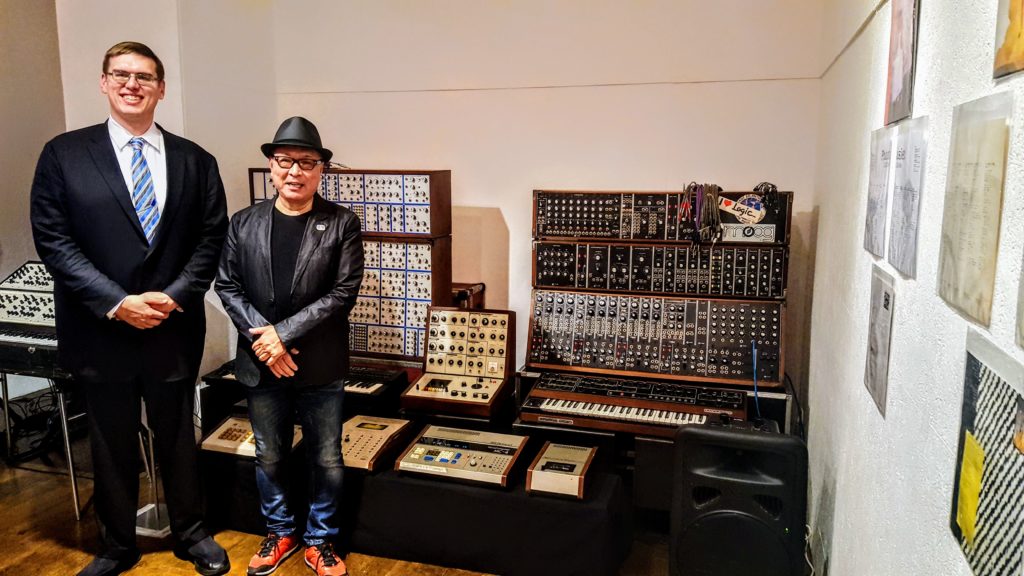 I'm on the left.
I was quite excited. Although if I knew I was going to get a picture with him, I would've rocked my pink tie.