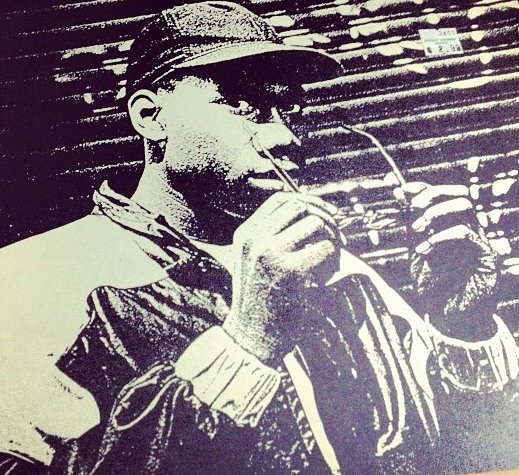 When I posted excerpts from the I'm Gonna Git You Sucka soundtrack a few weeks ago (which can be found here) there were a few comments about the singles from the album, and the remixes they contained. I didn't even know such singles existed! So I thank those who mentioned them. The Discogs merchants from whom I bought them from probably thank you as well. And now all the readers should thank you too, because here are some remixes from the said singles.
Boogie Down Productions
Jack Of Spades (Extended Remix)
Jack Of Spades (Instrumental)
I'm Still #1 (Extended Remix)
I'm Still #1 (Numero Uno Re-Recording)
How bad-ass is KRS-One? So bad-ass that he sounds like a mean motherfucker even when he's rapping about a character in a Wayans Brothers comedy. That's pretty damn mean. "Jack Of Spades" is pretty much just a rap re-telling of Jack's story arc in I'm Gonna Git You Sucka, so I guess the song should feature a spoiler warning if you're still interested in seeing the movie.
"I'm Still #1″ wasn't on the I'm Gonna Git You Sucka" soundtrack, so instead of being about how awesome Jack Spade is, it's about how awesome KRS-One and crew are. His argument is pretty convincing.
K-9 Posse
This Beat Is Military (Hard Corps Version)
This Beat Is Military (Hard Corps Radio Edit)
This Beat Is Military (Hard Corps Dub)
This Beat Is Military (Basic Training Version)
Turn That Down
When I previously talked about this tune I described it as one of the most brilliantly stupid rap songs of all time, and I still love it for its unwillingness to veer away from the "I'm as hardcore as a major military force" metaphor. As for these alternate versions, the "Hard Corps Version" is pretty similar to the original aside from some added beats, while the dub and radio edits speak for themselves. The "Basic Training Version" is radically different though, no A-Team opening (sadly) and the hard-pounding military-inspired beats are cut and replacesdwith some really out-of-place keyboard loops. It also puts a really big emphasis on the line "Def Jam? What's that? Are we cut?" I sense a beef there. Finally there's "Turn That Down," and while that may sound like a different song, it's really just an instrumental/dub version of the "Basic Training Version." They keep in an opening Def Jam dis though.
Man, I really want to know what went down between the K-9 Posse and Def Jam, they seemed pissed.
Now for some non-I'm Gonna Git You Sucka hip-hop that I've been hanging on to for a bit.
Run-D.M.C.
30 Days (Instrumental)
Sure, this probably appeals to about five people. But I got it, so here it is, a seven-and-a-half minute instrumental version of a Run-D.M.C. song. Enjoy
Mantronix
Bassline (Club Version)
Bassline (Instrumental)
Bassline (Radio Version)
Technically this isn't hip-hop, it's electro, but whatever.