So I got this in the mail last week.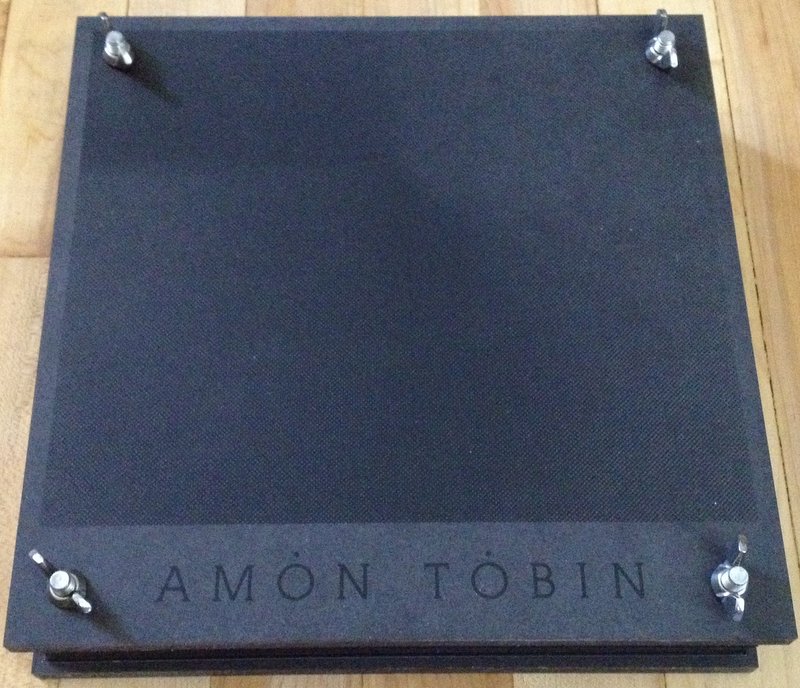 For those who may not recognize it, this is the new Amon Tobin box set from Ninja Tune. Amon Tobin is an electronic musician from Brazil, whose body of work is an impressive collection that touches upon a variety of genres, including IDM, drum and bass, hip-hop and even ambient. He's diverse.
He's also apparently incredibly productive. This box set, which is comprised almost entirely of unreleased material, features seven CDs, 2 DVDs, and 6 10″ LPs of content. In addition to that, the download code for the LPs also includes several bonus tracks and remixes that they couldn't squeeze into the box. Not including the DVDs, that's 160 tracks of music, 10 hours of stuff. And at $120 bucks, that's one hell of a deal.
But I don't really want to talk about the music (it's all pretty great) what I want to show-off here is the box set itself, because it's nuts. In case you couldn't tell from that first pic, the entire thing is set up like some sort of industrial press (why Trent Reznor didn't think of this first is beyond me).  So, instead of simply opening the box set like any other super deluxe edition, you have to unscrew it.
As you can tell from that pic, thankfully the box set has butterfly washers, so you don't need any special wrench or screwdriver to pry it open (although how awesome would that have been!) The screws don't need to held in that tight, so the washers come off with minimal effort.
The presentation remains pretty stellar even after the screws are removed and the box opened. Lying right on top is a folded poster. Which is cool, but not the best, the major creases really take away from it as a piece.
It picks up though. From there we get to the real meat of the content, the seven CDs and two DVDs. They're presented on three carboard platters, which are way more sturdy than they look.
On the back of each platter/base/whatever are tracklistings for each disc.
The packaging for the LPs is similar, the only difference is that the sleeves are black.
At the very bottom of the box are four more pieces of art, all of which are way more interesting than the larger, folded poster that is at the top of the set.
In all my years of record collecting, I've never seen a package as unique and interesting as this one. I think there are a few left on Ninja Tune's site, so if you got the bucks, I recommend picking it up.