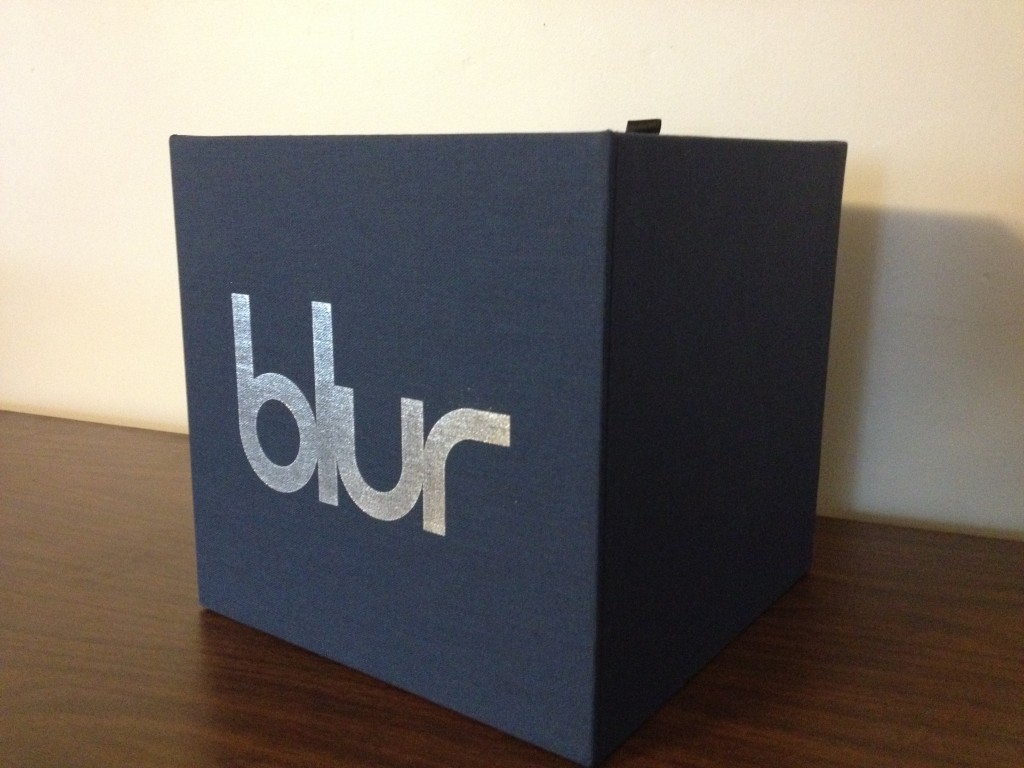 Quick review-type-thing for those with short attention spans: the Blur 21 box set is as awesome as it is huge (and in case you didn't know, it's freakin' huge). So if you like Blur, you should probably just go ahead and buy it. If you want to know what makes it so awesome (and in some cases, a little less than awesome) feel free to read on. However, I want to note that this is not a full-on review of the box set. This thing is huge (seriously, I'm going to use that word a lot to describe this beast) and I haven't had time to absorb it all, so I don't think it's fair to call this a review because of that. Like the headline says, these are my first impressions of the box, nothing more nothing less.
Now let's do this.
Sound Quality
Since an alarming number of people come to this blog to find out about this stuff, I suppose I'll cut right to the chase and start with my findings about the quality of the remaster.
According to the promotional materials for Blur 21, only the first five CDs have been "remastered." As longtime readers of my blog know, "remastered" more often than not really means "take out the dynamic range and compress the song so its all a loud pile of shit." So how do the remastered Blur CDs make out? Well, see for yourself. Below are screen captures of waveforms from five songs, one from each remastered CD. In each capture the top waveform is from the original non-remastered version of the album, while the bottom is taken from the remastered edition. Below each screen capture are measures of each version's dynamic range (the difference between the loudest and quietest parts of a recording). The higher a dynamic range, the more of a difference. For the most part a  higher dynamic range is better.
There's No Other Way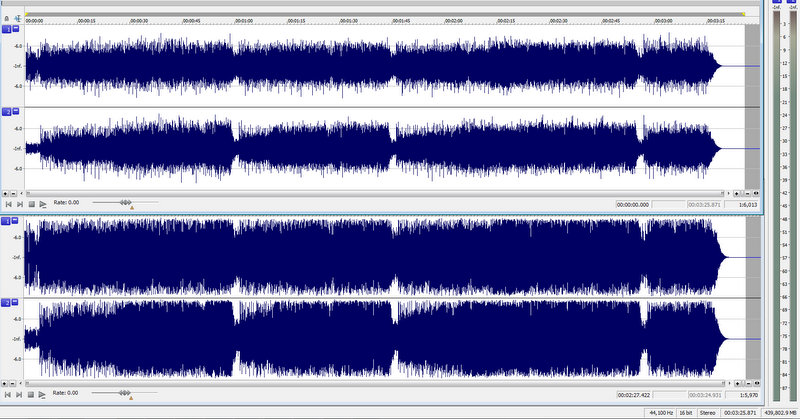 Original – 11
New – 7
Chemical World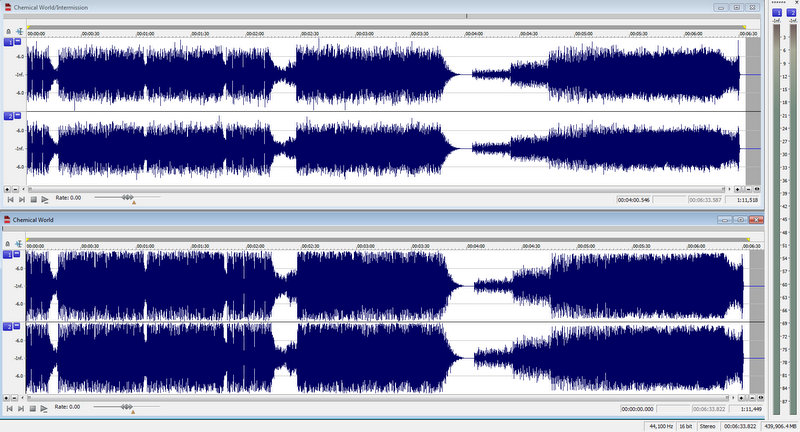 Original – 12
New – 9
Girls & Boys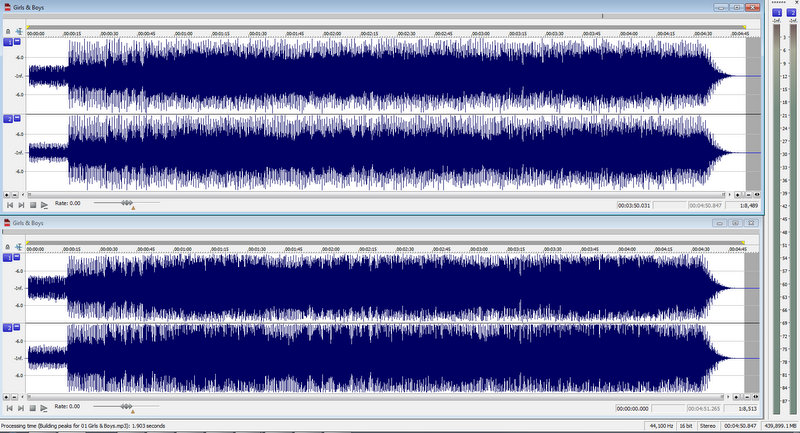 Original – 13
New – 9
Country House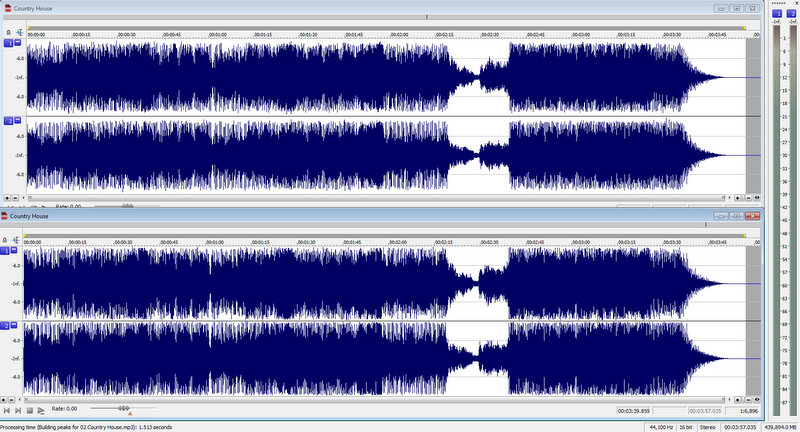 Original – 10
New –  8
In some cases those look like some pretty drastic differences, and they are. However, I really can't hear that much of a difference or any kind of degradation in quality. I think that's because that, even though the remastered versions are louder, there's no clipping and nothing is distorted or chopped off for the sake of loudness. Much like the Smashing Pumpkins' Siamese Dream remaster, it appears the Blur albums were taken to their absolute limit of loudness without causing distortion. It's kind of pointless, but like I said, I really can't hear that much of a difference. I'm sure there are hardcore Blur fans who will be outraged by this, but sorry, I'm not one of them.
Presentation
When I first saw promotional materials for the Blur 21 box I was less than impressed. It just seemed like a tiny blue box with a silver Blur logo on it. Not at all cool looking. Well, I was wrong. Turns out it's a giant blue box with a silver Blur logo on it. This thing does house a 7″ single (more on that in a bit) so to fit that thing in there the entire box has to be 7″ x 7″ x 7″. That doesn't sound that big, but trust me, this is one hefty looking cube of music. It's going to hold its own on my record shelf next to my LP box sets. Opening it up and emptying it out really shows how big it is.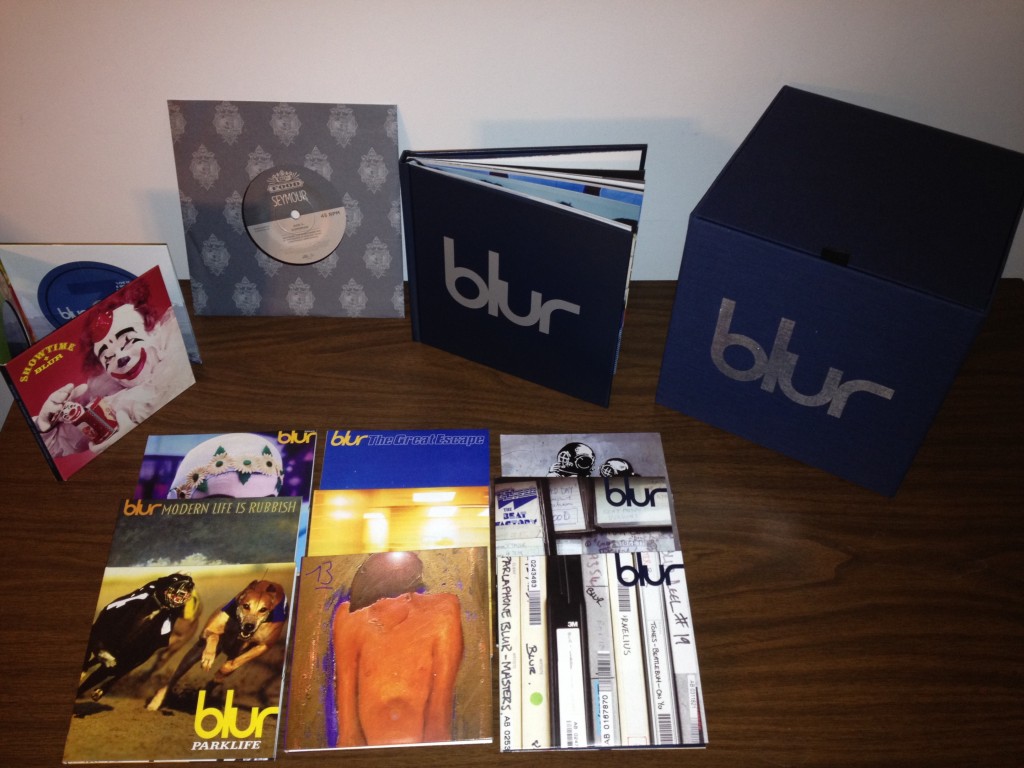 The inside of the box is laid out rather well also, with the CDs arranged nicely in a little rack in the center, with the 7″ single and an awesome hardcover book that covers everything you've ever wanted to know about Blur stashed away on the side. Very slick.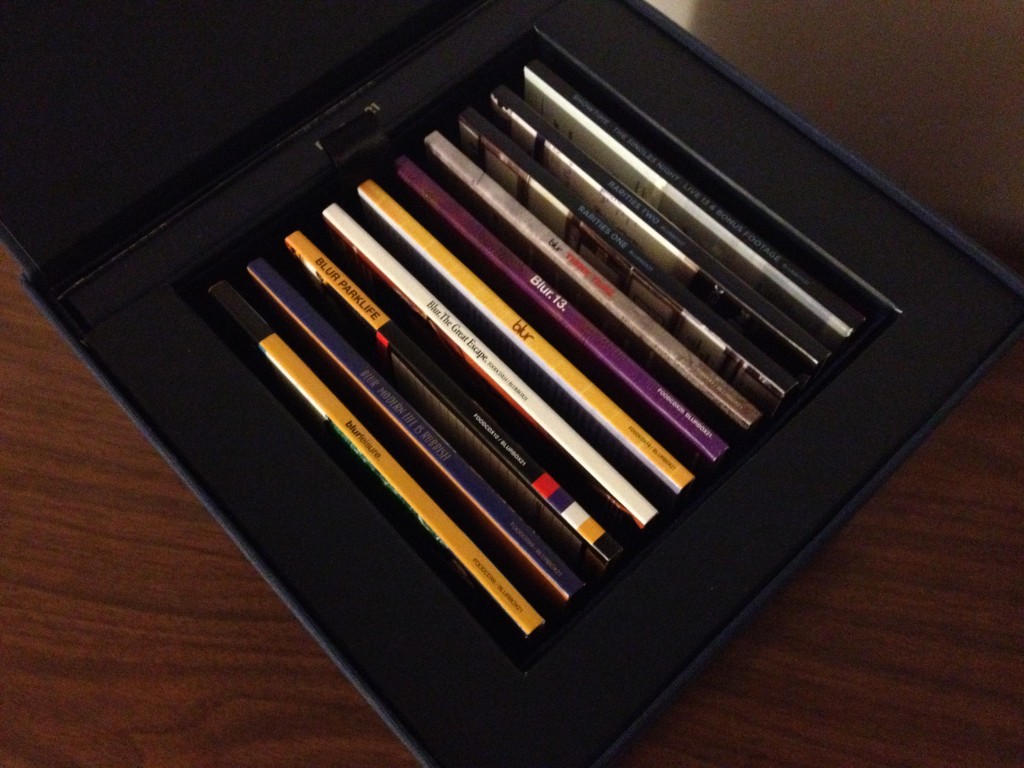 One of the odder inclusions with the set is a card with a download code.  The code gives you access to PDFs of the complete catalog of Blur fanclub newsletters, which is cute, as well as downloads to every CD in the set, which is…kind of strange and pointless. I mean, they're CDs. Why do I need a download code? But hey, it's convenient I guess if you want to own the box set and never ever actually take the CDs out the shrink rap (although you'd still need to open the DVD case if you wanted to watch those).
To be honest, if you never did open the CDs, you wouldn't be missing much, each album (along with it's bonus disc) is held in a plain reproduction case with no notable linear notes aside from the tracklistings, which can also be found in the hardcover book. I saw some commenters on another site complaining about this, but it really doesn't bother me.
What's In The Box!
Damn near everything. Seriously. This box includes all seven proper Blur albums, each with their own bonus disc of added songs. In addition to that, four CDs filled with even more bonus tracks in the form of rarities, B-sides, demos, alternate versions and remixes are also included. All in all that's 282 songs of Blur; 18 hours and 41 minutes of Britpop joy. And that's not even counting the stuff that's on the 3 included DVDs, which are full of concert footage and promotional videos that are worth watching.  And let's not forget the 7″ single, which includes the never-before-released "Superman," a song from the 1989 when the band was still called Seymour. What more could a fan want? Well, since you asked…
What's Not In The Box?
While a lot of great mixes did make it onto the set, quite a few didn't make the cut. The remixes to "Bang" are absent as are remixes to other Leisure-era tracks "High Cool" and "Bad Day," among others.
Additionally, the Japanese imports Bustin' + Dronin' and Live At Budokan are missing in action. While Bustin' + Dronin' is now easily available in the states and in the UK, the Budokan album remains out of print outside of Japan, so its inclusion here would have been nice. Live at Hyde Park is also nowhere to be found, but like Bustin' + Dronin', that's easy to find on its own in most territories.
Conclusion
Time, and repeated listens, will tell if this box set truly is a must buy. I still can't taken the whole thing in, and I may be missing mastering errors and other issues that seem to plague remasters and re-issues as of late. But as far as none of those rear their ugly heads, I think it's safe for me to say that this is a must buy set for any Blur fan, it's simply stellar. Yeah, the remaster may not be perfect, but it's good enough, and the bonus tracks and other goodies more than make up for it.
Seriously, this thing is wicked awesome.