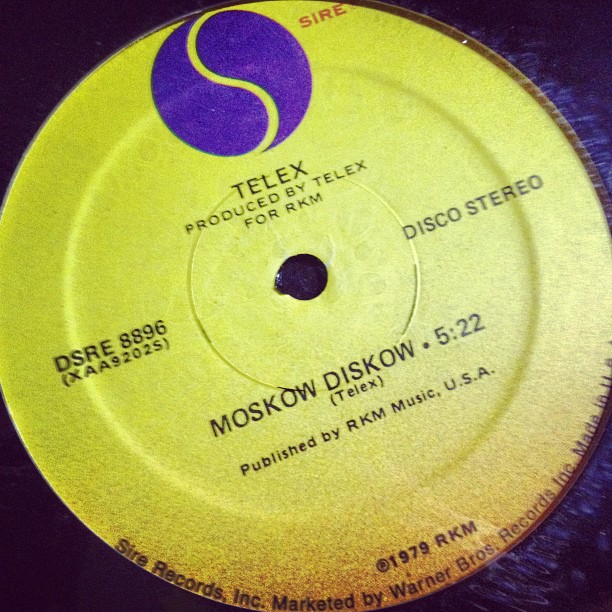 I'm going ahead and I'm writing The Lost Turntable Guide to Buying Vinyl. So if you have any questions or topics you want covered, let me know! I think it's going to be a pretty cool piece. So far I'm covering the following topics:
What to look for when buying new/used/collectible records
Audiophile vinyl terms
Where to buy records
Tips for buying records online
The perils of download cards
Anything I'm missing? Let me know! Until then, here's an incredibly random assortment of music.
Telex
Moskow Diskow
Is this disco? Is it synthpop? Who cares! It's awesome! I never heard of these guys until I bought this single, and now I think I'm falling in love. I think that if Kraftwerk and YMO had a baby, and that baby was raised by Sparks (in Belgium), it would sound like Telex. Really goofy, but still incredibly well-done, dance music with a slick sense of humor. I'm loving it and want to hear more.
This version of "Moskow Diskow" is taken from a 12″ single, and is not the same version as the one that can be found on their first album.
Coil
Windowpane (Astral Paddington Mix)
I know nothing about Coil aside from the fact that most of their releases are crazy rare, weird and hard-to-find. This single to "Windowpane" is actually the first Coil release I've ever seen in a record store, which is why I bought it. The original version is pretty good. This incredibly bizarre remix is…something else, especially for 1990. Trent Reznor is a fan right? I could see that.
Dead Or Alive
That's The Way (I Like It) (Dance Version)
Keep That Body Strong (That's The Way I Like It)
I have to imagine that Dead Or Alive's take on this KC & The Sunshine Band "classic" is one of the few synthpop covers of a disco tune. I don't remember much of the early 80s, (as I was born in 1979), but I do recall that there was a strong disco backlash that continued pretty much until the mid-90s. Of course when your lead singer is an androgynous gay man who enjoys dressing up as a woman, I guess all bets are off.
Both of these mixes are from a 12″ single. They're available on some versions of Dead Or Alive's first LP, Sophisticated Boom Boom (wow, that title) but not the one that's easily available in America, so I'm sharing them.