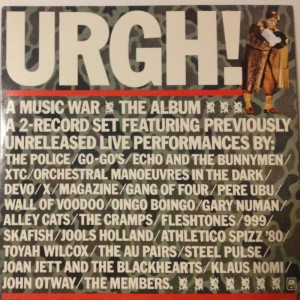 Now that I have a great turntable and pre-amp, I've been visiting the archives to see which albums and singles deserve to be re-recorded and re-posted. Obviously, the soundtrack to Urgh! A Music War was one of the first on the list. These new recordings sound light-years better than my last attempt, and I highly recommended you download them even if you have an older copy I posted.
I've talked about Urgh! several times over, so I'll keep the intro brief. It's an amazing document of a time period in music, when the punk rock influences of the 70s were starting to find their way into pop music; the white British kids were discovering reggae; and when people like Gary Numan determined that any musical problem could be solved with more synthesizers. I don't think there's ever been another movie like it, and there certainly hasn't been another soundtrack like it. Let's take a look at it, one side at a time.
Side 1
The Police – Driven To Tears
Wall Of Voodoo – Back In Flesh
Toyah Wilcox – Dance
Orchestral Manoeuvers In The Dark – Enola Gay
Oingo Boingo – Ain't This The Life
XTC – Respectable Street
Urgh! starts out a little weak, with one of The Police's more bland efforts serving as the opening track. Things pick up quick though, thanks to an awesome lesser-known number by "Mexican Radio" fans Wall of Voodoo, followed by a freak-out of a performance by Toyah Wilcox. OMD calm things down a bit with their mid-tempo ode to nuclear warfare, but the calm doesn't last long thanks to Danny Elfmann and the rest of Oingo Boingo rocking out "Ain't This The Life," one of their best tracks in my opinion. Closing side one out is a live cut by XTC, delivered so passionately and powerfully that it makes that eventual retreat from live performances all the more heartbreaking.
Side 2
The Members – Offshore Banking Business
Go-Go's – We Got The Beat
Total Eclipse – Klaus Nomi
Athletico Spizz '80 – Where's Captain Kirk
Alley Cats – Nothing Means Nothing Anymore
Jools Holland – Foolish I Know
Steel Pulse – Klu Klux Klan
Side two is polarizing for me. It has some of my favorite tracks; Go-Go's "We Got The Beat," and the crazy "Where' Captain Kirk" by Spizz, but it also has many of the album's lesser numbers (at least in my opinion). I've never enjoyed reggae, so I almost always skip The Members and Steel Pulse tracks, and Jools Holland's little piano bit is just annoying to me. Still, this side does have the jaw-dropping Klaus Nomi on it, so in the end it's more good than bad.
Side 3
Devo – Uncontrollable Urge
Echo And The Bunnymen – The Puppet
The Au Pairs – Come Again
The Cramps – Tear It Up
Joan Jett & The Blackheats – Bad Reputation
Pere Ubu – Birdies
Gary Numan – Down In The Park
If side three of the Urgh! soundtrack was a standalone release it would still be worth buying. Amazing tracks by legendary bands such as Devo, Echo and The Bunnymen, Joan Jett, Gary Numan and The Cramps! All back-to-back! Epic. The Au Pairs hold their own against these more well-known bands, with their fun and quirky song about getting off (or not), and Cleveland-born freaks Pere Ubu accomplish the impossible and out-weird Gary Numan's offbeat performance of his best song from the time period. All awesome stuff.
Side 4
Fleshtones – Shadow Line
Gang Of Four – He'd Send In The Army
John Otway – Cheryl's Going Home
999 – Homicide
X – Beyond And Back
Magazine – Model Worker
Skafish – Sign Of The Cross
Side four is kind of a let down after the jam-packed collection of awesome that is side three. Yes, it does have X and Gang of Four (wanna hear a secret? I don't like them!) but it also has forgettable tracks by forgotten artists like John Otway and Skafish. 999 does save things a bit though with "Homicide," the best tribute to murdering fools that you're ever likely to hear. Also, while some of these tracks are kind of mediocre, none of them are bad or annoying (save maybe for the Gang of Four number – but don't tell anyone I said that), so it's still a worthy finale to a near-flawless record.
But wait, there's more!
Did you know you can buy Urgh! now? It's available to purchase via Warner Brothers' Warner Archives site. It's just a DVD-R, but it's in anamorphic widescreen and it sounds incredible. It definitely looks and sounds better than my worn-down VHS tape.
As you may know, there are many tracks in the Urgh! movie that weren't featured on the soundtrack. Here are those songs, ripped directly from the DVD's audio track (except for the Slodgenessabounds tune, since that's not on the DVD for some reason).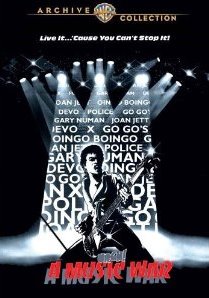 Non-Album Tracks Ripped from DVD (Slodgenessabounds taken from VHS)
John Cooper Clarke – Health Fanatic
Chelsea – I'm On Fire
Dead Kennedys – Bleed For Me
Surf Punks – My Beach
Invisible Sex – Valium
Splodgenessabounds – Two Little Boys
UB40 – Madame Medua
The Police – Roxanne
The Police – So Lonely
Klaus Nomi – Aria from Samson and Delilah (End Credits Music)
Highlights here include John Cooper Clarke and his breakneck punk rock poetry slam; the Dead Kennedys' Jello Biafra comparing the oppressive governments of Afghanistan to living in Nebraska for his intro for "Bleed For Me," and the…I don't even fucking know what of Invisible Sex's "Valium." The extended jam version of "Roxanne" by The Police isn't that bad either (and I usually can't stand that song).
Enjoy and I'll see you all next week.