The Smiths – So This Is America (Complete Album Download)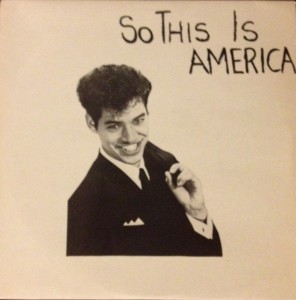 Intro
How Soon Is Now
Hand In Glove
I Want The One I Can't Have
Still Ill
Frankly Mr. Shankley
Panic
Never Had No-One Ever
Stretch Out And Wait
The Boy With A Thorn In His Side
Cemetery Gates
What She Said
Is It Really So Strange?
There Is A Light That Never Goes Out
That Joke Isn't Funny Any More
The Queen Is Dead
The Draize Train
I Know It's Over
Heaven Knows I'm Miserable Now
Big Mouth Strikes Again
What She Said (Encore)
Vinyl bootlegs have always fascinated me. Anyone can record a concert and put it online today, and in the 90s it wasn't too terribly difficult to press a small run of bootleg CDs (or just burn them to cheap CD-Rs), but going through the effort of pressing an illegal album to vinyl is rather impressive.
As I've read it, many bootleggers were able to get their albums pressed thanks to down-on-their-luck pressing plants looking for any source of income. The bootlegs would usually be pressed "after hours" when the major work of the day was done. Then the bootleggers would take their stash and the major labels would be none the wiser. That's a lot of cloak and dagger work for muddy audience recordings, but hey, some people are dedicated.
I've also always found the outrage of labels towards bootleggers to be idiotic, and the idea that concert bootlegging somehow hurts legit album sales is a stupid one without any basis in reality. No one is going to pick up an audience-recording of a concert in lieu of a legitimate release. The person who buys a concert bootleg is the kind of person who has already seen the band on tour; owns the band's entire discography; and most likely has many of the artist's import releases and singles. They're fanatics.
I don't know about you, but when I think of bands that have fanatical fans, The Smiths are usually one of the first groups that come to mind. So it makes sense that there are tons of Smiths bootlegs out there. I don't proclaim to be a huge Smiths fan (I'm just not that miserable anymore) but when I saw this one at Jerry's Records for $15, I knew that price was most likely a steal and I snatched it immediately. Considering I've only seen one copy for sale online, for close to $100, turns out that I may have been right about this one.
This sounds like it was recorded by a fan in the audience, so it's not the clearest bootleg you'll hear. Still, since The Smiths never released official live versions of many of their best tracks, including "How Soon Is Now," it's worth at least one listen if you're a fan of The Smiths.
Additional note: If you download this and wonder why the ID3 tags list 22 tracks and you only have 21, it's because the bootleg had a "bonus" track: U2's "Wire (Celtic Dub Mix)." While oddly fascinating (and kind of random), that track is on the deluxe edition of The Unforgettable Fire, so I'm not featuring it here.
I'm 50% certain my next post won't be a bootleg. But I'm not making any promises.