A couple weeks ago former WFNX DJ Duane Bruce was kind enough to share a recording of a rarely heard Nirvana concert from 1990. He put it up on Soundcloud, but it hit its download limit there within minutes. I contacted him about sharing it through my site, and he was kind enough to oblige me.
He also shared with me this tease:
I'll have something else just as rare coming around thanksgiving. Not saying anything else right now, but you will be very happy.
He wasn't kidding. This is…awesome.
Nirvana: Live at the Axis Nightclub – September 23rd, 1991 (Complete concert download)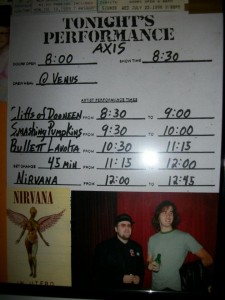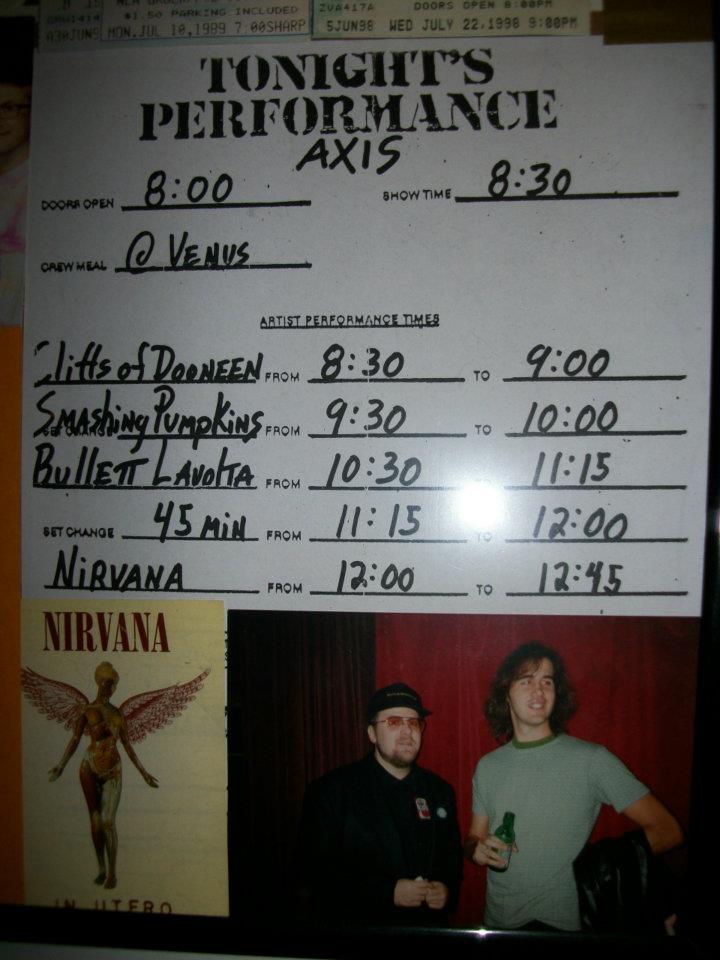 Intro
Aneurysm
Drain You
School
Smells Like Teen Spirit
Come As You Are
Sliver
Jesus Don't Want Me For A Sunbeam
Floyd The Barber
Polly
About A Girl
Breed
Rape Me
Blew
Been A Son (Excerpt)
Negative Creep
I'll let Duane share the details:
Well my friends…here it is. Nirvana's full length set from the now legendary WFNX 8th Birthday Bash at Axis on Sept. 23rd 1991.

But, you must take the bad with the good. I did not record the show . However, the party that did was in the pit for the first 4-5 songs, so it is historical but muffled at times. Axis was packed to the gills. Think 'Green line on a Friday rush hour with a Sox game at home' packed. By the time "Come As You Are" starts, the sound quality improves to about as good a bootleg as you could hope for (thanks to Mike Zeigler at nirvanaguide.com for the assistance).

The concrete walls and floor of Axis provided the perfect acoustics for the raw energy. Dave Grohl's first Boston gig with the band. This is also the first time that they ever played "Jesus Don't Want Me For A Sunbeam" by the Vaselines. Both Kurt Cobain and Krist Novoselic comment that "We just learned this one today". It was a rare night that only a small number (1200+) saw.

I remember that the WFNX staff was pumped for this show more than any other in its history and deservedly so. The Axis staff was also ready to go. MTV was on hand as well as a number of other local, national and international journalists. The show was later written about in NME. By the time that you get to "Rape Me" you will be transfixed and may even start to tear up a bit. It was only the fourth time that they had performed it live. WFNX had an early copy of 'Nevermind' and we played some tracks for the great Lenny Kaye, guitarist for Patti Smith, about a week before the show. He had never heard of Nirvana, but upon hearing them declared "that somebody has to protect them".

I have had this recording as well as the previously released Nirvana show at ManRay for the past 20 years and realized that it was time to share with everyone. One day, I will be gone and they will wind up on the curb. They deserve better than that. It's rock and roll history. Thank you Maxell for making a quality product that lasted.

I remember that right before the set, both Krist and Dave were on stage and ready to go, but no sign of Mr. Cobain. I had to dash upstairs through the thick crowd and met Kurt on the stairwell as his bandmates cat-called him from the stage. I can still hear Krist in his falsetto voice…"Oh Kuurrtt" coming through the speakers.
30 seconds later, then WFNX Music Director Kurt St. Thomas introduced them……..enjoy!
Some technical disclaimers: I made no effort to clean this up, and the only edit I made while cutting the concert into individual tracks was to decrease the volume at the very beginning of "About A Girl" because it was way louder than the rest of the recording. Part of "Been A Son" is missing, but that is also the fault of the source material and not me.
Like Duane says, it's a rough recording, but it's not unlistenable – I've heard (and posted) way worse boots. The power of this performance pushes its way past the technical limitations of the recording. If you consider yourself even the slightest of Nirvana fan then you must download this now.
And thanks again Duane! You are a Golden God for sharing this.