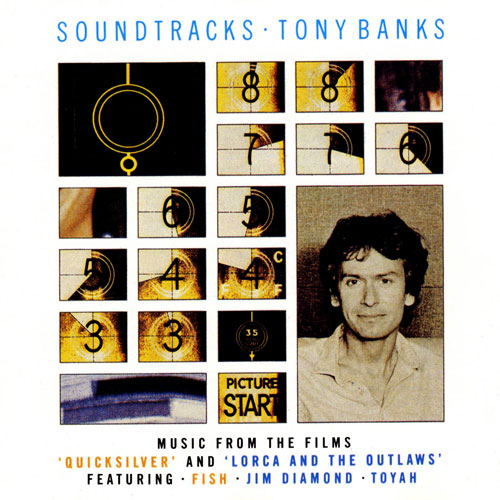 Tony Banks is the keyboardist for Genesis, and being a keyboardist in a rock band is usually a pretty thankless job. No matter how good their licks may be, most fans, members of the media, and groupies are more interested in the singer, guitarist, drummer and even the bass player than the keyboardist. That's because, quite frankly, there's no way anyone can make playing the keyboards look cool.
But back in the 70s and 80s Banks probably had it even rougher than most keyboardists when  it came to making a name for himself. First Peter Gabriel leaves the group to embark on a wildly successful solo career, and then Phil Collins starts his own solo career and proceeds to release some of biggest albums of the 80s. Even Mike Rutherford was able to get in on the action, finding inexplicable sucess with his side-project Mike + The Mechanics.
Tony Banks' bids as a popular solo artists were less successful than his bandmates'. He released the concept album A Curious Feeling in 1979, and it quickly vanished from the charts without a trace. In 1983 he released two albums. One was The Fugitive, which he sang on. It didn't sell. That same year he contributed to half of the soundtrack to The Wicked Lady, a swashbuckling adventure flick. Its never been released on CD, so I'm going to guess it didn't set the world ablaze either.
But that wasn't the last soundtrack that Banks' would contribute to. In 1984 he composed the score for a low-budget sci-fi flick called Lorca And The Outlaws (it was released as Starship on VHS). In addition to the score, he also composed the original songs, "You Call This Victory" featuring vocalist Jim Diamond and "Lion of Symmetry" featuring vocals by the amazing Toyah Wilcox. Lorca And The Outlaws was not well-received commercially (it's on a a few 'worst movies of the 80s' lists) and it never got an official soundtrack release.
In 1986 Banks would contribute the score to Quicksilver, a Kevin Bacon picture about a stock broker who is forced to leave the trading floor and become a bike messenger (sounds…exciting). But he wasn't the sole contributor to that soundtrack. In addition to Banks' work, the film also featured new songs by Giorgio Moroder (with Roger Daltrey), Peter Frampton and Ray Parker, Jr., to name a few. That soundtrack got a commercial release, but because of all the pop songs on it, Banks' score was only included in a truncated form.
Well, it would appear that Banks found a way to solve both that problem and the lack of a release for his work on the Lorca And The Outlaws score with the release of Soundtracks, a single LP that features his music from Quicksilver on the first side, and his work from Lorca And The Outlaws on the second side.
How's the music? Let's start with the first side, the Quicksilver stuff.

Quicksilver
Shortcut To Somewhere (featuring Fish of Marillion)
Smilin' Jack Casey
Quicksilver Suite: Rebirth
Quicksilver Suite: Gypsy
Quicksilver Suite: Final Charge
I've never seen Quicksilver (being neither a fan of Kevin Bacon nor bicycle messengers), so I can't say how well this music fits into the film. I can image that that the fast-paced instrumental pieces probably worked well with montages of Kevin Bacon decked out in spandex, plowing through the streets of San Francisco like an asshole on a mission. And if you're looking for a mix to fit your own cycling workout, they might be good for that as well. The slower instrumental pieces are little more uneven, and are certainly dated, but they have their own charm as well.
What does not have charm, however, is "Shorcut To Somewhere" the sole pop song that Banks' contributed to the soundtrack. The vocals are by Marillion singer Fish, and while he does have one hell of a set of pipes, no singer, no matter how talented, could make the drivel he's belting out sound interesting or catchy. The upbeat synths of the song really go for a "you can do it" feeling ala your favorite training montage from an 80s film, but they're so oppressively upbeat that they're just annoying. I imagine that this song may have been catchy and fun in 1986, but now it just sounds dated and boring. But like I said, the rest of the stuff is worth a listen if you enjoy instrumental synthesizer stuff.
Lorca and the Outlaws (also known as Starship)
You Call This Victory (featuring Jim Diamond)
Lion of Symmetry (featuring Toyah Wilcox)
Redwing Suite: Redwing
Redwing Suite: Lorca
Redwing Suite: Kid and Detective Droid
Redwing Suite: Lift Off
Redwing Suite: Death of Abby
As bad as "Shortcut To Somewhere" is, it's actually not the worst track on Soundtracks. No, that dubious honor goes to "You Call This Victory," an absolutely wretched number featuring the over-emotional whiny vocals of Jim Diamond. Musically, the song isn't that bad, but Diamond's vocals are just so god awful that they kill any charm or positive aspects the song may have had.
Thankfully, the rest of the Lorca and the Outlaws soundtrack fairs a bit better. The instrumental "Redwing Suite" actually holds up pretty well as a score, and is very reminiscent of the stuff that Tangerine Dream was doing at the time. It's nothing great, but it's certainly not bad. But what is great is the song "Lion of Symmetry," which features this incomparable Toyah Wilcox. Toyah (who was featured in Urgh!) is one of my favorite signers of the new wave era, so to discover this track was a real treat. It's seven minutes of pure Toyah weirdness, and is a must hear.