So tonight I spent three hours working on tracking down the keyboardist to an obscure 70s funk band.
I have weird hobbies.
Garbage
Milk (D Mix)
Milk (Trance Mix)
One of the reasons why I've kept this blog going for seven years (holy shit!) is that it's just as educational and informative for me as it is my readers. For example, I had no idea that there were so many damn mixes of this song! I only had the Massive Attack mix that was on the 2CD edition of their greatest hits album Absolute Garbage. I had no idea that there were these two additional mixes by Massive Attack, two mixes by Goldie, three mixes by Rabbit In The Moon, and one with Tricky. Damn. That's a lot of "Milk." How come none of these other mixes have been released in any sort of complication? Chalk Garbage up as another band in the long list of acts who need and deserve a proper multi-disc remix compilation.
Dead Or Alive
You Spin Me Round (Like  a Record)
Mighty Mix 2
So when I was in Tokyo I found these.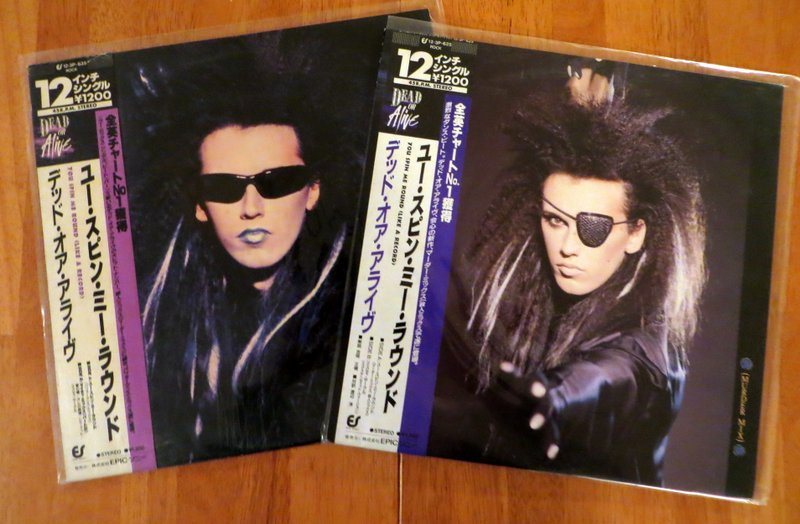 Yeah, those were must buys for the covers alone. Nevermind that I already had the tracks on one of the singles both on vinyl and on a Dead or Alive compilation CD. I mean, it would be idiotic to have bought one of those 12″ singles and not the other. They're obviously a matching set. I need to get these motherfucker matted, framed and hung up over my dinner table. So when people come in my house, they know I"m serious about my…um…80s synthpop acts that featured androgynous lead singers with eye-patches…I guess.
Yeah, that's it. I'm going to stand by that.
In case anyone is wondering, the two songs that I did already have that I'm not featuring here tonight are the Murder Mix of "You Spin Me Round" and the extended mix of "Misty Circles." There are about a billion places where you can get the Murder Mix, and if you want the extended mix of "Misty Circles," you can find it on the expanded edition of Sophisticated Boom Boom, where it is billed as the "Dance Mix."
On a related note: Sophisticated Boom Boom might be the best worst name for an album in history.