Okay, look.
I appreciate concern, I really do. I like that people out there are looking out for me and care for my well-being, I really do. But if one more motherfucker out there asks me if I'm worried/going to do anything about the increasingly heated conflict brewing between China, North Korea and the United States (with Japan, and by extension me, stuck in the middle) then I'm going to go nuclear and vaporize someone.
Allow me to nip your concerns and questions in the bud right now. No, I'm not worried about the possibility of any kind of military strike against Japan. This is mostly because I have enough, far more tangible things, to worry about. But I also just don't think it's going to happen. While I'm rarely the kind of person who says things like "the media is hyping this new story too much," well, guess what; the media is hyping this story too much. Calm the fuck down.
Additionally, even if I had some inkling that something (whatever that might be) might happen. No, I'm not leaving Japan. This is my home and my boyfriend's home.
Besides, there are enough dope record stores here to make the distant threat of thermonuclear war worth it. Seriously, look what I found today.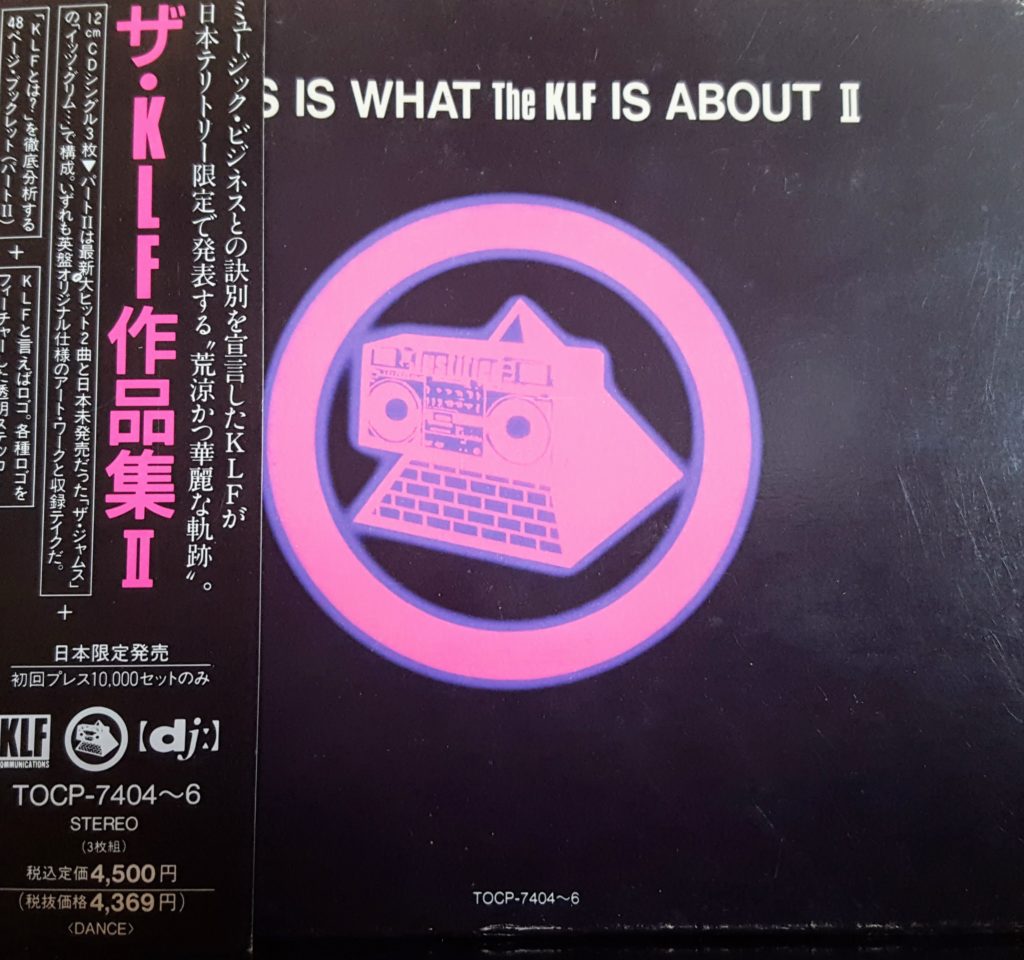 The KLF
It's Grim Up North (radio edit)
It's Grim Up North (Part 1)
It's Grim Up North (Part 2)
Jerusalem on the Moors
America: What Time Is Love? (radio edit)
America No More
America: What Time Is Love? (Uncensored)
America No More (Just the Pipe Band)
Justified & Ancient (Make Mine a "99")
Justified & Ancient (Let Them Eat Ice Cream)
Justified & Ancient ("The White Room" Version)
Justified & Ancient (All Bound for Mu Mu Land)
Justified & Ancient (Stand by the Jams)
Maybe I've said this before (it feels like something I would've said before), but one of the best things about living in Japan is walking into a random record store and seeing an "import" that you first heard about on the internet 15 years ago and never thought you'd buy. And seeing it on clearance for less than $20. I just hope I can find part one for a similarly cheap price someday. Because this thing is fucking dope.
I have probably shared many of these tracks over the years here at Lost Turntable. In fact, I'm positive that I have. However, those were all vinyl rips and many were done back when I was still learning how to rip my vinyl, so a lot of them sound like garbage. If you've ever downloaded these tracks from me before, you should probably download these too, they sound a hell of a lot better.
Okay, change of plans. If the possibility of a nuclear conflict does increase, then I'm gonna put my boyfriend in a suitcase (he's tiny) and hop on a plane for Mu Mu Land. Dope beats, acid house and Tammy Wynette await me.