The era of Prolific James (that's me) continues. Over on that other site I have for some reason, I wrote about an awesome Mario Paint instructional video that I finally managed to get uploaded to YouTube. I also put together a rambling piece about my musical tastes and how they've changed over the years (save for my hatred of Steve Winwood). Check them out if you'd like.
And since I'll probably have a few more readers than normal reading this post in the coming days thanks to my upcoming appearance on Retronauts, I'd like to share this post I wrote about a sexual I.Q. test on vinyl. Apropos of nothing, I just really like one and want more people to read it!
Anyway, bicoastal keyboards ahoy!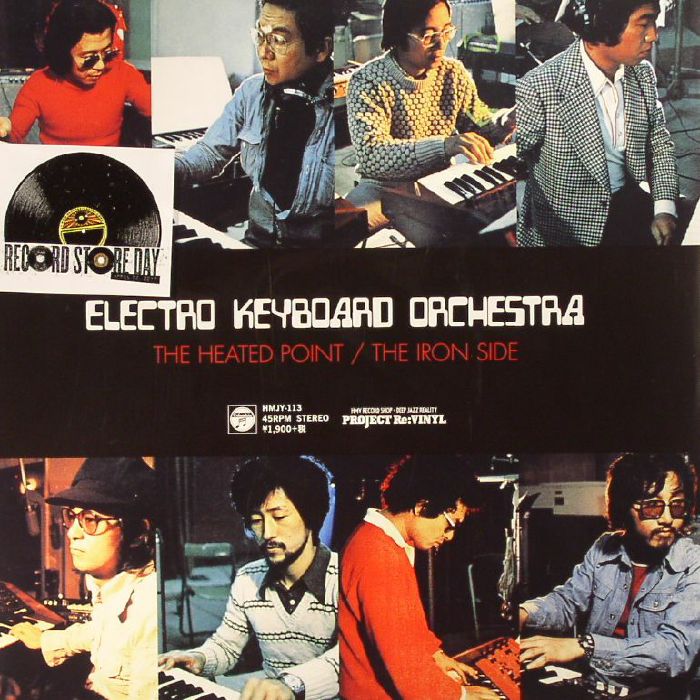 Electro Keyboard Orchestra
The Heated Point
The Iron Side
You probably don't know this (because why the hell would you) but Japan has its own series of exclusive releases for Record Store Day. Almost all of them are of Japanese acts, which makes sense – because it's Japan. This year did feature on Todd Rundgren seven inch single though, which is way more Japanese than any Japanese release (Japan loves the Runt).
Of the Japan-exclusive titles, I only bought two. One was an electro covers album of Sly Stone tracks.
It's weird.
The other was this, a seven-inch single featuring a pair of tracks from a 1975 space-rock/funk/jazz instrumental keyboard outfit  that featured Yuji Ohno, who's best known for his work on the Lupin series.
Why they just didn't repress the original LP in full is beyond me, but I'll take what I can get. These tracks are uberdope. Dope as a mother. Dopest shit. They're dope.
There was some primo-synthsized funk coming out of Japan in the mid-70s that really embraced the electronic sound of early synthesizers and combined it with vintage funk grooves of acts like Sly Stone. Any random 70s Japanese funk track I've heard could have easily served as the soundtrack to a high speed car chase featuring Steve McQueen and/or a Dodge Charger.  One day I will compile a Nuggets-style compilation of pre-synthpop Japanese electronic music. Until that day, enjoy this taste. These tracks are my everything right now.
Pet Shop Boys
Yesterday, When I Was Mad (Jam & Spoon Mix)
Yesterday, When I Was Mad (Junior Vasquez Fabulous Dub)
Yesterday, When I Was Mad (Raf Zone Mix)
I have now posted every single Pet Shop Boys remix in my collection. As Pet Shop Boys singles are a bit harder to come by here (and I already have most of the ones I do stumble upon), don't expect another post filled with remixes of PSB classics anytime soon. Longtime readers of this site (shout out to both of you) probably remember when this site was almost nothing but Pet Shop Boys (and New Order/Depeche Mode) remixes. Seems so long ago, because it was. I still can't believe I've been doing this thing for over ten freaking years.
I hope to continue this prolific streak of mine for at least a few more weeks. Hopefully expect more posts than usual. Sorry if they're all covering strange Moog records from the mid-70s. Actually, I'm not that sorry about that. But I thought I'd give a heads up.
Stay sane out there.