Giorgio Moroder produced three soundtracks in 1983.
The first was for Flashdance, it went on to sell millions of copies, win an Oscar for best original song, and helped influence the very sound of the 1980s.
The second was for Scarface. While not as influential, it certainly served as a memorable score for the film, and featured great songs by the legendary Debbie Harry.
The third was for D.C. Cab. And hey, two out of three ain't bad.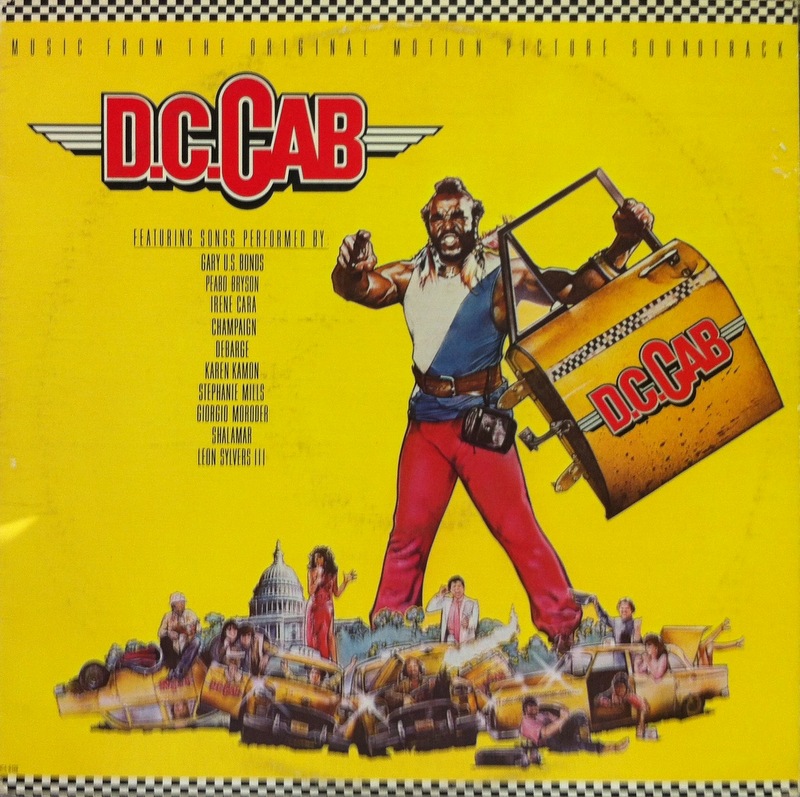 Shalamar
Deadline USA
Shalamar is how the world was introduced to Jody Whatley, an 80s pop also-ran who scored a few hits with tracks like "Looking For A New Love" and "Real Love." She was rad. Shalamar was…less rad. But they weren't bad, and were probably one of the only disco acts to successfully make the transition to 80s pop and score a few MTV hits. This song is certainly catchy as hell, and reeks of Morder's production, even if it was actually produced by Pete Bellote, a frequent Morroder collaborator. Synthesized funk gold. Seriously, the more I listen to this song the more I love it. I want to set my own real-life 80s training montage to it.
Peabo Bryson
D.C. Cab
This is the hardest I've ever heard Peabo rock, which is saying absolutely nothing considering he's best known for songs like "Tonight I Celebrate My Love" and his "Beauty and the Beast" duet with Celine Dion. If you hear this song and think "wow, I need more Peabo in my live!" trust me, you don't. You really don't.
Champaign
Knock Me On My Feet
I only barely know one other Champaign song, the minor 1981 hit "How 'Bout Us," which I forgot completely until I looked it up on YouTube, and then promptly forgot about again. That song is horrendous. This song is amazing, probably the most Moroder of the songs from the soundtrack that I'm featuring here. The guitar solo is dope!
Karen Kamon
Squeeze Play
Karen Kamon is a singer who is probably best known for her work on the Flashdance soundtrack. No, she didn't sing "Flashdance," that was Irene Cara. And no, that wasn't her on "He's a Dream," that was Shandi. She sang "Manhunt," the soundtrack for the other, other dance scene in the film. She released two albums in the early 80s as well, but I've never heard them and they've never even been re-issued on CD, so I can't speak to them. This song is pretty great though. It's no "Manhunt," but it's a nice dance tune. Unfortunately, the LP suffered from some drastic inner-groove distortion here, so it's a little distorted.
Leon Sylvers
World Champion
Don't know much about this guy either, apparently he was a big producer for a bit, but he hasn't done much in a while. Not a bad song, but forgettable.
Stephanie Mills
Party Me Tonight
Stephanie Mills was the original Dorothy int the first Broadway production of The Wiz, and that's fucking awesome. I don't think her pop career was ever as big as her stage one though. This is a synthtastic example of Mordoder production, and would fit in perfectly on the soundtrack to Flashdance.
Gary U.S. Bonds
One More Time Around The Block Othelia
Gary U.S. Bonds sung "Quarter To Three," one of the best soul songs of the early 60s. Twenty-one years later he was on the D.C. Cab soundtrack. Man, life can be rough. At least he got the theme song to the baddest motherfucker in the movie, Othelia, played by the ultimate bad-ass Marsha Warfield. But I'll talk more about her when I review the movie on my other site.
Giorgio Moroder
Knock Me On My Feet (Instrumental)
I guess Giorgio had high hopes for this one if he felt he should close the soundtrack with this instrumental version. Like I said before, it is definitely very Moroder, but when you hear the other stuff he was putting out around that time, this just doesn't compare at all. Eh, at least it's not "Danger Zone."
The D.C. Cab soundtrack also featured "The Dream" by Irene Cara (wow!) and DeBarge's "Single Heart." However, those are both available on CD and digitally, so I'm not including them here. Sorry!
Hope you enjoy these tunes, and after you grab them, head over to my other site for reviews of the Beggars 5CD box sets, Joyful Noise's Cause & Effect Vol. 1, and the really bad vinyl version of the really good new Alice In Chains album. And if you're feeling like hating humanity, check out this post too.