Now for some real Japanese stuff.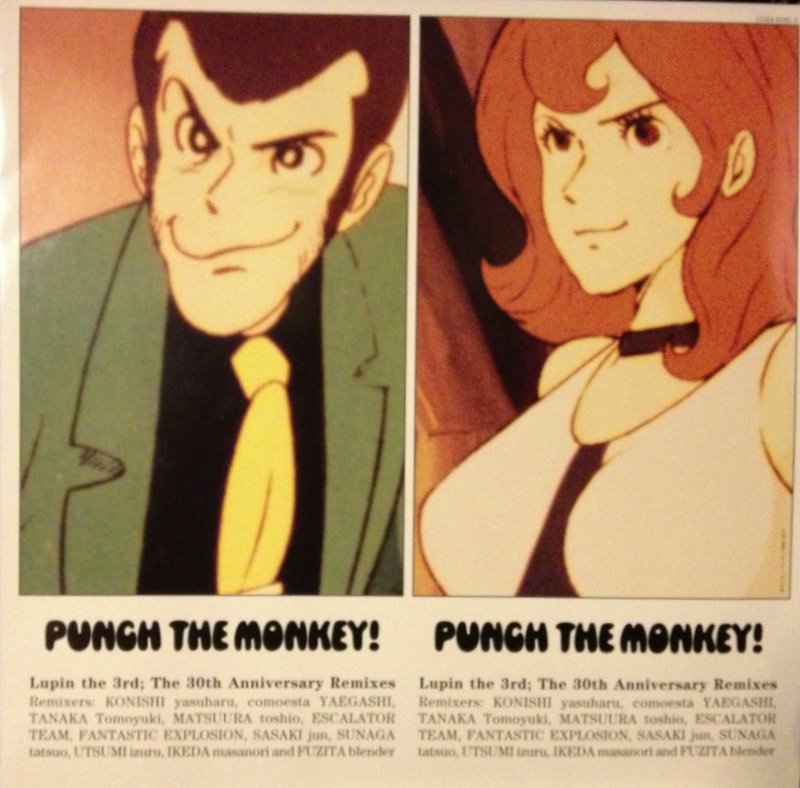 It seems to me that most anime/manga is fleeting. Many shows and books have intentionally short runs and are more like mini-series than full-fledged shows. But when a show or book takes off in Japan, it really takes off. Titles like Gundam, Macross, Dragonball, those aren't just TV shows or comic books in Japan, they're freaking institutions, multi-generational cultural milestones that seem to go on forever and ever.
While I find the enduring popularity of those series to be utterly fascinating, I can never seem to get into them myself.  Gundam and Macross are too complicated and self-serious for me to enjoy, while series like Naruto, Dragonball and One-Piece are about as aesthetically and thematically pleasing to me as an 18th century Russian novel or an British soap opera. There's nothing wrong with them, they're just not my thing.
The only long-running Japanese series that I have ever been able to get into at all is Lupin The 3rd, which started as a comic in 1967 before branching out into a TV series in 1971 and even a film series starting in 1978. That's a lot of Lupin, and while my overall exposure to the the various forms of Lupin-related media have been relatively slim in comparison, I've loved just about everything I've been able to get my hands on.
I think the main reason that I like Lupin more than those other series is that it's relatively self-contained. You can pop in any Lupin movie or TV series and figure out the basic gist within minutes, and as a whole it's pretty light entertainment. While I'm sure Lupin has had his serious moments of the years, most of what I've seen has been incredibly easy-going and wacky, just the kind of thing I want to watch when I feel the need to escape for a bit. I also love the style of the series, and how its managed to maintain its 1960s aesthetic in one way or another to this day. (Of course, given my limited exposure to Lupin as a whole, I could just be talking out of my ass, but this is what I've noticed from the stuff I've seen.)
And it's music is really dope. In the pantheon of anime soundtracks, the Lupin The 3rd main theme takes my second place spot as greatest of all time, right behind the jazzy perfection of Cowboy Bebop. Just like the series itself, I love its retro style, and how it's managed to evolve over time to incorporate more modern musical movements. It's a blast to listen to, and apparently I'm not the only person who thinks so, because holy shit there are a ton of remix compilations of the Lupin The 3rd theme music in Japan. I bought a couple of them (as well as some other Lupin-related vinyl) and I'll be sharing them over the course of the next few days.
Up tonight are the tracks from the 1998 2LP set Punch The Monkey! Lupin The 3rd; The 30th Anniversary Remixes. I was going to do an artist by artist breakdown of the compilation, but I can hardly find anything about any of the people who worked on this record. When I do, it's typically in Japanese, so that's not much of a help. The record does have one name I recognize though, and that's Yasuharu Konishi; the founder of Readymade Records and original member of Pizzicato Five, one of the only Japanese acts ever to make any kind of headway in the American music scene. His remix is pretty great, but then again, nearly all of these remixes are great. But if I had to pick a favorite, I would probably choose Escalator Team's "Club Escape Mix" of the '78 Theme, if for only its completely random sample from Mortal Kombat. How the hell did that happen?
Toshio Matsuura
Lupin The 3rd '78 Theme From Lupin III (Walther P99 Mix)
Masanori Ikeda
Lupin The 3rd '80 Theme From Lupin III (Latin Calcutta Mix)
Comoesta Yaegashi
Afro Rock Theme (Afro Rock Mix)

Escalator Team
Lupin The 3rd '78 Theme From Lupin III (Club Escape Mix)
Fuzita Blender
Funny Walk In Old Fashion (Mori No Blend Mix)
Fantastic Plastic Machine
Theme From Lupin The 3rd (F.P.M.'s Reconstruction Mix)
Yasuharu Konishi
Theme From Lupin The 3rd 3 (The Readymade Yangu Oh! Oh! Mix)
Fantastic Explosion
Toward The Patrol Line (You & Fantastic Explosion Mix)
Sunaga T Experience
Lupin The 3rd '80 (Sunaga T Experience 9849 Mix)
Jun Sasaki
Love Squall (Fujiko's Love Mix)
Izuru Utsumi
Theme From Lupin The 3rd II (Bossa '98 Mix)