I finally went through and cleaned the rest of the records I bought when I was in Tokyo, as well as everything that wasn't cleaned before I went…as well as the stuff I've bought since I returned to the states.
It took me four hours.
Seriously. I was able to watch the first two Fast & Furious films in the time it took me to clean all the damn things.
So, yeah, I guess I really did buy a lot of records when I was in Asia. So many records! They're surrounding me! I feel like a hoarder, except, y'know, not as insane or on TLC.
The prospect of listening to/recording all of them would overwhelm me if I wasn't looking forward to it so much. Although to be honest, now that I see my pile of Japanese anime soundtracks next to my turntable, I'm starting to question the level of restraint (or lack there of) that I had while in Japan. Oh well! I bought those Gundam soundtracks and dammit I'm going to listen to them! I might even share them with you all.
Also, look forward to Kraftwerk. Holy shit. So much Kraftwerk. And Leftfield, Pet Shop Boys, OMD, Primal Scream, Erasure…you know what? I'm just going to stop now. I want to leave some surprises. I'll just say that I think I got the next few months, if not year, of The Lost Turntable covered now, and it's going to be full of some really amazing shit.
Speaking of amazing shit. Yo, check this shit out.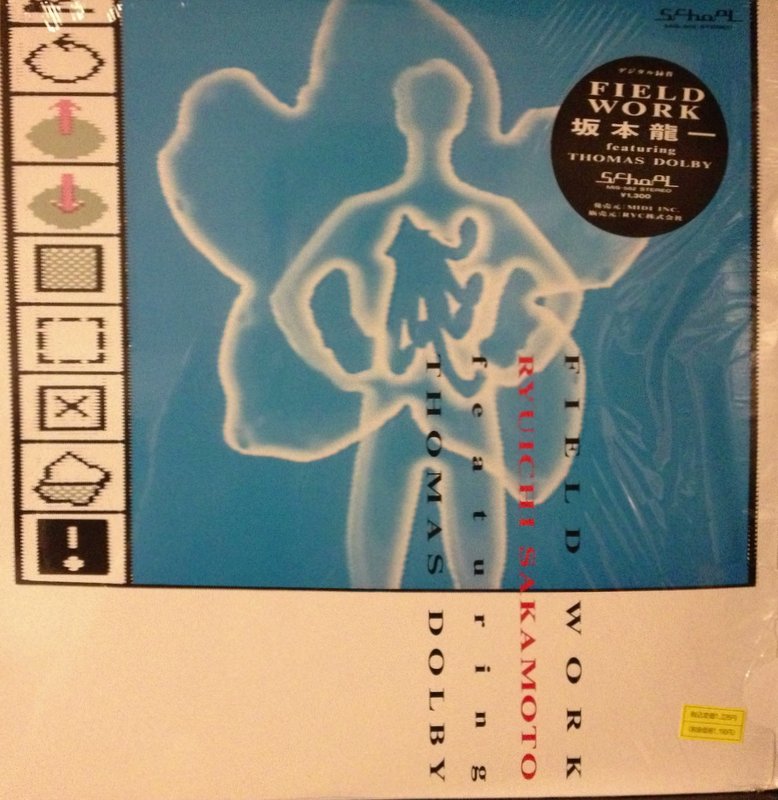 Ryuichi Sakamoto (with Thomas Dolby)
Field Work (London Mix)
Field Work (Tokyo Mix)
Exhibition
I've begun to slowly dig into the Sakamoto back catalog. Right now I want all of it, but I suppose that'll stop once after I accidentally buy one of his classical or more jazz-influenced records. I'm sure all that stuff is excellent for what it is, but I'll pass.
As for these tracks, they are from a 12″ single. The original version of "Field Work" first appeared on the Western version of Sakamoto's 1986 album Illustrated Musical Encyclopedia (an abridged and re-edited version of a Japanese only release that first came out in 1984). Dolby fans, however, probably didn't discover the track until the 2009 re-release of his 1984 album The Flat Earth, which also included soundtrack rarities "Don't Turn Away" and "The Devil Is An Englishman."
The version of "Field Work" on The Flat Earth re-issue is labeled as the "London Mix" but it is actually an abridged version of that mix. The proper version runs at about six minutes in length, while the version on the album is only four minutes long. The Tokyo Mix, as far as I can tell, has never been released on CD in any form, and that's a real shame because I think its the better of the two mixes.
Also rare to my knowledge is "Exhibition." Dolby is nowhere to be found on this track, and its certainly not a radio-friendly pop number. Instead it's a 15 minute ambient soundscape with no beats, no melody and no motifs outside of a constant, looping set of beeps and bloops. It's kind of like something you might find on The KLF's White Room album, or maybe on an Orb b-side. Not for everyone, but I find it relaxing and oddly enough, a great track to write to. I've certainly heard worse Sakamoto, I bought his disco album. It's…something.
They Might Be Giants
Istanbul (Not Constantinople) (Brownsville Mix)
Stormy Pinkness
Chalk up TMBG as another band who seemed to be doing their damnedest to make sure their fans have easy access to all of their b-sides and other rarities. Like I said before, I wish all bands would do that, even if it makes my job of finding out-of-print and hard-to-find stuff all the more difficult.
Still, it looks like at least a couple of b-sides slipped through the band's re-releasing machine. I found these two oddities on the 12″ single for "Istanbul (Not Constantiople)," which also had "James K. Polk" and "Ant," two songs that have made their ways onto proper TMBG releases.
The remix of "Istanbul (Not Constantinople)" is one of the strangest TMBG compositions I've ever heard, and if you know anything about the group, that's really saying something.. The TMBG wiki states that it contains a sample of Kraftwerk's "The Robots" as well as an unidentified Janet Jackson sample. I couldn't make that out, but I wouldn't doubt it. The vocal samples at the beginning of the track are even weirder. What the hell is a white tornado?
"Stormy Pinkness" is weird, but it's also pretty short (about a minute) and there's not much to it. So I really don't have anything to say about that one. I'm glad I found it though.