Yeah, so I spelled "R2D2" wrong in my last post. Shut up. Did you record the 45, clean up the audio, rip it into MP3s, tag the MP3s, upload the MP3s to a server you paid for, and then write about the song?
Didn't think so!
Seriously though, thanks to the person who pointed out the typo while not being a dick. That was nice.
This will be my last post before Christmas, so if you're celebrating/recognized/being forced to observe Christmas, I hope you have a happy holiday. For the rest of you, I hope your Tuesday doesn't suck. Additionally, this will be my last post before I embark on my trip to China and Japan! I have some posts lined up to go during my absence, and I hope to get a lot of stuff up here during my time in Tokyo. Hopefully you all will barely notice a break in my posts.
The train never stops at Lost Turntable. Notice how so many websites pretty much shut down during the Christmas/New Year's break? Not this place! Not only am I going to continue to update the site during the break, but I'll even be doing it while I'm on another fucking continent!
So what I'm basically saying is that everyone else is lazy. And I'm awesome.
And modest. So very modest.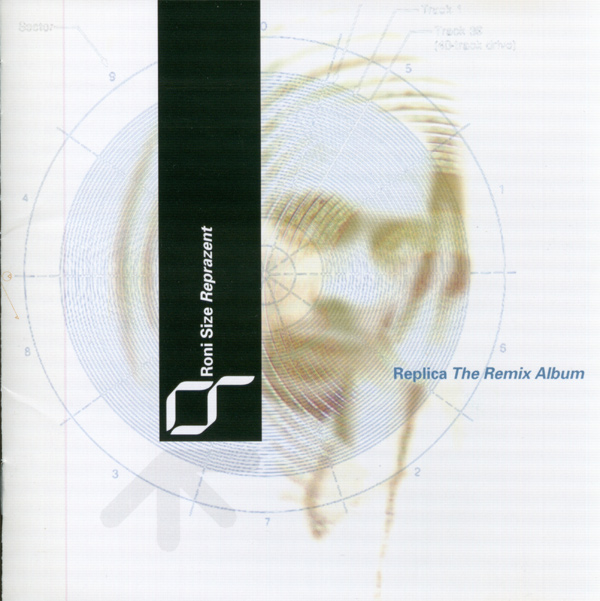 Roni Size/Reprazent: Selections from Replica The Remix Album
Brown Paper Bag (Photek Remix)
Heroes (Origin Unknown Remix)
Share The Fall (Grooverider's Jeep Style Mix)
New Forms (Krust's Wide Screen Version)
Brown Paper Bag (Nobukazu Takemura Remix)
Heroes (Kruder Long Loose Bossa)
Down (Bel Air Remix)
New Forms (Roni Size Remix)
Western
Electricks
So, Roni Size is the person, right? And Reprazent is the group? But..Roni Size is also in Reprazent? Well then why not just call themselves Reprazent? Or maybe Reprazent featuring Roni Size? Why the extraneous slash? Motherfuckers have to be special, it's like how Trent Reznor's new band How To Destroy Angels is supposed to be spelled "How To Destroy Angels_" that's with an underscore at the end. I love Trent Reznor and will pretty much defend to the death anything he does, but that's dumb with a capital U (see, the wrong letter is capitalized, that's how dumb it is).
Okay, I'm going off topic. Replica is, to date, Roni Size/Reprazent's only compilation remix album. It was originally released in Japan in 1997, got a release in Australia the following year, and that was it. The album was never put out on disc in the US or the UK, and as of 2012 the album has yet to make appearance on digital marketplaces like Amazon or iTunes. You would think that with the massive success that Roni Size/Reprazent had with New Forms they would want to release this remix album in as many territories as possible, but whatever. Their lack of international regard is your gain today.
The only song from Replica that I am not sharing is the album closer "Electriks." It's not a remix, and it can also be found on most versions of New Forms, including the versions that can be bought on iTunes and Amazon's MP3 store.
Speaking of versions of New Forms, holy shit there are a lot of versions of that record. First there was the original 2CD version that first came out in the UK.  Later on, the UK also got the first disc of the 2CD album as a single disc release.
Meanwhile in the US, we got the complete 2CD version that also included "Electricks" (which was not available on the original UK version). Then Japan got their own single CD version with an altered track listing that included the awesome rap single edit of "Brown Paper Bag." And then there are the vinyl versions; a 4LP edition that is an approximation of the first CD, and a freakin' 5LP edition that is based mostly on the second CD. And I haven't even mentioned New Forms2, the remix/remake of the album that the group released in 2008.
So what I'm basically saying is that there needs to be Super Deluxe edition of New Forms that includes all of that shit. we got like four years before the album's 20th anniversary  Let's make this happen people.