It's really been a watershed year for The Lost Turntable when it comes to posting stupid ass bullshit.
For real. I mean, in the course of these 12 months I've posted remixes of both the themes to Demolition Man and the Flintstones movies; remixes to "Satellite Of Love;" an entire album of latin love songs redone on the Moog; and a dance mix of Alice In Chains' "Man In The Box." There was even a post earlier this year with the title "My Tongue Hurts, Here are 32 Madonna Remixes." Am I am pretty certain that I wrote that one while sober. So that stupidity is all on me.
That being said, with all that taken into account, and with a full year of incredibly idiotic posts behind me, I feel that tonight's brief foray into sci-fi themed Christmas music may in fact be the dumbest thing I post all year. Godspeed.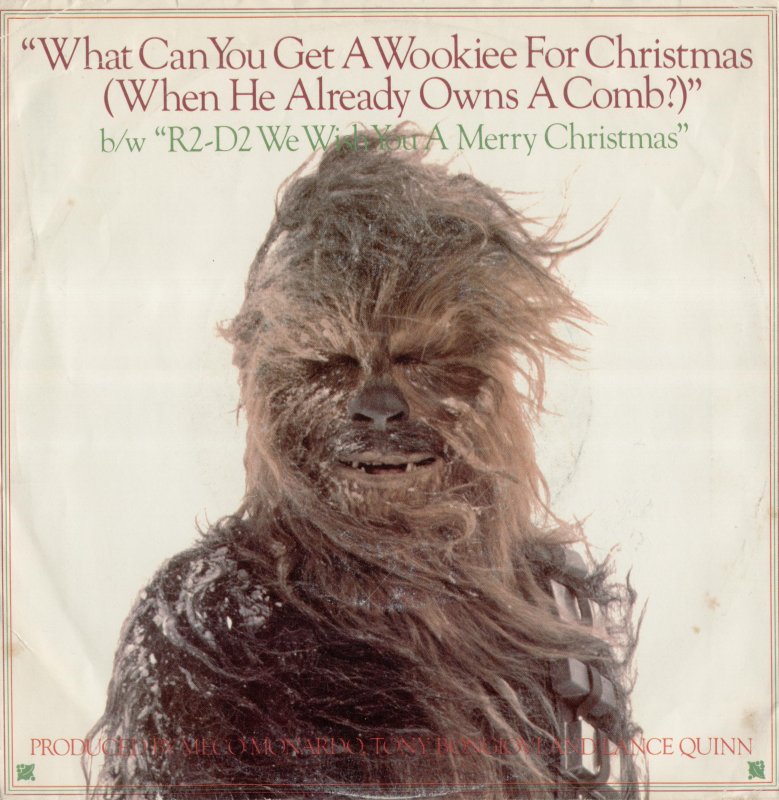 Meco
What Do You Get A Wookiee For Christmas When He Already Has A Comb
R2D2 We Wish You A Merry Christmas
Goddamn.
What kind of person would think that a Christmas album about Wookiees, droids and Jedis would be a good idea? Why, Meco of course!
Meco, for those who do not know, has pretty much spent his entire professional life milking Star Wars and other sci-fi films, reconstructing music from them for his own disco/electronic releases. His first taste of success came in 1978, with the album Music Inspired By Star Wars and Other Galactic Funk.  That album is a masterpiece of disco cheese, with the first side being entirely dedicated to electronic disco interpretations of Star Wars themes, and the second featuring three original compositions (brilliantly titled "Other," "Galactic," and "Funk.") If you have to own a Meco record (and let me be clear, you really don't have to own a Meco album) this is the one to get.
After the release of Star Wars and Other Galactic Funk, Meco released Encounters of Every Kind, an album of original music that also included a discofied take on the theme to Close Encounters of The Third Kind. A year later he released his interpretation of The Wizard Of Oz, and I take back my previous statement, if you only buy one Meco record, snag that, because it is batshit fucking crazy.
Other sci-fi disco releases followed, but none apparently caught the pop world on fire like his first release, so in 1980 he returned to a galaxy far far away and released Christmas In The Stars: Star Wars Christmas Album, apparently unaware of the televised abortion that was the Star Wars Holiday Special.
Christmas albums, as a whole, are pretty atrocious affairs. And even from the standards of those, Christmas In The Stars is an utter and complete train-wreck clusterfuck, with its blatant cheapo cash grab status made all the more obvious by the fact that the only original cast member from Star Wars to make an appearance on the album is Anthony Daniels, who reprises his role as C-3PO. The only other characters from the films who make a substantial appearance are RD2D and Chewbacca, probably since both can be re-created without having to use original cast members.
While the album is utterly atrocious, it is notable for who worked on it if nothing else. The record was mixed by Scott Litt, who would go on to produce albums for R.E.M., The Replacements, Nirvana and many more. If I'm not mistaken, it is his first professional credit, although he actually shares a mixing credit with Tony Bongiovi.
Tony Bongiovi is the cousin of one John Bongiovi, who provides the lead vocals to the track "R2D2 We Wish You A Merry Christmas."
Who the hell is John Bongiovi? Well, that would be the birth name of one Jon Bon Jovi, the lead singer of the multi-platinum hair metal act that shares his last name. This is actually Jon Bon Jovi's first credited appearance on an album, coming four years before the band would release their self-titled debut record, and six years before the band would become the biggest name in 80s pop rock with Slippery When Wet. I wonder how often he thinks back to his days of singing about R2D2's holiday cheer?
The complete Christmas In The Stars album has only been widely released twice, first on vinyl in 1980, and then again on CD in 1996. Both versions are well out-of-print and go for a fortune online, no doubt because of die-hard Star Wars fanatics with too much disposable income (being a lifelong single bachelor who lives with your parents will do that).
I don't own the album, I don't hate myself that much. However, I do apparently hate myself enough to have once bought the "What Can You Get A Wookiee…" single. So enjoy that and the B-side, the Jon Bon Jovi fronted "RD2D We Wish You A Merry Christmas."
Okay…maybe not enjoy. But you know what I mean.
By the way, some quick site news!
On Sunday I leave for Toledo. Yay. But then on Wednesday I leave from Detroit for Beijing! And then after spending about a week in Beijing I will be traveling to Japan for 10 days of OMG FREAKING OUT at all the amazing shit in Tokyo. I want to get one more post out before I depart, but I don't what day that will go up. I also plan on having something written to go up automatically while I am in Beijing. I will not be blogging while in Beijing. Long story. I'll share it after I get out of Beijing.
However, expect me to blog the shit out of Tokyo. I've never been, and I'm sure that the sights and sounds of the neo-metropolis will cause my nerdy head to explode.  I don't know how much music you can expect from me during my time in Tokyo (I'm not bringing a turntable, so I'll only be sharing stuff I get on CD), but you can bet that I'll be writing a ton about record stores, live music, and all the other crazy shit I'll be taking in during my trip. I"m super-excited.
And don't forget, if you want constant updates on what's coming up on this blog/unedited vulgar ramblings, be sure to follow me on Twitter!