This post is going up on around 9:30PM, July 21st, 2012.
I wanted to get in one more blog post before the world is forever made a darker place by Miami Heat winning a fucking NBA Championship. Fuckin' Miami. I wish I had a rare version that that Against Me! song so I could just post that.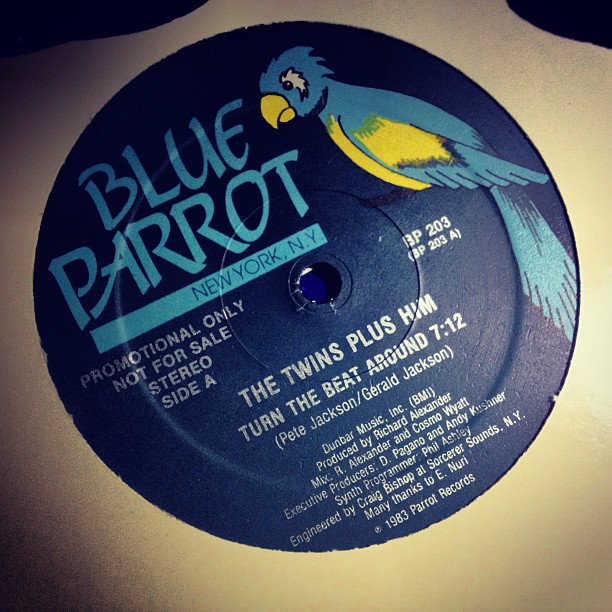 The Twins Plus Him
Turn The Beat Around
Turn The Beat Around (Dub Version)
Turn The Beat Around (Short Version) 
I love/hate it when I find a track by a mysteriously-named artist who released no other work. I love it because I feel like I stumbled across some hidden gem/unknown great who no one knows about. I hate it because they're typically so mysterious that I can rarely find anything else out about them aside from the one song. So, anyone know anything about The Twins Plus Him? Who are The Twins? Who is Him? I suspect the Him in question may be Richard Alexander, a disco-era producer who produced this take on the song that Vickie Sue Robinson made famous in the 70s. However, the identity of the lead singer(s?) is a complete mystery to me. They're not credited at all on the label. If anyone could shed some light on this one I would appreciate it.
Pumpkin
King Of The Beat
King Of The Beat (Instrumental)
Pumpkin was the alias of Errol Eduardo Bedward, a drummer who worked on a lot of late 70s/early 80s disco and electro tracks. I don't know much of his work outside of this track, and that's a shame because hot diggity damn this is some great old-school electro shit. It's simple, effective, and (not surprisingly) has a great beat. If I could breakdance I would totally breakdance to this tune. I'd try, but with my luck I'd have a muscle spasm while trying to do the worm. Then my spasming leg would then probably kick my aquarium stand, which would in turn knock over the aquarium onto my head, killing me instantly.
Or maybe I would just wind up looking like an ass, either way, I'm not taking that chance.