Just a single song tonight. But it's really good!
Havana 3 A.M.
Blue Gene Vincent (Live)
A few weeks ago I picked this up at a yard sale.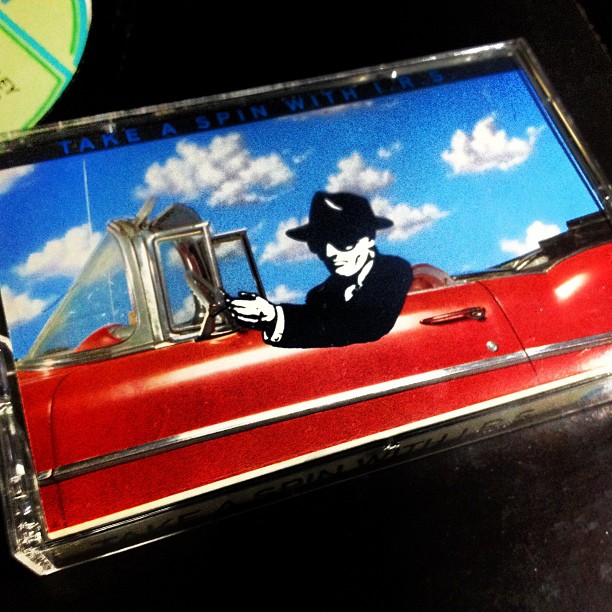 Take A Spin With I.R.S., a 1992 promo tape made by I.R.S. Records to showcase some of their best and brightest acts. When I grabbed the tape, the only artists on I recognized on it were Concrete Blonde and MC 900 Ft. Jesus. After listening to it, none of the other artists on the tape (which included acts such as Dada, Vinx and Rebel Pebbles), really left an impression on me.
That is, none of the acts except Havana 3 A.M. They close out the tape with a live version of "Blue Gene Vincent," a track off of their 1991 self-titled debut. It's an amazing tune, full of energy and a slight rockabilly edge that was reminiscent of some of The Clash's best work.
Turns out that's no coincidence. Havana 3 A.M. was a band launched by Clash bassist Paul Simonon after the band broke up in the 80s. Their 1991 record proved to be their only official release, as lead singer Nigel Dixon died just two years later, followed by Simonon quitting the music business altogether. I guess the guitarist went on with the name for a bit, but I think the album he released under the name is more of a solo record.
It was the only song on the tape that I loved, so of course that was the only part of the tape that was damaged and distorted, rendering the end of the song unlistenable. I picked up a copy of their CD, but the studio version of the song just pales in comparison. I needed the live version.
Most people would just give up at this point, but not me. I'm crazy. I'm an idiot. I'm the kind of moron who will pluck down 13 bucks to an online used tape dealer to buy a tape that I already own just in the off chance that it might sound better than the version I already own.
Sigh, I either need a cheaper hobby or I need to get back on Prozac.
Anyways, thankfully my moderate insanity paid off. The second copy of the tape sounded much better (it's still kind of muddy sounding, but hey, it's a 20 year old tape), allowing me to finally record a complete version of the tune that I can share with you all tonight.
If you at all love The Clash (and you fucking should) then you need to check out this tune. I can see why the studio version failed to catch on back in the day, it's a bit too overproduced and was already dated by the time it came out. There's something funky with the drums, it lacks edge and bite. But this version just kicks ass. It has a rockabilly feel to it, but it's totally a punk rock song at heart.
It's the kind of song that I bet Joe Strummer would have dug the shit out of. I hope you do.