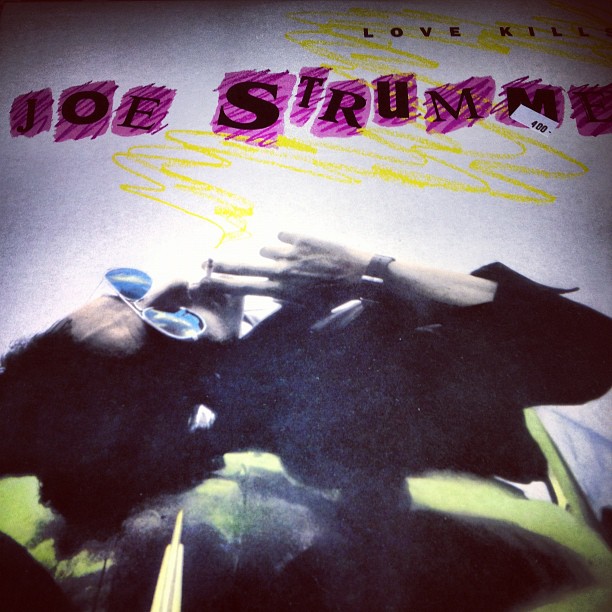 Okay, last time I'll plug it. If you haven't read it and you're at all interested in recording vinyl, please check out my guide to recording records. It's more than a bit lengthy, but I've been told my multiple people that it's full of useful facts and tips. I also don't swear in it at all (I don't count saying the band name Fucked Up as a swear). And I'm crazy proud of that. Because we all know that's pretty uncommon.
Joe Fucking Strummer
Love Kills (12″ Version)
Love Kills (Dub Version)
Love Kills (Instrumental)
Sid & Nancy is not the kind of movie that I have any interest at all in seeing. From what I know about the film, it's wildly inaccurate about the actual events surrounding Sid's role in The Sex Pistols, and it takes some pretty drastic dramatic licence in assuming the situation surrounding Nancy's death. I also have no desire to see a film about a couple of junkies killing themselves with smack. If I want to know how opiates fuck with someone I'll just call some of my old high school friends, thanks.
All that aside, the soundtrack sure is fucking magnificent, the highlight being this legendary track by Joe Strummer. It's probably the darkest "love" song outside of a Bauhaus record, with its references to drug addiction, lynching and even the murder of Nancy. Still, I sense some sort of joy or optimism in the lyrics, especially in the chorus.  "But if my hands are the color of blood/then I can tell ya, sure I can tell ya/Love kills," is a line that's so damn great, so perfect, that I desperately want to believe that there's a positive message to be found in it somewhere. That's probably just me being oddly optimistic though. I get that a lot.
I bought this 12″ single just because I love the song. I got a great bonus when I found that it included an extended 12″ version of the song! That's not mentioned on either the album sleeve or the label, as such, I don't know the name of this remix. I'm just calling it the "12 inch version." If anyone wants to correct me, please feel free. But do that after you download it, because damn it's a great version of a great song. The dub mix isn't half bad either, especially as dub versions go, probably because it still has most of the lyrics of the original.
Just the one song tonight. I might have another post near the end of week that will be more substantial.