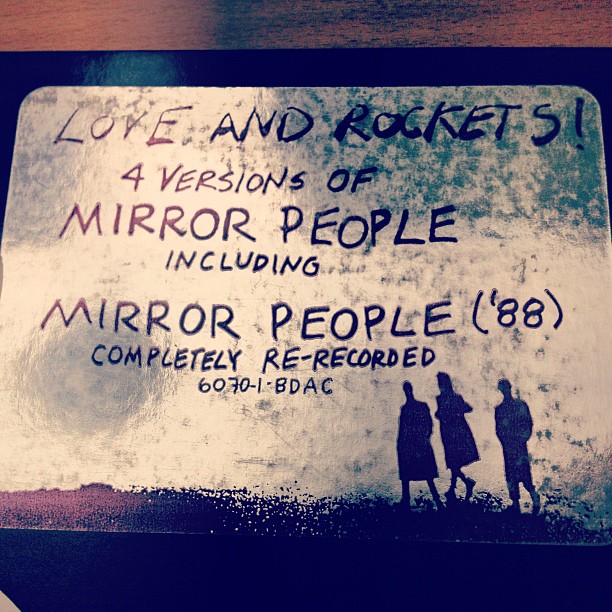 Now that I finished the mannoth undertaking that was The Lost Turntable Guide To Recording Vinyl, I'm starting to wonder what I should try next. Is there anything in the guide that I left out? Any topics that any of you thought I should have covered but didn't? I'm thinking about writing something about what to look for when buying vinyl, because if there's one thing I'm really good at, it's spending money on records. Would anyone be interested in that?
Anyways, this is the last post for the week, and I probably won't post until the second half of next week, thanks to some work commitments (which are good) and family commitments (which are more of a mixed bag).
One good thing, if all goes well this weekend I should be coming back to Pittsburgh with a new turntable! It's not going to replace my Technics, but it's certainly an interesting deck. If I get it I'll be sure to do a full write-up, most of you have probably never seen anything like it.
Love And Rockets
Mirror People (88 Version Re-Recorded)
Mirror People (88 Version Edited)
What a weird song, and not just because of the lyrics, but because there are so many damn versions of it. The original version of "Mirror People" leads off the band's 1987 tour-de-force Earth Sun Moon, and if you have the CD or digital editions of the album, a "slow version" of the song serves as the record's coda.
However,  a year after the album came out the band re-recorded the song, as a more fast-paced and polished work that was no doubt intended to capitalize off of the band's success with the single "No New Tale To Tell." This new version is a lot less shoe-gazey than the original, and has much more of a "punchier" sound over all. I'm sure it was all a tactic to turn the song into a hit single, although I don't think it worked. I have to say though that I prefer this version, I'm always a sucker for some more anthemic sounding drums. I do love the wall-of-sound production of the original too though.
The B-52's
Channel Z (Rock Mix)
Channel Z (Remix Edit)
Channel Z (Rock Dub)
I just like saying "Channel Z" like  Fred Schneider does in the beginning of this song.
"Channel ZEEEEEEEEEEEEEEEEE!"
ZEEEEEEEEEEEEEEEEEEEEEEEEEEEEEEEEEEEEEEEEEEEEEEEEEEEEEEEEEEEEEEEEEEEEEEEEEEEEEEEEEEEEEEEEEEEEEEE!
Okay, yeah so maybe I wrote so much stuff this week that I've ran out of constructive or interesting things to say, what's your point?