For those of you just tuning in, this is my fifth post on the Nevermind remaster. If you want a recap I suggest you check out the following:
The Neverming 20th Anniversary Release: Anatomy Of A Disaster
The Nevermind Remaster: Further Analysis
 The Nevermind 4LP Set – Disaster On Wax
Bob Ludwig want you to know that you don't count 
If you're lazy, here is the TL;DR version: The Nevermind remaster is shit and you shouldn't buy it on CD or LP.
Also, Bob Ludwig is an ass.
Unfortunately, I didn't know that when I bought the limited edition picture disc set, which I got in the mail today.
Is it any different than the regular 4LP version? Not really, but there are a few aspects of it that I thought were worth mentioning. It also allows me to put this whole Nirvana thing to bed for a while with one more post. So if you're sick of all this Nirvana stuff on my blog, be happy, this will be the last post to tackle the topic for some time.
Content-wise, the picture disc deluxe edition is identical to the regular vinyl deluxe edition. It includes the album proper; B-sides; the Smart Studio Sessions; The Boombox Rehearsals; and the BBC Sessions.
As for the discs themselves, each side has a unique picture:
They sure look neat, but they sound absolutely horrible, but I can't really fault the master for that. You could press the most high-quality, audiophile-approved transfer in the world onto a picture disc, and it will still sound like crap. Something about the process of putting a picture on a vinyl record makes it sound significantly worse. Every picture disc I own has crazy amounts of surface noise, with more pops, cracks and snaps than a bowel of rice krispies, and there's never anything I can do about it. It's just how picture discs are.
Because of this, picture discs are almost never intended to be listened to, they're for collectors only.
Thankfully, in a very rare example of common sense on the part of Universal, they actually included a download code with this version. So instead of having to listen to a noisy, crackly version of Nevermind that's a little too loud and over-compressed, you get to listen to a crystal clear 320kpbs MP3 version of Nevermind that's way too loud and over-compressed.
But Universal even managed to fuck that up. When you download the files they come in a zip that contains eight separate folders, one for each side. When you import the tracks into iTunes they look like this (click on the image to see it larger):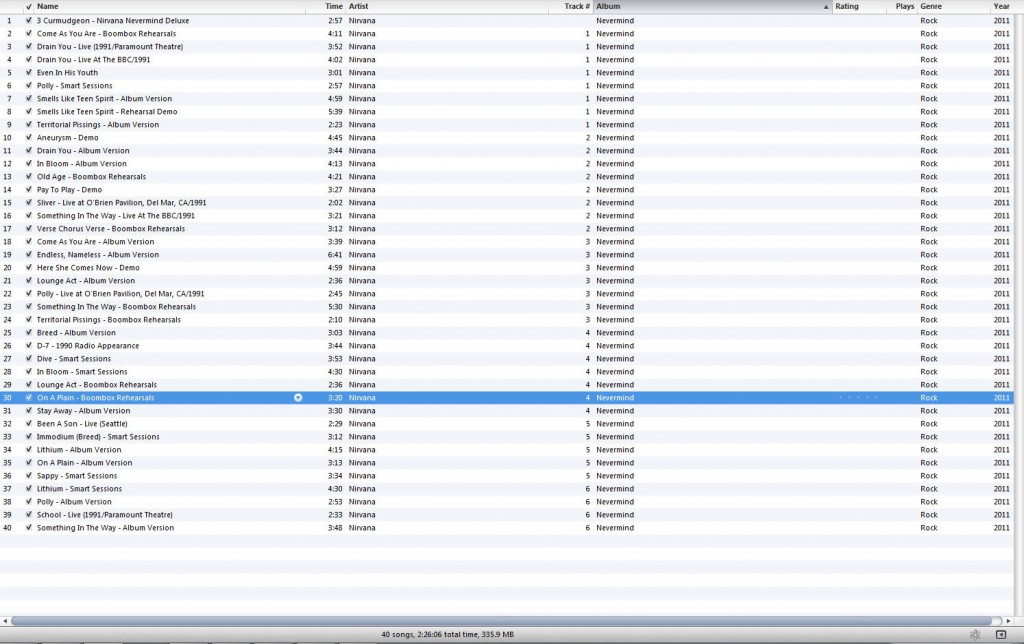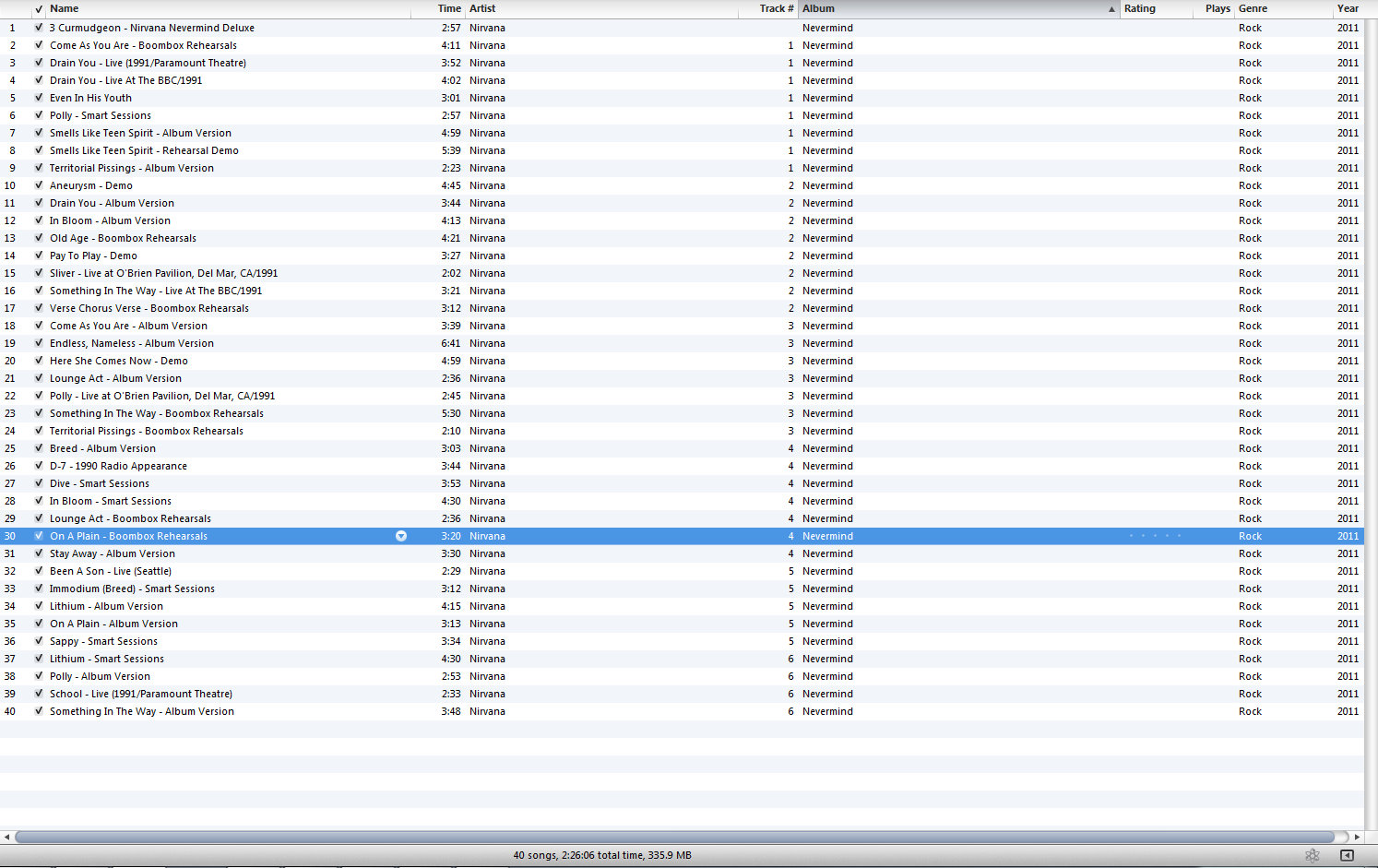 In case you can't tell, the track listing is screwed up. For some reason, the Id3 tags try to keep the vinyl tracklisting,  making it so the numbering resets at "1" for the first track of each side. When you load the tracks into iTunes (or any other Mp3 player software)  it lists all the track "ones" in alphabetical order, followed by all the track "twos," and so on. Also, for some reason the track number for "Curmudgeon" is in the track name field. You can fix all these mistakes yourself, but you shouldn't have to. The fact that Universal couldn't even get something as simple as ID3 tags right really shows how little they cared about this release.
There are only 1,991 of these sets, with only 500 allocated to the states. These were only available at the official Nirvana store, so now if you want one you'll have to pay an inflated price on eBay. I'm seeing them go for over $100 already, I'm sure that'll skyrocket for a bit and then settle somewhere between $100 and $200 bucks.
Are they worth it? This may sound odd, but if you're an obsessive Nirvana collector then this version is probably your best bet. Yes, it sounds like shit, but so do other versions, so you might as well get one that looks cool. But if you don't care about collecting stuff, it's just another version of Nevermind that you should avoid.
That shouldn't be a surprise though, let's look at all the ways that Universal has botched the 20th Anniversary of one of the most important albums of my generation:
The remaster is too loud and compressed
The Super Deluxe Box Set and the Live At The Paramount Blu-ray are timed Best Buy exclusives
The Super Deluxe Box Set doesn't include a Blu-ray of the live concert, only a DVD, so if you want the Super Deluxe set and the Blu-ray you have to double-dip
The audio on the "Smells Like Teen Spirit" video on the DVD is taken from the remaster, creating a jarring audio cut
The music videos included on the DVD aren't on the Blu-ray
There are reports of many of the Blu-ray copies suffering from audio/video sync issues (to be fair, I never had this problem)
The 4LP vinyl set came out a week after every other version, and the picture disc set came out even later
There is no way to get the Devonshire mixes on vinyl
The 4LP vinyl set has a error 27 seconds into "Polly" that surrounds Kurt's voice with noise when he says "seed."
Both the official website and Best Buy advertised the wrong dates for the vinyl versions
The regular 4LP vinyl set doesn't include a download code
The download code included with the picture disc set gives you Mp3s with bad ID3 tags
It's a disgrace.
You know how if parents treat their kids like shit they can lose custody? Or how you can lose the right to own an animal if you abuse one? The same should go for copyright.
If a corporation doesn't respect the artwork that they hold the rights to, then they should lose the right to make money off of it. In a fair and just world, the way Universal has botched the Nevermind re-issue would be a criminal offense, the penalty of which would be a complete relinquishing of the rights to all Nirvana recordings.
Of course, fans can already get Nirvana music for free thanks to the magic of the Internet, and I suggest that's what they do from now on.
Some may say that encouraging people to steal music is immoral. Perhaps they're right, but in my opinion, it's more moral than holding a generation's cultural milestone hostage and destroying it for no apparent reason, with no respect for the art nor the people whose lives it touched.
What really boggles my mind about all of this is that there are amazing remasters of Nevermind that are already out there! Just two years ago Original Recordings Group (ORG) released a vinyl-only version mastered from the original analog tapes that got stellar reviews! I have their versions of Incesticde and In Utero and I can attest to their quality. In 2007 Universal Music Japan released a 200 gram vinyl that supposedly sounds amazing! Even Mobile Fidelity Sound Labs (MFSL) released great-sounding record and CD versions of the album, and that was all the way back in 1996! I have a copy of that version and I can personally tell you that it sounds incredible! That's the version to get. It may cost a fortune now, but the Internet is a magical place…
Go to Google and search for "Nevermind mfsl download." Click on the first link.
You're welcome.