This post is brought to you by Octopus vs. Whale Cake.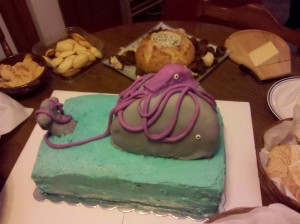 Its the best cake ever. Words are meaningless now that you've seen it.
Annie
Always Too Late (Joakim Dub Mix)
Helpless Fool For Love (Patrick Wolf Remix)
Always Too Late (Joakim Vocal Mix)
I like Annie and these are excellent remixes. But it's 2:30 AM and I'm out of material. Go look at the cake again!
Erasure
Freedom (Quake Vocal Remake)
Freedom (Untidy Dub)
In My Arms (Love to Infinity Gyrator Club Mix)
In My Arms (Love to Infinity Stratomaster Mix)
The march of fabulousness continues with more Erasure mixes. I have at least one more day of these, possibly two. It depends how much I want to spread the Erasure goodness. Okay, that sounded gross. Go back to the cake.