I wrote the majority of this post on Tuesday without any knowledge that today, November 29th, 2012, is the 40th anniversary of the release of Pong and that Buzzfeed has published an excellent article about the game entitled Atari Teenage Riot. Serendipity doo!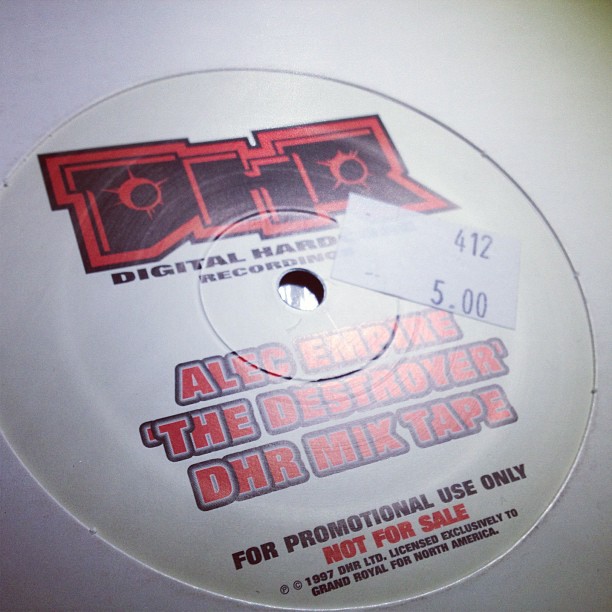 Alec Empire
'The Destroyer' DHR Mix Tape Side 1
'The Destroyer' DHR Mix Tape Side 2
Alec Empire is the frontman of Atari Teenage Riot, the German electronic band that Mike D of the Beastie Boys once declared to be the most punk rock shit ever. That's a hell of an endorsement, but it was inaccurate. They are the most hardcore shit ever. So fucking hardcore that they had to make up a genre (digital hardcore) to properly categorize their more hardcore than hardcore, louder than louder, noisier than noise sound. When forced to describe the abrasive, acidic sound of ATR, I typically say "imagine if someone took all of the heaviest Slayer bits, put them in a sampler, and then hit the sampler with a fucking sledgehammer." To date, ATR is the only band that have actually given me a headache.
I fucking LOVE them.
Sometimes you just want to go there, y'know? You want your head rattled, your brain smashed in, your sense of what constitutes music and what constitutes noise to be shaken to its very core. I listen to a lot of music, and the most in-your-face ATR or Alec Empire solo work still takes me places few other songs can, even it makes my head explode a little bit sometimes.
This mix is a combination of ATR"s greatest hits, random movie/anime samples, and in your face noise (and a Frank Zappa sample). All scratches, pops and hisses you hear on this mix are from the original source material and are not mistakes made by me during the recording process. From what I can gather, this mix is rare as shit, only about 200 or so copies were pressed to vinyl. I bought it for five bucks in a shitty NYC record store that was charging $80 for run-of-the-mill Tangerine Dream albums. There's some irony or justice there somewhere.
If you have never heard ATR before, be warned, this might not be a good jumping on point. This is the most bone-jarring thing I have ever posted on The Lost Turntable. To the unprepared it might sound like the phone call from Stephen King's The Cell or that broadcast in that film The Signal, and may induce a similar madness. After listening to it nonstop for about two hours I want to run outside and punch a cop in the face.
You have been warned.