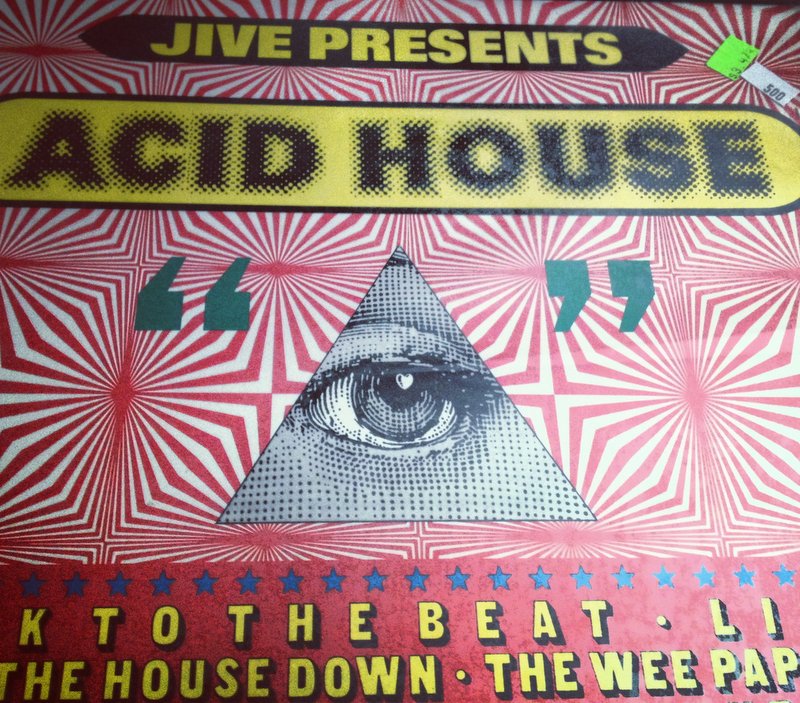 Are you ready for some acid house?
Acid house, for you young kids out there who may not know, was one of the most influential and important dance sub-genres of the late-80/early-90s. It was an offshoot of Chicago house that employed the unique properties of the Roland TB-303 synthesizer-sequencer to create a sound that was more electronic, bizarre and trippy than anything that had been heard before. If you're interested in reading more about the genre's history and its sound, I suggest checking out the wiki, although it barely touches on the importance and lasting impact of the genre.
I think acid house has been kind of forgotten by the younger generation of electronic music fans, which is a shame as it was a key point in the history of electronic music. Before acid house, most dance music still had one foot in disco, relying way too much on four-on-the-floor beats and kick drums. By the time acid house made its way to England in the early 90s, it had stripped all of those aspects away, becoming one of the first purely electronic forms of dance music. Yes, I know other electronic dance music existed well before acid house, but it was one of the first to really catch on with the club crowd in a big way. Hell, as that wiki mentions it's probably solely responsible for the birth of the UK rave scene (well, that and ecstasy).
That's the scene that gave birth to Underworld, Fatboy Slim, The Chemical Brothers, The Orb, Prodigy and countless others acts that would go on to dominate electronic music (and to some extent pop music) in the later half of the 90s. Do you like electronic music? Then you should at least respect acid house, because without it your favorite electronic artists of today probably wouldn't exist.
Which brings us to this album, one of the earliest compilations of the genre that I can think of. All the tracks on this record exemplify what made acid house acid house; simple beats, remixed and sampled vocals; and more 303 "squelch" sounds than you can shake an off-brand drum machine at. All awesome stuff, so let's get into it.
Lisa M
Rock to The Beat (Short Circuit Mix)
A great seven and a half minute jam that combines the excellent acid sounds of the genre with some amazing vocals by Lisa M, whose full name is Lisa Moorish. She released one album, I've Gotta have It All, in 1996 on Go! Beat, but I think that was her only release as a solo artist. Since then the London-based singer has appeared as a backup singer on a few different releases, including singles for Ash, Oasis and Babyshambles. Didn't see that one coming. This is one of the best songs on the album.
The Wee Papa Girls
Blow The House Down (Hard Core Mix)
The hideously-named Wee Papa Girls were a UK-based pair of rappers who released two albums on Jive in the late 80s and early 90s before calling it quits. I can't find much in the way in activity for either of the girls after they split up. To be honest, their vocals are the least interesting thing on this excellent track, one again it's the radical sequencer work that steals the show. Love this tune, it's a sonic freakout.
Children Of The Night Featuring Rankin' Roger
We Play Ska (Trojan Horse Mix)
While "We Play Ska" is a really odd name for an acid house tune, it's a pretty accurate one. If there ever was a ska/house mash-up, it would be this track, thanks to is offbeat combination of 303 acid grooves with reggae vocals, trumpets and what sounds like a sample from a vintage ska track. We've been over how I feel about ska, but I do love anything with a hard 303 sequence, so I dig this track.
As for the people behind the music, Children Of the Night were Neil Rushton and Wayne Archbold, two DJ/producers who did more stuff behind the scenes as managers and producers than as artists themselves.  Rankin' Roger is the MC on the track, and he released two CDs, one in 1988 and another in 2001. So I'm really looking forward to his 2014 release.
Mr. Lee and The Chi Town Posse
Pump It Up (Pump the Acid Remix)
Mr. Lee is a Chicago-born rapper who found some success in London in the early 90s thanks to his dance/rap hybrid style. Other dance hits by Mr. Lee include "Pump Up London," "Pump Up Chicago" and "Pump That Body." Apparently, the dude was pumped and wanted you to be as well. I'm not a huge fan of his rapping, but I love the sequencing on this tune.
And before you ask, I have no idea who The Chi Town Posse is.
Big Fun
Living For Your Love (Blow the Amp Mix)
Big Fun were a boy band, but apparently someone in their production group decided they should have an acid house remix. I've never heard the original version of this track, but I bet it's pretty different than this remix, which is over seven minutes long and dissolves into nothing more than a sequencer melody and a drum beat near the end. Not a horrible track, but definitely the weakest song on this album.
Rhythm Is Rhythm
Beyond The Dance
Rhythm Is Rhythm is Derrick May.
Derrick May, in case you aren't aware, was one of the originators of Detroit Techno. Meaning he's one of the originators of techno as a genre of music. So yeah, he's a big deal. Needless to say, this song is fucking fantastic and you should listen to it now.