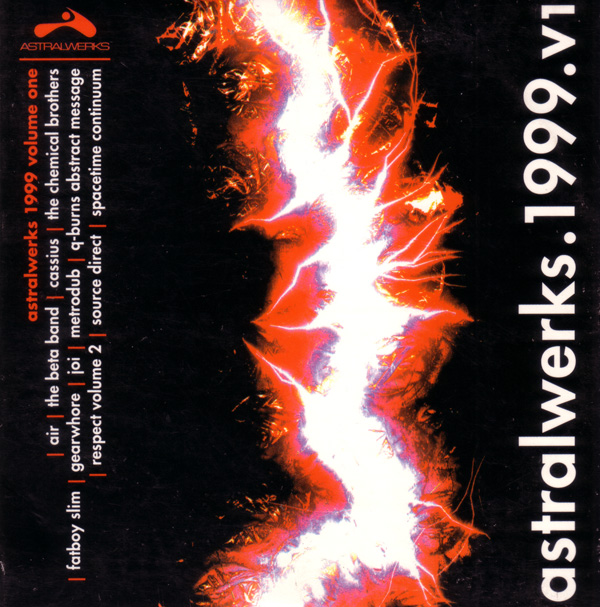 As a teenager in the 90s with an interest in electronic music, much of my early experience in the genre came thanks to the label Astralwerks.
Nearly all the electronic music I bought in the mid to late-90s was on Astralwerks, including records by Fatboy Slim, Basement Jaxx, Fluke, Photek, The Beta Band and many more. They also put out those amazing Wipeout soundtracks, which I talked about in a previous post.
Astralwerks.1999.V1 was one of many compilations by the label, built to showcase established and upcoming artists. It's a pretty good collection too, featuring tracks by Fatboy Slim, Q-Burns, Air, The Beta Band and The Chemical Brothers. Most of the tracks on the record are easily available today, so I'm not including everything here tonight, just the stuff that's not in print anymore. Thankfully, that's some pretty interesting stuff.
Phillippe Zdar
Cassius DJ Mix
Stardust DJ Mix
Phillippe Zdar makes up one have the French dance duo Cassius, who have been releasing music since the mid-90s. I don't remember Cassius from the time that I got into electronic music, but the second I started up the Cassius mix I did recognize the lead-off tune, the instantly catchy "1999," of no relation to Prince's "1999."
Stardust, on the other hand, was a side project of Daft Punker Thomas Bangalter and also included lesser-known musicians Alan Braxe and Benjamin Diamond. As far as I know, only one song came out of the collaboration, the classic "Music Sounds Better With You" (which had an amazing video by Michel Gondry). Of course, having only one song in your entire catalog makes creating a DJ Mix a little tricky. As far as I can tell, there are only three tracks in this mix. One is, obviously, "Music Sounds Better With You." I think the second is a remix of the same song. The third is the Les Rhythmes Digitales remix of Deejay Punk-Roc's "My Beatbox." That would make the "Stardust DJ Mix" claim kind of false advertising. But hey, the Les Rhythmes Digitales connection at least makes it all French house, so…close enough I guess?
Metrodub
Cut Up Music (Jazzy Mix)
Who is Metrodub?
No, seriously, who is it?
This was the only song they ever commercially released. They still have a MySpace page (glad to see someone does) and they have a Discogs entry as well, which bills their real names as "Mario A and Fabio Nieto." Wonder what happened with them. This is a pretty good track, very reminiscent of stuff that Ninja Tune artists were putting out at the time.
Gearwhore
Train
I saw the name Gearwhore and immediately thought "this guy has some connection to Ministry." Sure enough, Gearwhore (real name Brian Natonski) got his start in Chicago, working as an engineer at the Chicago Trax Studio, where Ministry and other industrial acts of the time recorded their albums.
Gearwhore's only album was Drive, which came out in 1998. He released a few singles, both as Gearwhore and under his actual name, but I think his career dried up by the end of the decade. I don't have any of that stuff, but based on this track it sounds like he was trying to go for an industrial dance vibe. Not bad. Not great.
Source Direct
Technical Warfare
Source Direct were a drum and bass duo out of the UK, although I guess one of them still releases music under that name. I actually think I had a Source Direct album back in "the day" as looking them up on YouTube brought back some memories. This song wasn't a rarity when it came out. It was actually featured on the group's 1999 album Exorcise The Demons. However, that album is out of print so here you go.