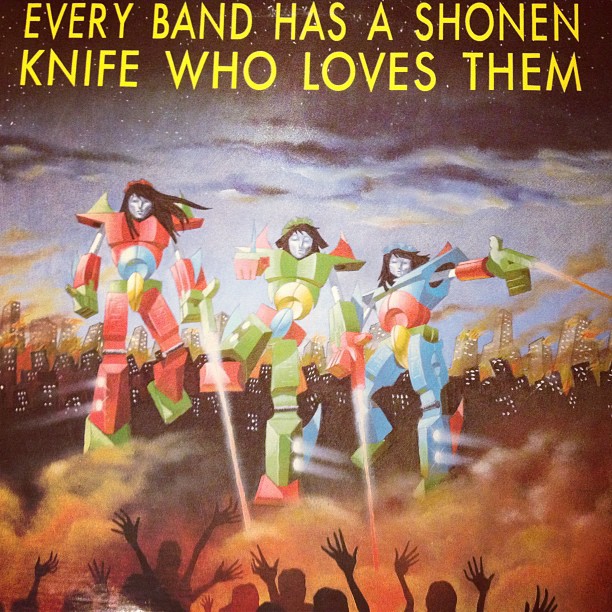 If you put a gun to my head and made me pick a favorite, all-female Japanese rock band, I'd probably have to choose Cibo Mato. Also, I'd probably tell you that you're really violent about demanding declarative decisions in regards to my personal preferences of which international rock bands I enjoy the most.
That being said, I really like and respect Shonen Knife, even if I don't know that much about the group. I recall them kind of being a minor thing in the states during the mid-90s. Kurt Cobain said he liked them, an endorsement of so much clout  for the time that pretty much guaranteed any act who got it  at least an early afternoon slot at Lollapalooza.
But Shonen Knife had developed a pretty rabid following in the states even before Kurt was talking about them in the press. By 1989 the group was popular enough for inide label Giant Records to compile Every Band Has A Shonen Knife Who Loves Them, a collection featuring American bands covering their favorite songs by the Japanese rockers.
Even as someone who doesn't know a lot about Shonen Knife, I think this album pretty much kicks all kinds of ass. Just look at some of the acts who grace this record: Sonic Youth, Reverb Motherfuckers, The Mr. T Experience, Babes In Toyland, L7, Red Kross! It's like a who's-who of noise, indie and riot-grrl.
At times though the album is less of a "who's who" and more of a "who's that?" Sadly, many bands on this compilation went nowhere, some aren't even credited on Discogs for any release aside from this record. And there are four bands on the album (Project Jenny & Teen Steem, Ella Ohne Die Schwarzen, Dem Choclodytes and The Maynards) whose only appearance on any release ever is on the 2LP edition of the album, their songs aren't on the single LP version or even the CD edition of the record. How's that for your obscure randomness?
Even more obscure than those songs though is the cover of "Cycling is Fun" by Pandoras. It's on the tracklisting for the 2LP edition but it's actually nowhere to be found on the record itself. It only exists as a concept! Now that's some underground shit.
I'm only offering this is as a complete album download, because I really don't want to set up 32 separate download links. Nor do I want to comment on each song/band individually, as I hardly know any of the bands on this record and I really don't feel like researching 20+ bands. Sorry! If you have any interesting tidbits to share about some of the more obscure acts on this album, please feel free to share them in the comments though.
In case you're wondering, here is the complete tracklisting:
Record One
1. Kappa Ex – Redd Kross
2. Summertime Boogie – The Freaks
3. Insect Collector – The Three O'Clock*
4. Public Baths – Frightwig
5. Dali's Sunflower – Government Issue
6. Baggs – L7
7. Froot Loop Dreams – White Flag
8. Twist Barbie – The Pussywillows*
9. Making Plans For Bison – Big Dipper
10. Ice Cream City – Christmas
11. Lazy Bones – Pat Ruthensmear (AKA Pat Smear)
12. Elmer Elevator – Krave
13. Devil House – Chemical People
14. Burning Farm – Sonic Youth
Record Two
1. Antonio Baka Guy – Lunachicks
2. Flying Jelly Attack – The Mr. T Experience*
3. Miracle Woman – Project Jenny & Teen Steem*
4. Parrot Polynesia – Ultra Violet Eye*
5. Angel Has Come – Angels Of Epistemology*
6. Parallel Woman – Masters Of The Obvious*
7. Blue Oyster Cult – Ella Without The Blacks*
8. Tortise Brand Pot Scrubbing Cleaner's Theme-Bye Bye – Disco Dave Landry
9. Elephant Pao Pao – Reverb Motherfuckers
10. Redd Kross – Death Of Samantha
11. Watching Girl – Babes In Toyland*
12. Riding On The Rocket – Das Damen
13. I Like Choco Bars – Dem Choclodytes*
14. Animal Song – The Maynards*
15. Ah Singapore – Wendy Horowitz
16. One Day At The Factory Preface – Phil Blumel
17. One Day At The Factory – Pippi Eats Cherries*
18. Cannibal Papaya – Smokin' Gas Truck*
* 2LP Edition Exclusive Tracks
Oh, and the records are pink and white.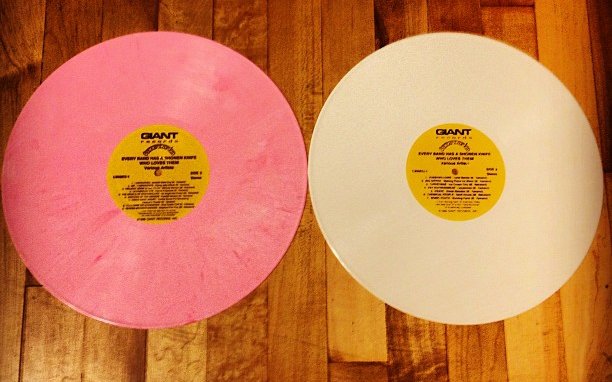 Have a good weekend, and if you live near Pittsburgh, don't forget to check out Vinylpalooza! Click here for details.