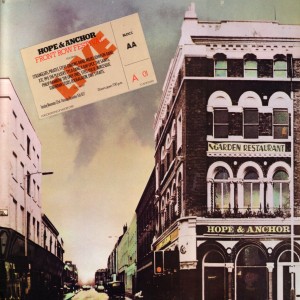 Hope & Anchor is a pub in the Islington borough of London. In 1977, they held a series of concerts dubbed The Front Row Festival. Performances from those concerts were then culled to create a 2LP concert album that was a record for the ages. It's a crazy album with a wildly diverse set of artists, a line-up that shows a bygone era where an amazing assortment of diverse bands and genres co-existed in an open and free environment.
Not only are a wide arrange of punk and new wave artists featured on the album, but a good majority of the record is devoted to pub rock, an entire genre that most people today probably know next to nothing about.
Pub rock was a very short-lived genre that thrived in the London pub scene (duh) from about 1971 to 1975. It was basically roots rock music, stripped down old style rock and roll that had more in common with rockabilly and rhythm and blues than anything that was popular at the time. In fact, pub rock was a reactionary movement against popular music of the time, especially glam rock and prog rock. Pub rock acts were against bombast and overly complex songs. They wanted to take rock music back to its roots, so much so that many of them wouldn't have been out of place in the 1950s opening for Bill Haley or Buddy Holly.
But it wouldn't last long. While taking a nostalgia trip to a bygone era is fun for a while, the scene quickly moved on, appropriating the bare-bones and simplistic style of pub rock while forgoing it's retro flavor, resulting in the birth of  punk.
However, for an all-too-brief moment, both scenes existed side-by-side, and we thankfully have this album to document the exciting and influential bands that were a part of it.
And Dire Straits.
Wilko Johnson Band
Dr. Feelgood
Twenty Yards Behind
Wilko Johnson has been in a few different bands. For most of the 70s he was in a pub rock act called Dr. Feelgood. Apparently when he left the group in the later half of the decade he took this cover of the 1960s blue song from which the band got their name with him.
The Wilko Johnson Band appears to have been a one-off, this is their only credited appearance from what I can tell. But everyone in the band (Norman Watt-Roy and Steve Monti, along with Johnson) were also in another band called Solid Senders, who released their sole album in in 1978. After that band ended, Johnson joined Ian Dury's Blockheads.
Both "Dr. Feelgood" and "Twenty Yards Behind" are classic UK pub rock, no punk attitude to be found.  Still, you can hear how it probably served as an influence to the kids who would form punk bands, with its simple chord progressions and fast tempo, but you can also imagine that most probably hated it at the same time since it was pretty tame.
The Stranglers
Straighten Out
Hanging Around
I don't think I need to say much about The Stranglers, they're one of the biggest and best bands on this compilation. If you don't own any Stranglers albums, then shame on you. Go buy some. I'll wait here till you get back.
See? The Stranglers kick ass. Let's move on.
Tyla Gang
Styrofoam
On The Street
The Tyla Gang were the brainchild of Sean Tyla, who was the guitarist for the awesomely named Ducks Deluxe, another popular British pub rock band of the mid-70s.  As The Tyla Gang, he seemed to continue the pub rock tradition of Ducks Deluxe, cranking out fast-paced, blues-influenced rock-n-roll. It's not surprising that he went on to work with Joan Jett for a bit after the Tyla Gang called it quits.
These tracks a pretty solid, although the wannabe blues sound of "Styrofoam" is a bit corny.
The Pirates
Dont Munchen It
Gibson Martin Fender
The Pirates featured on this album are Mick Green, Johnny Spence and Frank Farley. They served as the backing band for the second incarnation of Johnny Kidd & The Pirates, who released their first single back in 1959. They were with Johnny Kidd until 1966, when he died in a car accident. This recording was apparently their "comeback" gig, and their first major appearance since Kidd's death.
Strangely enough, The Pirates are one of the most "punk" sounding pub rock bands on this album, going for the raw style of R&B reminiscent of early Who and Sonics songs. "Gibson Martin Fender" has an oldies feel for sure, but all that separates "Don't Munchen It" from a Sex Pistols track are competent musicianship of the band members and quality vocals.

Steve Gibbons Band
Speed Kills
Johnny Cool
Another 60s survivor, Steve Gibbons was a member of the horribly-named group The Uglys, and the even more horribly-named group Balls. His upbringing in the 1960s scene shows with these two songs, which are some of the most "roots rock" sounding cuts on the record.
The Pleasers
Billy
Rock & Roll Radio
These guys are interesting, at least from a musical standpoint, as they sound a bit like everything. They have the guitar solos and beats of 50/60s rock, the bluesy, garage rock feel of early-70s pub rock, and the non-stop energy and enthusiasm of punk/new wave music. I'm surprised they didn't end up on Stiff Records. They ended up releasing quite a few 7″ singles, but they never put out a proper record. It's too bad, this pair of songs sure sounds great.
XTC
I'm Bugged
Science Friction
I'm willing to bet that XTC were the only band on this line-up who would site Can and Neu! as inspirations. XTC are legends, I have nothing of value to add to any discussion about them. Both these songs are great, and if you haven't already, listen to more XTC, they were incredible. Buy Oranges & Lemons, that album is a masterpiece.
Suburban Studs
I Hate School
Not all 1970s UK punk was political or topical, unless you consider the timeless subject of not wanting to go to school to be one of political importance. The Suburban Studs were one of the very first punk rock bands, with their first single coming out in 1977, but they fell through the cracks and have since been forgotten. That's probably because they weren't very good when compared to the Sex Pistols, The Clash and The Buzzcocks.
But hey, do you hate school? If so, then you can totally identify with this track.
Dire Straits
Eastbound Train
They may be the biggest band on this record (probably by about 100 million records or so), but when this performance was recorded in 1977, the band didn't have an album to their name, let alone a single. Even though, this sounds like Dire Straits, laid-back and bluesy, with Knopfler's trademark guitar and vocal styles noticeable from a mile away.
As far as I know, a studio recording of this song has never been released, and the only official releases of it have been on live albums. It's a good track, but it still sticks out like a sore thumb compared to everything else here.
Burlesque
Bizz Fizz
Another pub rock group that died out with the birth of punk. I know very little about these guys. They released two albums (one studio and one live) but neither came out in the states and neither have been reprinted on CD. I can't even find them on YouTube. Based on "Bizz Fizz" I can pick up a slight jazz edge to them, but they also have that punkish energy that so many great pub rock bands had. Anyone know if their albums are worth tracking down?
X-Ray-Spex
Let's Submerge
I really need to get me some more X-Ray Spex. I think they the only first generation punk rock act to have a female lead singer (who had the fucking amazing stage name Poly Styrene), and I'm willing to bet they're one of the only punk rock acts ever to rock a  sax player (for better or worse). This song kicks ass, although it's no "Oh Bondage! Up Yours!"
999
Crazy
Quite Disappointing
999 songs can be broken up into two categories. The first is "Homicide" and the second is "everything that's not Homicide." That second category has some stand out tunes, like these two upbeat punk numbers, but nothing in it can compare to the singular song in the first category. Another great early UK punk group for those of you who may not know, their first three or four albums are well worth checking out.
The Saints
Demolition Girl
Aussie punk! I don't know how these guys ended up in England to record a track for this album, but the record is sure better for it. This song kicks ass.
The Only Ones
Creatures of Doom
I'll be honest, I knew nothing of The Only Ones before listening to this album, although when I started doing my research I found that I had heard their classic "Another Girl, Another Planet" before. They kind of remind me of the Buzzcocks, definite good company to have. They have a pretty big cult following, and after listening to more of the music, it's easy to hear why.
Steel Pulse
Sound Check
Steel Pulse was a reggae band. They're in Urgh! I still don't like reggae, (sorry) so let's move on.
Roogalator
Zero Hero
Roogalator was a funk band, at least according to their profile at Discogs, but "Zero Hero" is pretty damn punk. I love it. I also love saying "Roogalator" over and over again so much that my roommates must be wondering if I'm chanting to myself. 
Philip Rambow
Underground Romance
Philip Rambow is proof that life is weird.
In the early 70s he was in a band called The Winkies, who were pub rock in sound but glam in appearance. This appealed to Brian Eno, and he called on The Winkies to serve as his backing band for one of his tours. But Eno suffered a collapsed lung just a few shows in, and the entire tour had to be scraped.
But it wasn't all bad news for the The Winkies. The bit of exposure did get them a major label deal, and in 1975 they put out their self-titled debut. However, the album was a bomb, so the group broke up. Rambow released a couple of solo LPs (one as The Phil Rambow Band and the other just as Philip Rambow), but they were bombs as well.
They got him noticed by someone though, because he got some songwriting work, most notably serving as a co-writer to Kristy MacColl's classic "There's a Guy Works Down the Chip Shop Swears he's Elvis." He also played guitar on Peter Murphy's solo debut Should The World Fall Apart.
Pub rocker to glam rocker to pop songwriter to session guitarist for a goth icon. How's that for a career trajectory?
Enjoy the record. If you want to learn more about pub rock, I recommended Jason Heller's excellent piece at the A.V. Club. It covers the genres high (and low) points quite nicely.