I was going through my massive stacks of vinyl, pulling out anything that I either hadn't recorded before or wanted to re-record. Turns out I have a lot of Star Wars vinyl. It also turns out that almost all of it (maybe all of it, I still have to do some research on one) has never been issued on CD or digitally. If that's not an excuse for a series of themed posts, I don't know what is.
So lets get Star Wars Week (I know it's starting on a Friday, shut up) off with a bang.
A cute, adorable, furry little bang.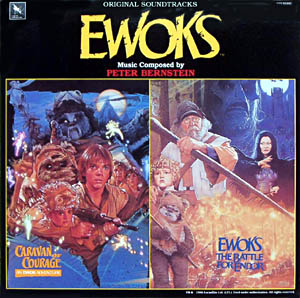 Ewoks Original Soundtracks – Caravan of Courage/The Battle For Endor
If you ever needed proof that Lucas created the Ewoks solely as a way to make money, then look no further than the two Ewoks television movies. Originally broadcast in 1984 and 1986, Caravan of Courage and The Battle For Endor were two hour-long TV movies made squarely for the little snot-nosed kids who fell in love with the Ewoks the second Isaw the adorable little furballs in The Return of the Jedi.
Hey, it worked for me. I remember loving the first Ewok movie when I was a kid (although I don't have any memories of the second) and thinking that the Ewoks were pretty cool dudes overall. It wasn't until I learned about the evils of targeted marketing that I began to see the furry little fuckers in a darker light.
Since I have fond memories of the film, I am never going to go back and watch it. I assume it's bloody awful. Just reading over other reviews and summaries of the movie, it sounds more like a Saturday morning cartoon than a proper Star Wars film, or anything anyone over the age of 11 should enjoy. Of course, you could say the same thing about anything Star Wars, so I guess I should just shut up before I dig a hole I won't be able to get out of.
Instead, I'll just focus on the scores, which is why we're all here in the first place.
The scores to the Ewoks films were composed by Peter Bernstein (more on him in a bit), not John Williams, and it shows. They lack the majesty, bombastic flare and memorability that are all Williams' standards, instead serving more as quality background music with the occasional uplifting beat inserted when needed in relation to the plot. More surprising is that the scores are 100% original with no call backs or references to the original Star Wars themes. I guess I have to commend Bernstein for that, better to create your own thing than to piggyback off the success of others, but it all sounds incredibly non-Star Wars because of it.
A bit about Peter Bernstein, a man whose oeuvre can only be described as…workmanlike. Since 1973, he has contributed the scores to nearly 70 films and televisions shows, and the Ewoks movies are probably the  most respectable franchise the man has ever been associated with. His other work is mostly in the B-movie realm, with scores to films like the Chuck Norris horror flick Silent Rage; the classic 80s sci-fi comedy My Science Project; and the cinematic classic Puppet Master vs. Demonic Toys all to his credit. He also composed the score for not only Hot Dog…The Movie, but also Hamburger: The Motion Picture. But hey, I'm not judging, a paycheck is a paycheck.
Peter's father Elmer Bernstein was also a composer (the two would frequently work together), and he must be from who Peter inherited his impressive work ethic. Elmer Bernstein composed the scores for over 240 films and TV series in his lifetime, working until he died at the age of 82.
Elmer won an Oscar for his score to Thoroughly Modern Millie, and he also composed the scores to classics such as The Ten Commandments, To Kill a Mockingbird and Ghostbusters. But even he wasn't above taking some work to pay the bills. In addition to his more "respected" work, Elmer Bernstein also composed music for films such as Saturn 3, Meatballs, The Good Son and Heavy FUCKING Metal. In fact, looking over his body of work, I just figured out that I own 10 of his soundtracks. Dude got around.
It should be noted that these are not the complete scores of other films. One LP can only hold so much music after all. Instead they are selected highlights from each film (with Battle of Endor being heavily favored). Oddly enough, they aren't presented in any sort of order. So in case you were wondering, I'll break them down for you now (and the download link is below the album art, in case you're looking. I'm not doing individual links for this one):
Caravan of Courage
Trek
Izrina
Flying
Pulga Chase
Battle of Endor
Noa & Terak
Teek
Set Up/Terak's Theme
Noa's Ark
Good Night, Bad Dreams
Poker Game
The House
Escape
Farewell
"Into/Main Title" was used in both films.
This album was never officially released on CD, and don't let anyone ever tell you different. The copy at Amazon is a bootleg, as evident by its hideous cover art and the fact that it credits John Williams as a composer.
So soak up B-grade Star Wars nostalgia, I'll have more for you in a few days.