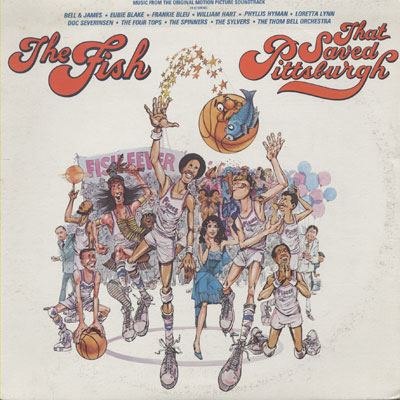 I've lived in Pittsburgh for almost eight years now, and it's a decision that I can honestly say I've never regretted. I love this city. I love its crazy roads, obscene colloquialisms (Jag Off!), awesome food and legendary record stores.
I also love its cinematic history, mostly because it's so weird. Sure, we got George A. Romero's zombie flicks to lay claim too, but the greater Pittsburgh also played hosts to classics like The Deer Hunter and Flashdance, as well as "classics" such as Sudden Death, Striking Distance and Stigmata.
The selection of movies to be filmed in my adopted hometown are as idiosyncratic and quirky as the town itself, and the oddest of the bunch has to be the 1979 critical and commercial dud, The Fish That Saved Pittsburgh.
The Fish That Saved Pittsburgh stars basketball legend Dr. J as Moses Guthrie, the star player for the (fictional) Pittsburgh Pythons. The team sucks, until a spunky ball boy convinces Guthrie and the coach to cut everyone from the team except Moses, and replace them with players who share his astrological sign of Pisces.
Why?
Don't worry about that. It just works, okay? It works so well that the team (renamed the Pittsburgh Pisces) goes on to win almost every game of the season, make the playoffs, and face the dreaded L.A. team in the Finals (spoiler alert: they win in thrilling fashion). Yes. It's cheese, but its wonderfully aged cheese, made all the better by its amazing disco/funk soundtrack.
The soundtrack to The Fish That Saved Pittsburgh features performances by a variety of artists, it's mostly the work of Thomas Bell. If you don't know who Thom Bell is, you still probably know some songs he was involved with. During the 70s, Bell was one of the driving forces behind the Philly Soul sound, contributing as a songwriter/producer to some of the biggest acts of the scene, such as The Delfonics, The Stylstics and The Spinners (who are on this soundtrack). Bell produced, arranged and conducted every song on the record, and he wrote all the songs on the album as well, with the occasional assist from Leroy M. Bell (his nephew) and Casey James, the duo who made up Bell & James (who, not coincidentally, are also on this soundtrack).
The Fish That Saved Pittsburgh bombed huge when it came out in 1979 (I know, what a shocker) so the soundtrack was never even granted an official release. The few copies that were made were only issued as promos for radio stations. However, thanks  to Discogs, I know have one of those copies. So now, I am more than pleased to present to you the soundtrack to The Fish That Saved Pittsburgh, the finest soundtrack to a film about Pittsburgh basketball and its relationship with astrology that you'll ever hear.
Thomas Bell Orchestra featuring Doc Severinsen – A Theme For L.A.'s Team
An odd starting number for the soundtrack, considering that the movie is about the team from Pittsburgh, but it still serves as a solid opening number that sets the vibe for the whole album. And hey, it has Doc Severinsen from The Tonight Show, so that's something.
Phyllis Hyman – Magic Mona
In the film, Mona is the astrologer/spiritual adviser who helps coordinate all the players' star charts so they'll know their strengths and weaknesses for each game (sure, it sounds stupid when I say it like that). For her theme song, Bell recruited Phyllis Hyman, a soul singer with a powerful voice who was actually raised in Pittsburgh (but born in Philly). Hyman had a few minor disco/dance hits in the 70s and 80s, and even had something of an acting career going for a while, but she committed suicide in 1995 at the way too young age of 45. I don't know much about her other than that (which I culled from her wiki page) but she sure had an amazing voice, even if "Magic Mona" is a silly song.
The Sylvers – Mighty Mighty Pisces
The theme song for the Pittsburgh basketball team was contributed to by The Sylvers, a family act of nine (holy shit!) brothers and sisters from Memphis, Tennessee. Maybe the popularization of birth control is one of the reasons why we don't see bands like this anymore. This song is basically one long hook "Mighty mighty Pisces/now you're making history!" with some inspirational verses thrown in. Just like the movie itself, it's stupid as hell, but instantly charming and fun.
The Spinners – "(Do It, Do It) No One Does It Better
One of Thom Bell's more memorable projects, The Spinners were a big name for a while, scoring a string of amazing soul singles throughout the 1970s. Their funky soul style doesn't really shine with this track though. If you want to see just how awesome The Spinners were, check out this performance of "Rubberband Man," one of the best soul tracks of the decade.
Bell & James – The Fish That Saved Pittsburgh
Thom Bell was burying the lead by making the title track the last track of the first side, because this song is amazing! It's probably the main reason why I've fallen in love with the movie so much. It's impossible to feel down or sad after hearing to this track, which is one of the most oppressively upbeat disco tunes I've ever heard, which is quite the feat when you think about how disgustingly upbeat most disco is.I dare you to find a better funk/disco track about a Pittsburgh-based basketball team. You won't! Seriously though, it's pretty incredible, if all music was this fun and exciting the world would be a much better place.
As for Bell & James, the short-lived duo never really scored a major hit on the charts during their short-lived career, although Bell recently reappeared on The X Factor recently, which is just weird. He was eliminated, but I bet if he would've won if he sang this track.
Frankie Bleu – Moses' Theme
There's a really odd romance subplot to The Fish That Saved Pittsburgh involving Dr. J's Moses character and the big sister of the ballboy. The "seduction" scene pretty much involves her watching Moses play streetball by himself (in slow motion) while this slow jam plays. Download this song, try that out for yourself and report back to me.
The Four Tops – Chance Of A Lifetime
I really hope I don't need to explain who The Four Tops are. I mean, they're only responsible for "Baby I Need Your Loving," "I Can't Help Myself," "It's the Same Old Song," "Reach Out I'll Be There," and "Bernadette," (my favorite vocal group song of all time). "Chance Of A Lifetime" is less than a fraction of good as those tracks, but it's still one of the best songs on the record. Like most of the best songs on the soundtrack, it's upbeat disco with a "you can do it theme" that's impossible not to like.
I need more motivational disco in my life. Wah-wah guitars make me feel like I can accomplish anything.
William Hart – Follow Every Dream
This soundtrack works best when it's trying to be funky and semi-inspirational, so this love song by the lead singer of The Delfonics is kind of meh. It's fine. But whenever I listen to it I usually stop it halfway though and play "Didn't I (Blow Your Mind This Time)" instead.
Eubie Blake & Thom Bell – Ragtime
It's a ragtime song…dude, I have no idea. It's only a minute and twenty seconds long, just go with it.
Loretta Lynn & Frankie Bleu – Is It Love, Must Be Love
The Coal Miner's Daughter was the last person I expected to see on a soundtrack that predominately features soul, R&B and disco, but if the 70s were anything, they were random. This is a cute 70s soft-rock style song, generic, but cute. I have no idea who the unfortunately-named Frankie Bleu is.