I live in Pittsburgh, and let me tell you, people in Pittsburgh love their zombies.
It's all because of George Romero. The director of Night/Dawn/Day/Land/Diary/Survival of the Dead was born and raised in Pittsburgh, and he set most of the films in the series in and around the greatest Pittsburgh area.
George Romero is known for keeping a semi-constant cast of actors and behind-the-scenes people with him. Both Gaylen Ross and Ken Foree from Dawn of the Dead went to star on in other films by the director, and Tom Savini's pretty much been his right-hand gore man since the beginning. He's even had actors grandfathered into this films. "Chilly" Billy Cardille was in the original Night Of The Living Dead, and some 18 years later Billy's daughter Lori was cast as the lead in Day of The Dead.
Another person who has stuck around with Romero over the years has been John Harrison. A friend of Romero, his work with the director goes all the way back to Dawn of the Dead, where he had the uncredited role of "Screwdriver Zombie." A couple years later, Romero cast Harrison again for another bit part, this time in the drama Knightriders. From there, his work with Romero increased. He was credited as the first assistant director in both Day of the Dead and Creepshow, and more recently he served as an executive producer on Diary of the Dead.
But wait, there's more! Harrison didn't just work as an A.D. and bit-part cast member for Romero, he also worked as a composer (and I thought John Carpenter's multi-tasking was impressive). Harrison composed the scores for both Creepshow and Day of the Dead. Unfortunately, both of those soundtracks are out of print and go for a damn fortune online, if you can even track them down. But hey, that's why you come here, right?
 Creepshow – Original Motion Picture Soundtrack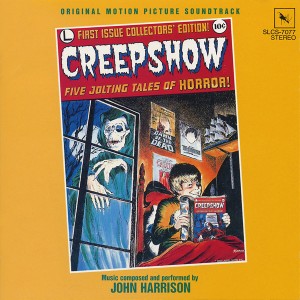 Prologue/Welcome To Creepshow (Main Title)
Father's Day
The Lonesome Death of Jordy Verrill
Something To Tide You Over
The Crate
They're Creeping Up On You
Epilogue
Until Next Time…(End Title)
Creepshow is a pretty awesome movie, and one of the best examples of comedy/horror ever made. Each of the film's five short stories work great on their own, and both as a larger conceptual piece that pays homage to the EC horror comics of the 1950s. It's such a great movie that I don't want to say that much about it just in case someone reading this hasn't yet seen it. It's on Netflix Watch Instantly, so if you have that, check it out and marvel at Adrienne Barbeau's ability to transform herself into one of the most unlikable characters in the history of motion pictures.
The soundtrack to Creepshow is kind of a modern (well, modern for 1982) marvel. As the linear notes state, almost the entire thing was composed on a PROPHET V polyphonic synthesizer and a pair of grand pianos. While the score does have an undeniable electronic sound (which is one of the reasons why it's so great), it also has a depth and complexity that deny its rather humble origins. Parts of this sound like they came straight from of an orchestra. It's without a doubt one of the best synth scores of the 80s, and works both as creepy background music and as a standalone piece.
This recording is from my personal vinyl copy, which looks like it was well-loved by its original owner. There are some scratches in parts, but as a whole it sounds pretty good.
George A. Romero's Day Of The Dead – Original Motion Picture Soundtrack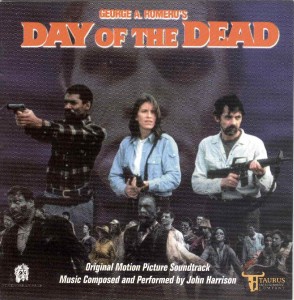 The Dead Suite
Breakdown
Escape Invasion
The Dead Walk
If Tomorrow Comes
The World Inside Your Eyes
Deadly Beginnings
Diner Of The Living Dead
Dead Calm
Bub's 9th
Dead End
In the five-plus years (holy shit!) years I've been writing here at The Lost Turntable, I've posted more than my fair share of rare and hard-to-find recordings. So trust me that it means something when I say that this soundtrack might be the rarest and most difficult to track down recording I've ever posted.
The Day of the Dead soundtrack was originally issued on vinyl and cassette in 1982 1985. It was comprised of six tracks, with "The Dead Suite" taking up the entire B-side of the record. That version of the soundtrack is rare enough as it is, and you can usually find it going for somewhere between $20-$40 online.
However, like many soundtracks made for vinyl releases at the time, the score to Day of the Dead had to be severely abbreviated to fit on one record. It was not until 2002 when the soundtrack would be re-released on CD, courtesty of Numenorean Music. As far as I can tell, Numenorean Music no longer exists, and in their brief existence they only issued three releases: a 2-CD remaster of The Dark Crystal soundtrack, a release of the score to the 1990 remake of Night of the Living Dead; and this expanded edition of the Day of the Dead soundtrack.
Each of these releases were given extremely limited runs. They printed 5,000 copies of the Dark Crystal soundtrack, and only 3,000 each of the NOTLD and Day of the Dead soundtracks.
Today, these go for insane prices online, if you can find them at all. A new copy of the Dark Crystal score goes for almost $90 on Amazon, and for about $70 on Discogs marketplace. A copy of the NOTLD soundtrack is for sale for $70 on Discogs also, but the highest it has ever sold for is $32 bucks.
Then there's this soundtrack. As of right now, someone on Discogs is trying to unload their copy for a whopping $425. They're probably asking a bit much, but Discogs records show that the CD has actually been sold for as much as $112. I tried to find out if that price was an anomaly, but I couldn't. I could hardly find anything about this release online. I don't know how much it routinely sells for because, quite frankly, none of the 3,000 people who have a copy seem to be looking to let it go.
I don't even think anyone has even ripped a copy and shared it online before, which means I'm making history here tonight!
So how is the soundtrack? It's good enough. Unlike the score to Creepshow, it actually features some full instrumentation thanks to Pittsburgh band Modern Man. Two of the tracks also feature vocals by the awesomely named Sputzy Sparacino and a gospel singer who goes by the name Delilah. While the soundtrack to Creepshow is an awesome product of its time, parts of this score are a little dated, and the two pop songs are just downright silly in the context of an apocalyptic zombie movie. The 20-minute "Dead Suite" remains a highlight though, as do many of the other instrumental pieces on the record.
And in case you're wondering how I got a copy of this bad boy, my mom bought it for me at a used CD store for 10 bucks. Go mom!