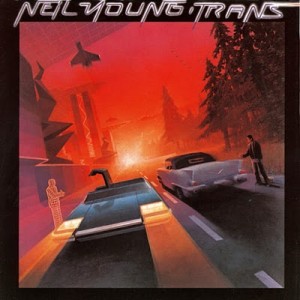 Neil Young – Trans
Little Thing Called Love
Computer Age
We R In Control
Transformer Man
Computer Cowboy (AKA Syscrusher)
Hold On To Your Love
Sample And Hold
Sample And Hold (Vinyl Version)
Mr. Soul
Like An Inca
Like An Inca (Vinyl Version)
I love this album.
That is not something often said when people are talking about Trans, Neil Young's much-maligned 1982 electronic/New Wave effort. It bombed when it came out, most critics hated it, and it was the first of several records that eventually led to his label at the time, Geffen Records, suing Young for not sounding enough like Neil Young.
But I love it.
I find the damn thing fascinating, and I think it may be one of the bravest records ever made. At the time everyone wanted Neil Young to record another Harvest (shit, most Young fans still do), but he chose to follow his heart and try something different, critics and fans be damned.
It seemed to shock everyone  at the time, but looking back it shouldn't have been that big a surprise. Young had toyed with some New Wave elements on his previous release Re-ac-tor, and he even made a comedic film, Human Highway, with New Wave pioneers Devo around the same time that Trans came out. It's obvious that Young felt some sort of kinship to the New Wave movement for whatever reason, and wanted to contribute in his own little way. I respect any artist that is willing to adapt and move along with the times, artists who stick to the same schtick for decades on end just become boring as hell after a while.
There are also stories that the album was Young's way of trying to communicate with his disabled son at the time. Supposedly his child liked the vocoder effects, so Young decided to base a whole album around the device. If that's true then the story of Trans becomes even more touching and interesting; as it shows that Young was willing to pretty much commit career suicide if it meant he could get through to his son.
A lot of people attacked Young when Trans came out, angrily asking him to just record another "rock record." He responded in 1983 by releasing Everybody's Rockin', a 25-minute collection of rockabilly tunes. If "fuck you" is a genre of music, that record is an example of it. Shockingly, that record is available on CD in America, while Trans is not. As of right now, Trans is only available in America on CD as an import. And that CD in question is a little different than the original vinyl version that came out in the states Both "Sample And Hold" and "Like An Inca" have been extended and remixed.
The CD version of "Like An Inca" is very similar to the vinyl version, clocking in at just about a minute longer. However, the CD version of "Sample And Hold," the best track on the album in my opinion, is drastically different. It's almost over eight minutes long, a full three minutes longer than the vinyl mix, and the pounding drum machine beat is brought to the forefront of the mix, giving the song much more of a dance feel. I think it is a much better version. Download both and judge for yourself.
Finally, even if the idea of electronic Neil Young sounds horrible to you, download "Like An Inca." It's the most "traditional" Young song on the album, with no noticeable electronic effects, synthesizers or vocoders. It's a nine-minute epic about Mexican Indians, and could stand side-by-side with Young's  "Cortez the Killer" not only thematically, but in terms of quality as well. It's an amazing song.