I'm as big a movie geek as I am a music geek, so great movies about music usually move me in ways that few other films can.
However, there are very few great films about music. Almost Famous. High Fidelity. Purple Rain (yeah, Purple fucking Rain, you got a problem with that?) are all excellent movies about music because they show the connections that people make with the music they love and create. Those films show the power of music: the power that it has to move people so much that it can actually change their lives for the better.
When a movie can do that it's a beautiful thing. However, Fish Story, a 2009 Japanese film, manages to go above and beyond those films. It shows music can save the fucking world.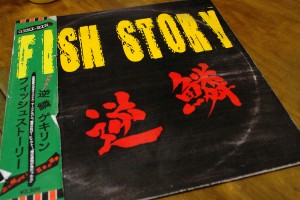 The film starts in the year 2012. In just a matter of hours, a comet will smash into Earth, destroying all life. Tokyo is deserted, except for one small record store. Inside, the clerk tells his sole customer (and a cranky old man eager for the end of the world) about "Fish Story." It's the first punk rock song, recorded by a Japanese band called Gekirin a year before the Sex Pistols formed. It didn't sell, so no one has heard of it. The song is important though, the clerk says, because it's going to save the world.
From there the movie jumps to 1982, where some college students discuss the mysterious song and a strange urban legend that's associated with it. Then the movie shifts to 2009, where a cruise ship is taken hostage by a group of doomsday cultists. After that, the movie changes time periods again, this time going to 1975, where we are treated to the story of Gekirn and how Fish Story came to be.
Oh, and then the song saves the world.
I don't feel like that's a spoiler – as another review I read of Fish Story pointed out, no one is going to make a movie about how a song doesn't save the world. The joy in Fish Story comes not from finding out if the song saves the world, but from finding out how the song saves the world. No, the record doesn't magically transform into a Gundam robot and smash the comet into the sun (although that would be awesome), it's a little more complex than that. But that's all I'm going to say. The less you know about Fish Story the better. Its initial charm comes in how unexpected it is. But it still holds up on repeated viewings just by being so damn fun.
Although the idea of Fish Story is more than a little silly, its conceit is not. At its heart, Fish Story is about how music can connect with people and change their lives in unexpected and amazing ways. It shows how music can give us courage and hope, and challenge us to make ourselves and those around us better. It shows how a song, a stupid little song that almost no one in the world knows about, can drastically affect and change for the better the lives of people who have never even heard it. And when you think of it like that, it's not hard to imagine that a song could, somehow, actually save the world someday.
It's a brilliant, hilarious, heart-warming and intelligent movie. So, of course, it's not available in America. But it was released in the UK, so if you live there you should run out and buy it right now. If you're American (or in any other county for that matter) and have an all-region DVD player I enthusiastically recommend that you pick up that version. You can find it on Amazon and on Yes Asia. And if you're looking for a cheap all-region DVD player, I recommend this one.
And if you're wondering what a song that saves the world sounds like then hey, lookie here!
Gekirin
FISH STORY
FISH STORY (Silence 1975 Version)
Nothing
Nothing (Producer's Version)
Kazuyoshi Saito
FISH STORY (Alternate Version)
Summer Days
When you make a movie about a song that saves the world, that song in question is damn good. Thankfully, "Fish Story" is a great track,  mimicking the sound of mid-70s punk rock while still sounding a little fresh and original at the same time. A composer/musician by the name of Kazuyoshi Saito wrote the track, although the fictional band Gekirin performs it in the movie. The version by Gekirin and a version by Saito are are included on the soundtrack, as is a version that has a minute of dead silence instead of a guitar solo. Why is there a minute of silence in the middle of the song? Watch the movie to find out.
"Nothing" is another song that Gekirin performs in the movie, and while it doesn't save the world, it's still a quality tune. The "Producer's Version" is a joke, a version of the song slowed down for mainstream appeal, complete with organ overdubs. I have to admit that I find its cheesiness endearing for some odd reason.
"Summer Days" is a mellow acoustic rock song that plays over the end credits. It's a chill track, but still good. I don't think it will ever save the world, but who knows?
Finally,don't forget that Japan is still struggling to recover from the devasting effects of the earthquake and tsunami. While you're enjoying this amazing collection of Japanese rock from a Japanese movie, why don't you head over to the Red Cross' donation page and help them out?
Want something in return for your troubles? The Songs For Japan compilation is a good collection of pop music for 10 bucks, all of which goes to to help Japanese relief efforts.
Like "chiptune" electronic music and want to help? Check out Chip In: Japan!
Finally, do you like drum and bass and want to help, but are kind of broke? Then go to Pendulum's website and buy "Ransom" for a British pound, all profits go to the relief efforts.
Whatever you do, give! You don't need an awesome punk rock song to save the world.
Although sometimes it helps.