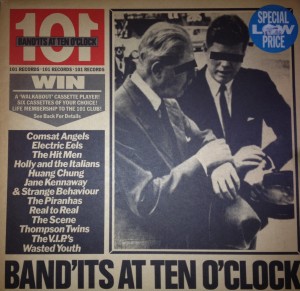 Band'its At Ten O'clock is another 101 release that came out the same year as Live Letters. Unlike that album, this record is a collection of studio cuts and not live records. But it's equally, if not more so, impressive and well worth the listen today.
The Scene
All People Go Mad
You like mod music? These guys sure did. This album came out in 1980, but this song sounds like it was ripped straight out of the late-60s. Great stuff, very soulful and fun. I don't know how these guys didn't manage to get a deal with Stiff Records. As it was, they never put out a proper album, just a couple 7″ singles and one 12″ before vanishing forever. A shame.
The Hit Men
She's All Mine
If  you told me that this was really an Elvis Costello b-side I would believe you. The singer even kind of sounds like him. Who were these guys? With a name as vague as "The Hit Men," its kind of hard to track them down online.  From what I can tell they did seem to put out two albums. Anyone know if they're any good? This song is great.
The V.I.P.'s
Causing Complications
This song is catchy as hell! Amazing harmonies and a great beat. Once again, I couldn't find much about this group, but they did put out enough singles and have enough of a following to have gotten a compilation release in the late 90s. If their other songs were as great as this one then I'm definitely going to have to pick it up.
The Piranhas
Yap Yap Yap
First wave ska! I love early ska. It all should have stopped with Madness. Fucking Bosstones…anyways, these guys only put out one record, which has never seen the light of day on CD. Bummer too. This is another great track. Damn, can this album do any wrong?
Real To Real
White Man Reggae
Yes, yes it can. British white boys should not attempt reggae, even if one of them is Alan Wilder. That's right, Alan Wilder from Depeche Mode was in a white reggae group.  I bet if you walked up to him with a Real To Real 7″ single (they released a few) he'd break it in two and offer you $20 never to tell anyone about it ever again. Yikes.
Holly And the Italians
Chapel Of Love
And we're back on track with this number, a great cover of The Ronnettes classic. Holly And The Italians were an American group based in the UK (I'll give you a second to wrap your head around that) and they released just one album, 1981's The Right To Be Italian. It was re-released on CD and digitally in 2008, and judging by the cavalcade of positive reviews it has on Amazon, it apparently has a small but very devoted following.
Electric Eels
Thoroughly Modern
Slightly glam-influenced synthpop. I have no idea who these guys are. Anyone got an idea? They released a couple of 7″ singles before apparently selling their keyboards and vanishing into the night.
Jane Kennaway & Strange Behaviour
Catch Cool
Another unknown who released a few singles before vanishing. Catching a pattern here? Jane's voice reminds me a little bit of Toyah Wilcox, but her sound is far more aggressive and downbeat.
Thompson Twins
Squares And Triangles
This sounds nothing like the Thompson Twins who brought us the 80s hits "Hold Me Now" and "Lies" and that's probably because it literally is not that band. Because while most people know of the Thompson Twins as a trio featuring Tom Bailey, Alannah Currie and Joe Leeway, there were about a billion people in that group before it finally settled on that line-up. I have no idea which line-up is featured here, but I wish they would have recorded more music, I dig this stuff a hell of a lot more than their poppy stuff.
Wang Chung
Baby I'm Hu-Man
The Wang Chung tracks on Live Letters had one foot in New Wave, but they were also clearly embracing their pop tendanices as well. On "Baby I'm Hu-Man," Wang Chung (still going by Huang Chung) are still way into a new wave sound reminscint of Joy Division and early Cure, at least until the sax solo kicks in at the end.
If these early Wang Chung recordings have taught me anything is that you can't simultaneously be "edgy" and have a sax player in your band.
Comsat Angels
Independence Day
More sparse, minimal pop from the Joy Division school, and according to some they were even better. They have a surprisingly in-depth Wikipedia entry, and out-of-print CD re-issues of their albums go for a mint on Amazon. I'm going to try and track down some of their stuff on vinyl, because this song is great, probably my favorite track on this record.
Wasted Youth
Jealousy
No, not the LA hardcore punk rock band (that would be weird). This Wasted Youth was from east London and kind of sound like a mix between good Lou Reed and the Young Marble Giants. This is a sad song, but I'll be damned it if doesn't sound adorable as all get out. I want to hug it.