I wrote a thing on my other site about Japanese "city pop" and how it's becoming kind of a thing in the states to the degree that it's now becoming kind of a thing in Japan. It's weird.
The funny thing to me is that, in my opinion, city pop isn't all that interesting. That is, of course, working under the assumption that city pop is an actual, definable, genre (and it's really not). But I'm not going to harp on anyone who does dig on it. It's different, and that's cool.
I went through a lot of different city pop acts on YouTube, trying to find a few that might appeal to me. Usually I would find a track or two I would like by artists like Taeko Ohnuki or Junko Ohashi, but my interest would just stop there – at a track or two. They just couldn't hold my interest.
It bums me out. I wish I could be more into this stuff. It's funny that some form of Japanese 80s music is starting to catch on in the fringes of the outskirts of mainsteam, but it's the one type of Japanese 80s music I'm just not that into.
You know what I am into though? Utterly bizarre cross-genre electronic music built on obscure synthesizer technology.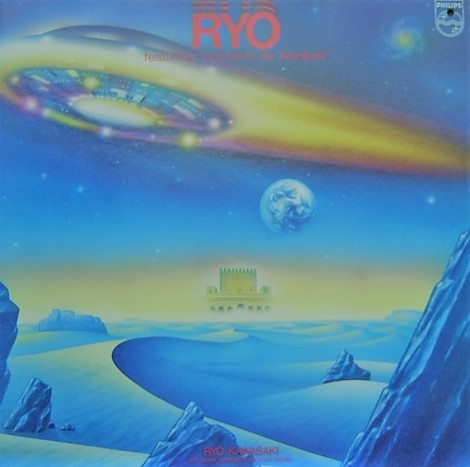 Ryo Kawasaki – Featuring Concierto De Aranjuez
I never heard of Kawasaki until a few weeks back, when I started getting his name in my "recommended viewing" list on YouTube due to all the city pop I was looking up. Aside from being Japanese though, Kawasaki doesn't have much in common with city pop. While city pop certainly overlaps with jazz in many ways, Kawasaki is a jazz musician first and foremost, working exclusively as a jazz guitarist throughout most of the 70s.
I checked out a few of his 70s albums, and everything I heard was, at the very least, interesting. He's a jazz guitarist, and some of his stuff is just too jazzy for me, but on some of those albums he branched out into great funk tangents. And throughout all of them his guitar playing is absolute stellar top-notch stuff.
But in the 80s he took a hard turn and embraced guitar synthesizers entirely. Of course, this is what I'm the most interested in and what I'm sharing tonight.
Featuring Concierto De Aranjuez is an experimental electronic album built almost entirely on guitar synthesizers. The linear notes explicitly state that no keyboard synthesizers were used on this record, only guitar synthesizers and a handful of drum machines. The album is split into two halves. The first half, like the title suggests, is based on the Concierto de Aranjuez by Joaquin Rodrigo. It starts out almost entirely acoustic, only using the synthesized melodies as a backdrop at first. But as it progresses the more synthetic sounds rise to the forefront. It's a bizarre combination, like a Spanish guitarist somehow ended up on a Klaus Schulze record. Really amazing stuff.
Things go full digital on side B, with tracks like "Marilyn" barely using any traditional guitar sounds at all. It's amazing that all of it was created using only guitar synths and drum machines. At times it really sounds like he's using sequencers and keyboards. Incredible.
I really wanted to showcase this album tonight because I think it's a dynamic and intriguing record. This is not simple "new age" music. This is not a fusion album. This is something different. This is something you really got to hear.
Ryo Kawasaki actually did a lot of other fascinating stuff in the 80s and I'm trying to track it down. I hope I can share more in the future.