Well then, that stupid Hulk Hogan post is now the most popular thing I've written all year. I suspected that might go viral just from its idiocy and rarity, but I had no idea it would blow up so big. So to anyone who read that post and decided to check out what this blog is all about, thanks! Before I disappoint you with a series of Madonna singles in the coming weeks, stick around, I promise more wrestling stupidity later this week.
Until then, how about some G N'F'n R?
Guns N' Roses
Live And Let Die (Live)
Shadow Of Your Love
Coma (Live)
It's amazing the shit you can find in a discount record bin.
The first two of these GNR tracks are from a CD-single of "Live And Let Die." Not just that, they're from a 3-inch CD single that came packaged tiny "longbox" style. Seriously, check this thing out.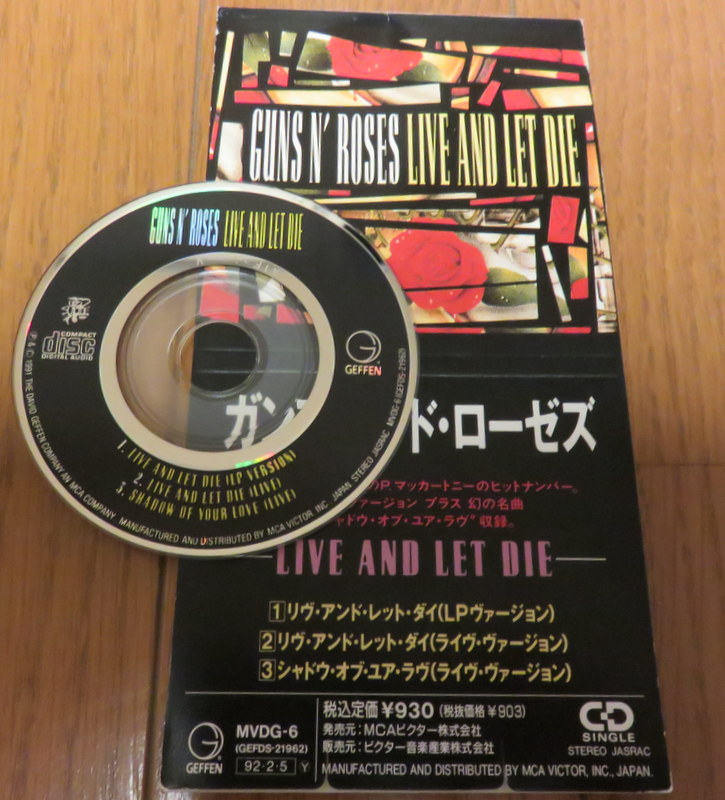 It's hard to see, but it comes with instructions on how to snap the bottom half off and make it more compact.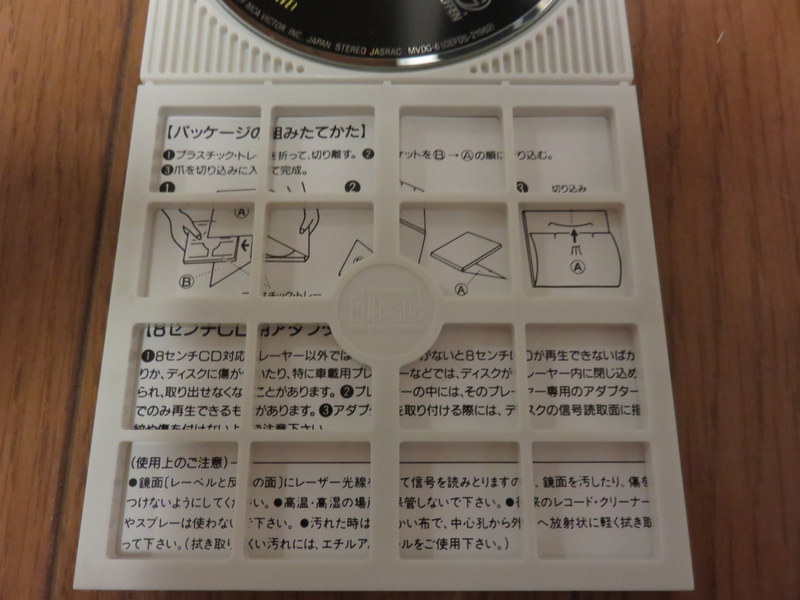 Like anyone in Japan would ever do such a thing. You have no idea how well the Japanese people treat their media. You go to a used bookstore or CD store and all that shit looks brand freaking new. It's insane. It's great when you find one a little banged up though, because when you do it's mad discounted. However, such instances are few and far between. Shit, when I buy game music here it usually comes complete with the original sticker sheets. I don't know how anyone could buy a CD that came with stickers and NOT USE THE STICKERS. Madness.
What was I talking about? Oh yeah, GNR. So, I did some digging and I really can't find if those two tracks were ever put on any other official GNR release. The live version of "Live And Let Die" is not on the Live Era album, and I don't think it's on any of their EPs either. If Axl's opening rant is to be believed, this recording was filmed for the VMAs. I think I have a vague recollection of that happening, so that sounds about right.
As for "Shadow Of Your Love," that tune pre-dates GNR by several years. It's actually a Hollywood Rose track, Hollywood Rose being the proto-GNR group that Axl formed in 1983. While many Hollywood Rose-era tracks would be re-worked or re-recorded for inclusion on several official GNR official releases, "Shadow Of Your Love" wasn't one of them.
It should be pointed out that "Shadow Of Your Love" is not a particularly good song.
Anyways, while the track never made it to a GNR album proper, various versions have seen the light of day over the years. A faux-live take (with crowd overdubs) was recorded for the Live Like Suicide EP, cut, and then included on the Japanese-only Live From The Jungle EP. A demo by the original(ish) Hollywood Rose line-up was also recorded back in the 80s, which was released a few years ago by Cleopatra Records, much to the chagrin of Axl. As far as I know, this is the only studio version of the track recorded by GNR that doesn't feature the crowd overdubs.
I would also like to point out once more that it is not a very good song.
As for the live version of "Coma," that's from the Japanese edition of Live Era. I actually don't own the Japanese edition of Live Era, I just snagged this MP3 off of…somewhere eons ago.