What the fuck do I say?
This is the year that just keeps on shitting. The President of the United States of America is a recluse who sits behind his phone, tweeting out racist propaganda to encourage ethnic cleansing, while the GOP work in the middle of the night to pass criminal "tax" codes that work to dismantle health care and destroy the global climate. The rest of the world needs to pass economic sanctions on the US for human rights violations.  The citizens of America to brush up on their carpentry skills and build some motherfucking guillotines. I feel like that's the only way that things are going to get any better at all.
In the meantime here's a 16-year-old song that perfectly defines how I feel right this minute.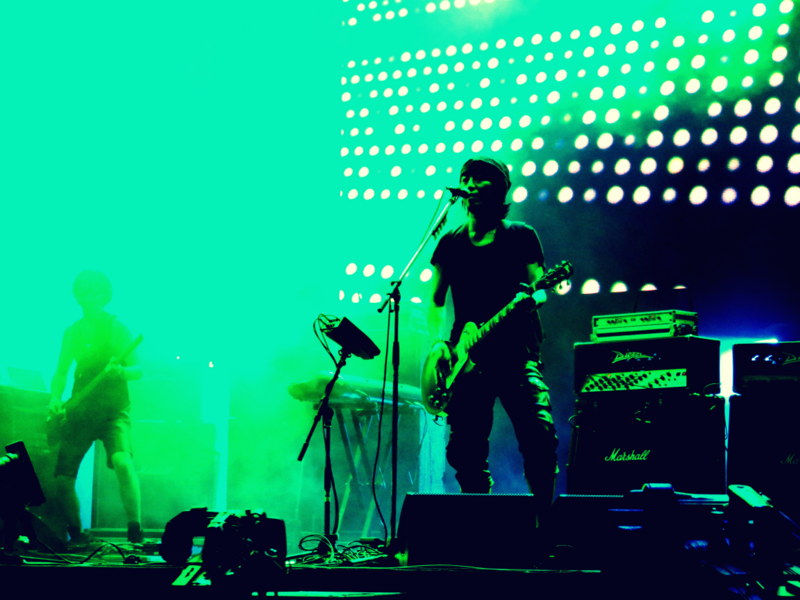 Boom Boom Satellites (Featuring Chuck D)
Your Reality's A Fantasy But Your Fantasy is Killing Me (Coldcut V.Steinski Going Under Mix)
Light My Fire (Live At Fuji Rock)
It's been a bit over a year since we lost Michiyuki Kawashima to brain cancer and to be honest, I had to take a break from the group's music for a bit. Some of it, especially Shine Like a Billion Suns and their final EP, just made me too emotional. I strongly associate Boom Boom Satellites with some of my greatest moments in my life, from the Moby concert I went to on my 20th birthday where they were the opening act, to my first visit to Japan where I gorged on their music while traveling the side streets of the city that would eventually become my home.
For me, Boom Boom Satellites are an encapsulation of every kind of music I've ever liked. Part hard rock, dub, big beat, synthpop, hip-hop and even progressive rock. They did it all and they did it all well.
I like all their albums, but the one I've probably re-visited the least is their 2001 sophomore effort Umbra. It definitely qualifies as a "difficult second album" with diversions into downbeat electronica and even some jazz that are honestly hard to digest at times.
The album does have a standout shoulda-been classic though, "Your Reality's A Fantasy But Your Fantasy is Killing Me." Rad live drums and programmed beats accompany guitar noise and dissonant sax. It's cyberpunk jazz serving as a backdrop for a viscous rap by none other than Chuck motherfucking D. Segueing from nearly nonsensical word association to blistering verses attacking white liberals who want to pretend everything is okay alongside black leaders who aren't trying hard enough, it's even more fucking relevant and brutal now than it was when it first came out.
Umbra is not available in the states, but the song is. You can get it on the 19972016-19972007 Remastered greatest hits collection, which is available on most digital storefronts. I recommend that entire album, it's a fantastic, epic-length introduction to a band everyone needs to recognize.
Another album that isn't on iTunes is the group's Remixed compilation, which features a fantastic remix of the track by Coldcut, which is the version I'm sharing here tonight.
From what I can tell, there are no live recordings of the track, but it was often incorporated into the group's live performances of another track called "Light My Fire," where they would take the beats and heavy guitars of that song and play Chuck's rap over them. The combination worked wonderfully, and the fierce nature of the group's always intense live shows made the rhymes by Chuck sound even more brutal.
Annoyingly, no live version of "Light My Fire" ever made it to a proper BBS live album. However, it made it to plenty of their live DVDs, all of which I've ripped and converted to MP3s. The live version I'm sharing tonight is from the group's 2005 Fuji Rock performance. It's rad as shit.
In the interests of my own mental health, my next post might be nothing but Japanese new age/ambient music and I apologize in advance.