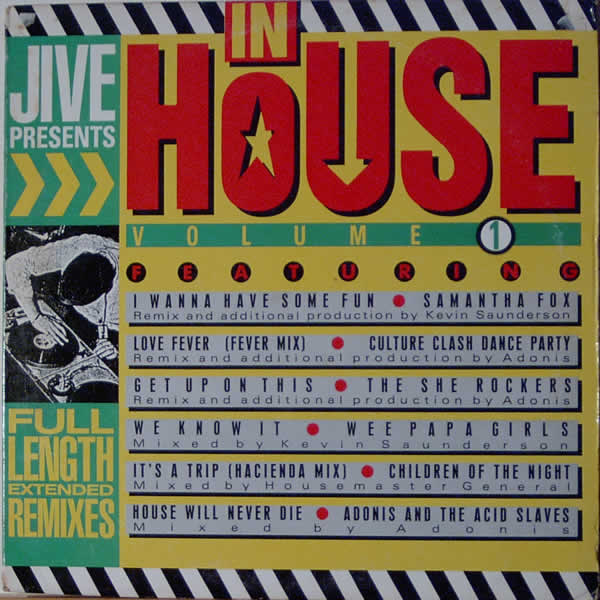 I used to think Jive Records was dogshit, but that was just as much their fault as it was mine. Shit, you know what? It was way more their fault than it was mine.
They're the ones who subjected the world to Britney Spears, the Backstreet Boys and N-SYNC. As a teen in the late 90s it was nearly impossible to turn on MTV and not see their name at the bottom of some video I found atrocious by some vapid pop act who I thought was sucking the lifeforce out of popular music. They didn't do much to improve their image for me in the 2000s either, signing artists like T-Pain, Eamon (fuck you Eamon, I don't want you back), Joe, Nick Carter and probably dozens of other shitty pop acts I can't even remember. In 2011, when it was announced that their parent label RCA Records would be dissolving the label and shutting it down, I didn't shed a tear for their demise.
It wasn't until recently that I discovered their important role in the history of new wave, hip-hop and dance music. They were the first label to new wave/big hair pioneers Flock Of Seagulls, and they were also the home to golden age rap legends Whodini. As their influence grew in the late 80s, they signed other important hip-hop artists like KRS-One, Schooly D and A Tribe Called Quest.
Digging through their discography on Discogs, it seemed to be around this time that the label also got into the habit of releasing compilations geared towards the clubs and the dance floor. At first these records were mostly hip-hop focused, but as time went on, the label eventually started to embrace the then new sound of house music.
I focused on one of these releases a few months ago, the awesome Jive Presents Acid House, but tonight I'm going to put the spotlight on the labels' very first house compilation, 1988's Jive Presents In-House Volume 1. While Jive had yet to attach the "acid" moniker to the music on this compilation, many of the tunes on the In-House album are clearly some of the earliest examples of the acid house sound making its way into the pop dance scene. It's not all the way there yet, much of In-House lacks the edge and attitude of acid house that would come just a year later, but it's clearly hear, and its fascinating to hear a genre really finding its footing, getting ready to claim the first half of the 90s for its own.
Enjoy, and if you have any insight as to other super-early acid house compilations or releases (aside from "Acid Trax," I am aware) please let me know!
Samantha Fox
I Wanna Have Some Fun
While it's not credited as such on the linear notes, this is a remix of Fox's biggest hit, one that is double the length of the original and has an overall production feel that is less "poppy" and more pure dance. It's still a silly, cute song though.
Culture Clash Dance Party
Love Fever (Fever Mix)
THIS SONG IS AWESOME AND I LOVE AND IT'S REALLY GOOD AND I WISH I KNEW MORE ABOUT CULTURE CLASH DANCE PARTY BECAUSE THEY SEEM PRETTY RAD.
She Rockers
Get Up On This
The She Rockers aren't the world's best rappers, but they got attitude that more than makes up for it. This shit sounds like an edgy Technotronic. I love it.
The Wee Papa Girls
We Know It
The worst named act in late 80s acid house is back! The Wee Papa Girls also appeared on the Jive Presents Acid House album, but this song is much better than the tune the contributed to that album. Expect some more from the Wee Papa Girls next week.
Children Of The Night
It's a Trip (Tune In, Turn On, Drop Out)
Children Of The Night contributed one of my favorite tracks to the Jive Presents Acid House album, so it's not surprising that they deliver another great banger here. This is the first track on the album that really sounds like acid house in both style and lyrical content (especially thanks to its parenthetical title). A great song, the best on the album if you ask me.
Adonis And The Acid Slaves
House Will Never Die
Adonis and the Acid Slaves is Michael A. Smith, a DJ/producer who first started releasing music in the late 80s. According to his Discogs page he has about a billion aliases, including Black Balls, Jack Frost, Percy Richblood and The Circle Jerks (no, not the punk band). He is also responsible for the mixes of "Love Fever" and "Get Up On This" that appear on this very album. Of all the tracks on this record, this is the one that sounds the most like acid house, complete with squelching "acid" sounds and constant references to acid slaves. It also has the best lyric of the album: "Do you want house? Or do you want bluegrass?"
If I saw this dude live back in the day I would have been the asshole to say "I want bluegrass!"