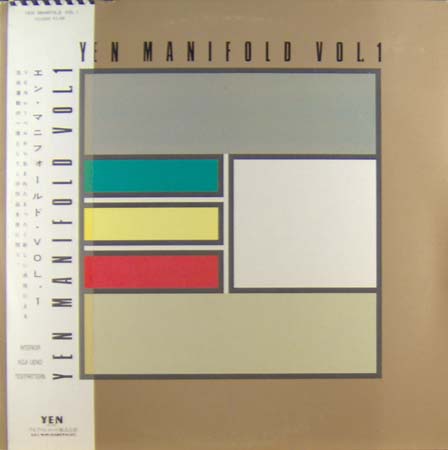 Yen Records was an imprint of the Japanese label Alfa Records. The label was formed by Haruomi Hosono and Yukihiro Takashi of Yellow Magic Orchestra, a highly influential Japanese electronic group who many consider to be the progenitors of synthpop and electronic dance music.  The label mostly existed as a means for the duo to release albums they were somehow associated with, either as performers or as producers. A good analog would be something like The Beatles' Apple label or Trent Reznor's Nothing Records.
Yen Records only existed for a few short years in the early 80s, but what little music they released developed a rather devoted cult following. I found two fan pages dedicated to the label (one in English and the other in Japanese), while I also stumbled upon quite a few pages dedicated to artists who were associated with the label. That's some pretty impressive staying power for a Japanese vanity label, you can't say that about most American ones.
From what I can gather, one of the most beloved releases on the Yen label was this record, a 1983 compilation that features three artists who were on the imprint:Interior, Koji Ueno and Testpattern. Since the label went under, many of the songs on this record have gone in and out of print, although none of them have ever gotten a release in the states at all.So I hope you all enjoy reading about, and listening to these great artists, and if you get a chance, check out more Japanese sytnpop/electronic music from the early-80s, a lot of it is really fascinating and out there stuff.
Interior
Hot Beach
Miracle
Hawks
D.T.T.
Interior put out two records. The first was self-titled and the second was called Designs. And to that I say, well played sirs.
Thanks to their generic name it was a bit tricky digging up information on these guys, but I was able to find a few things out I think. Last.fm treats the group as a threesome, featuring the members Eiki Nonaka, Mitsuru Sawamura and Daisuke Hinata. However, Discogs also gives credit to a fourth member, Tsukasa Betto, who I can find nothing about outside of that reference. Of the other three, Hinata seems to be the most active today, doing commercial and TV work as well as producing and performing on a variety of Japanese pop albums. He also appears to have some totally radical glasses.
Musically the group seems to be pretty diverse, running the range from Tangerine Dream-inspired ambient numbers to light 80s pop (complete with English lyrics). I dig the ambient tracks more, but the pop stuff isn't bad, if entirely generic. Of the four tracks, on the final one, "D.T.T." is kind of a wash out, thanks to needless 80s saxophone. Although the song came a few years before "Careless Whisper," so at least you can't accuse them of being copycats.
Koji Ueno
Tempo di Jazz
Movement Perpetuels
Fu No Oboegaki
These songs are great, and far more experimental/interesting than the Interiors stuff. All are purely instrumental, and run the gamut from jazz-inspired pieces to more ambient/experimental works. I'm digging them.
Unlike Interiors (and the third band on this album), Koji Ueno is a somewhat recognizable name, at least in Japan. He routinely works with Ryuichi Sakamoto, collaborating on multiple scores with the legendary musician, and he has even released a few solo scores for some anime and other Japanese TV shows.
He also has an amazing photo on his Discogs page. Dude is totally rocking the "I'm a tux wearing piano man – oh hey, there's a desk fan" look.
Testpattern
Ryugu
Friday
A mysterious band, I can find virtually nothing on them, which is a shame because I have fallen in love with what little I have found. These two songs are great. I am especially fond of "Ryugu," it's playful and energetic, but it has a modern sound that would fit on a release by Warp Records today. If you want to hear more of their music (and you damn well should) I suggest checking out this page, it links to quite a few YouTube vids that feature the group's music. Listen to "Technobase," it's beautiful.
Sadly, if you want to know more about the actual band itself, I can't help you there. Aside from that page, I couldn't find anything of substance about the people behind the music. If you know anything about Testpattern, including where I can get more of their music, please let me know!
And hey, since I"m asking for favors, I might as well get this out of the way…
If you follow me on Twitter then you probably know that I'm planning a big trip to China and Japan later this year/early next. I'm going to China for a wedding and will only be there for a few days, the main focus of my trip will be Tokyo, where I will be spending nearly two full weeks.
If anyone reading this blog lives in Tokyo, has been to Tokyo or knows anything at all about record stores or buying music in the city, please drop me a comment or an email. I want to make the  most out of this trip, and that of course includes buying more records than I can possibly carry back home with me.