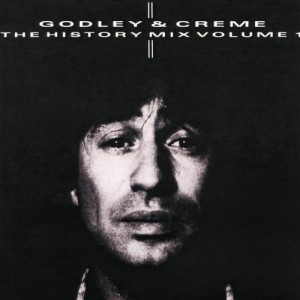 The History Mix Volume 1 has to be one of the weirdest albums of the 80s. There are multitudes to its weirdness that extend past the content of the record and into the nature of its release.
But first some background, The History Mix Volume 1 is an album by Godley & Creme, who were in the first incarnation of the 70s group 10cc. They left the band after their fourth album to continue as a duo. They never really achieved anything close to mainstream success in the 70s, and I really can't tell you that much about them, because to be honest I don't own anything by them other than this record (which I'll get to). They did maintain some sort of cult status throughout the 70s and into the 80s however, and eventually found even more success behind-the-scenes, directing videos for Ultravox, Elton John, Frankie Goes To Hollywood, INXS, Sting and Yes.
If you're a fan of 80s pop music (and you probably are if you're here) then you probably notice a lot of Trevor Horn-related acts in that list. It's pretty apparent that the pair became professional acquaintances with Horn during the early part of the decade, right when he was really starting to show his chops as a genre-hopping uber-producer and songwriter.
One of Horn's more critically-acclaimed and groundbreaking projects of the early-80s was The Art of Noise, an avant-garde, experimental pop group that made heavy use of sound collage and the then new art of digital sampling. Godley & Creme were obviously fans of The Art of Noise (Creme even ended up in the group near the end of the 90s), because they recruited both Horne and J.J. Jeczalik to help work on The History Mix Volume 1, an album that exists in some sort of nebulous state between a record of entirely new material; a greatest hits compilation; and a remix record.
Most versions of the album primarily consist of two long-form tracks, "Wet Rubber Soup" and "Expanding the Business/The 'Dare You' Man/Hum Drum Boys In Paris/Mountain Tension." Both tracks take elements from older Godley & Creme/10cc songs and sample them, restructuring the pop-rock tunes as uptempo dance tracks made for the club. From what I can tell, some samples are taken from the original songs, while others are samples of re-recorded versions. For instance "Wet Rubber Soup" uses some lyrics from 10cc's "Rubber Bullets," but they're redone as a rap…which is odd.
What makes The History Mix Volume 1 even weirder is that when it first came out in 1985, two versions were released that were barely the same record. No matter which version you got, it included "Wet Rubber Soup," which in itself contained a version of the hit single "Cry." But some versions contained a second, single mix of "Cry" followed by the "Expanding The Business…" collage, while others instead featured four older songs by the duo: "Light Me Up," "An Englishman In New York," "Save A Mountain For Me" and "Golden Boy."
Why? I have no idea. When the album was re-released on CD, most versions included all the tracks from both versions of the record. Today, all versions, CD, digital and vinyl, are out of print. Not only that, all of Godley & Creme's previous records are all lost in the archives and only available as imports, if at all. The only song from the Godley & Creme discography that remains in print is "Cry" which was included on the 10cc greatest hits album.
So yeah, it's a weird record with a weird history.
And one can only assume that Volume Two is TBA.
Godley & Creme – The History Mix Volume 1 (Both Versions)
Wet Rubber Soup
Expanding The Business/The 'Dare You' Man/Hum Drum Boys In Paris/Mountain Tension
Light Me Up
An Englishman In New York
Save A Mountain For Me
Golden Boy
Cry (Extended Version)
These are all the songs from both versions of the album, save for the single edit of "Cry" which you can get easily online. As a bonus, I'm also including the extended version of "Cry," which is basically the same version that's on the tail end of "Wet Rubber Soup," but with its own intro. I freaking love that song. For a downer of a tune it sure pumps me up. Most of these tracks were taken from my US version of the album, while the "Expanding The Business…" collage was taken from the UK version, and the extended cut of "Cry" was taken from a 12″ single.