I would have included some Was (Not Was) stuff but I have to re-record those and I'm really tired.
Wang Chung
Let's Go! (Shep's Mix)
Let's Go! (Dub Mix)
Before I go any further, I think we need to discuss this video for this song.
Go ahead and watch it. I'll wait.
That was something huh? A while ago I said that Pretty Poison's "Catch Me I'm Falling" was the most 80s shit ever. But I think we have a new champion. Lets' count the 80isms:
Truly horrible blue-screen effects
Needless stop-motion animation
Random people doing random things (Russian dancers! Sumo Wrestlers!)
A disembodied head
A woman whose face is 40% make-up
Knee-length sports jackets
A British dude wearing a bolo tie
I'm calling it. This video is the most 80s shit ever. But that's not even the most random thing about this track! Check out the cover to the 12″ single from where these remixes were culled.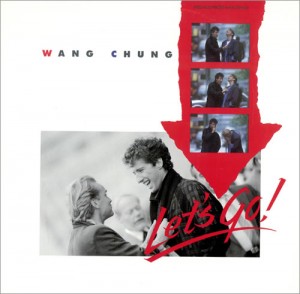 What the hell is going on there? Is he grabbing the other guy's scarf like they're about to make out (not that there's anything wrong with that, of course)? And what's up with those color photos? It's looks like they're telling each other dirty jokes while they're waiting for the bus.
The only logical conclusion I can come to in regards to this cover is that art designer for this sleeve was given stills from the video and he said "Um…no thanks, I got these b-roll pictures that the photographer was using to set up the focus. No, the guys didn't know they were being photographed, but I think it'll work just fine."
Oh yeah, the song! It's good Wang Chung. I'd rate it above "Dance Hall Days" but below "Everybody Have Fun Tonight." It'd definitely one of those silly upbeat 80s songs that should have been in a montage sequence to a B-grade Brat Pack film. It's a lot of fun.
The Waitresses
Bread And Butter (Remix)
Bread And Butter (Dub Mix)
Ohio New Wave representing motherfucker!
I am not one to debate the pop perfection of The Waitresses' sole hit, "I Know What Boys Like," it's an amazing tune, and really a one-of-a-kind hit when you think about it. That being said, I think this great track is even better. Patty Donahue's droll voice was great when she was singing about boys, but it was even better in songs like this, which have some not-so-subtle social commentary on life in the 80s. I don't think there was ever a singer as blatantly sarcastic as Patty, and I doubt that will ever will again in the overly auto-tuned pop landscape that we are subjected to today. Pity.