So far, the important albums of my generation haven't fared too well when given the "deluxe" treatment. Pearl Jam's Ten was re-issued in an amazing deluxe package, but the record itself was compressed to hell. Nirvana's Nevermind had it even worse (a fact I've documented here repeatedly) thanks to a shameful box set that might go down in history as one of the worst re-issues of all time.
Because of that, I was more than a little trepidatious when Billy Corgan announced that he would be remastering and re-releasing the entire Smashing Pumpkins catalog over the course of the next few years – starting with re-issues of Gish and Siamese Dream. I was even more apprehensive when I discovered that Bob Ludwig, the hypocrite behind the Nevermind remaster, would be behind the mixing desk for these new deluxe editions.
Thankfully, while neither album makes it through the loudness wars entirely unscathed, I'm happy (wow, I'm happy?!?) to report that the damage is rather minimal.
Allow me to explain.
Here's "Siva." The top is from the original CD release, the bottom from the remaster: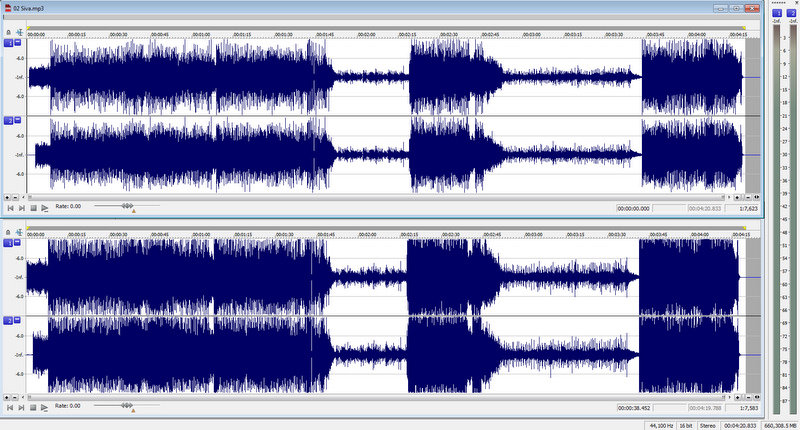 Original Dynamic Range: 11
Remaster Dynamic Range:  8
"Tristessa," another great track from Gish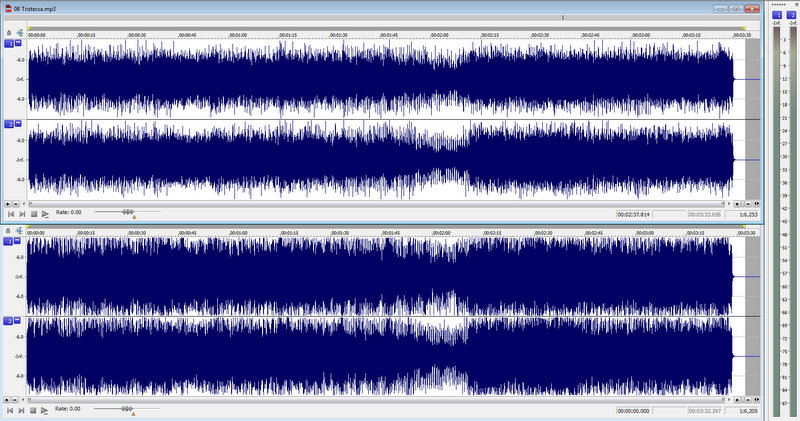 Original Dynamic Range: 10
Remaster Dynamic Range:  8
Onto Siamese Dream and "Cherub Rock."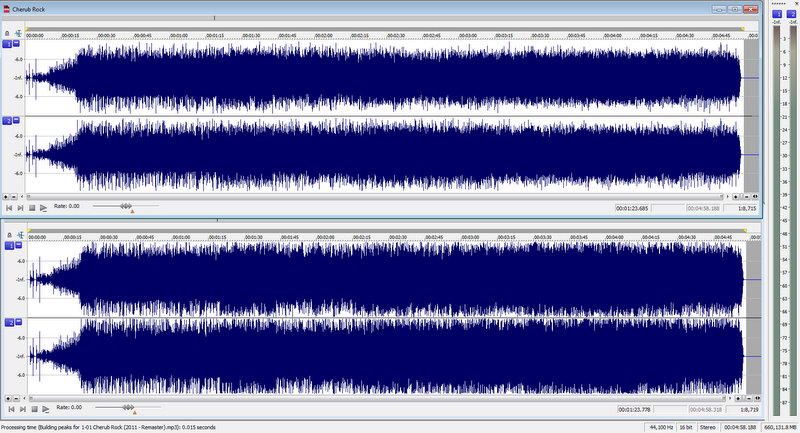 Original Dynamic Range: 10
Remaster Dynamic Range: 8
Let's do one more for good measure, my favorite Smashing Pumpkins track, "Silverfuck."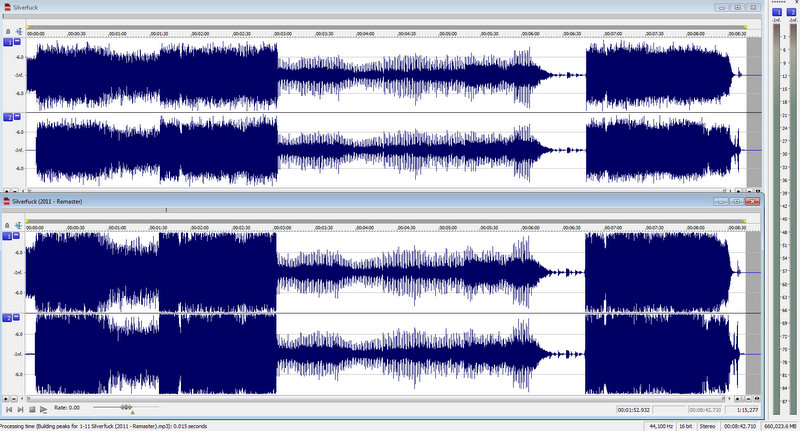 Original Dynamic Range: 11
Remaster Dynamic Range:  8
So yes, the new editions of both Gish and Siamese Dream suffer from decreased dynamic range. However, look at those dynamic range differences, they aren't that drastic, nothing like the hack job that Nevermind was subjected to. I suspect that if there is any difference in fidelity with these re-issues, most audio equipment (and ears) won't be able to pick it up. I sure as hell didn't.
Did these albums need to be louder? Probably not, but at least they didn't seem to be noticeably damaged in the process.
They also come with some pretty solid extras, which I'll talk more about in my next post.
Until then, let's celebrate this unlikely event with an awesome bootleg!
Smashing Pumpkins – Pluggletric (Click here to download the complete album)
Spaceboy
Dancing in the Moonlight
Rocket
Cherub Rock
Today
Drown
Disarm
Siva/Disarm
Geek USA
I Am One
Cherub Rock
Silverfuck
I Am One
I don't know why, but I associate the Smashing Pumpkins with the 90s more than any other band from that era.
One experience that was especially "90s" for me were my weekly trips to the local record store and scouring their collection of bizarre "import" CDs, many of which were really bootlegs.  I spent many a paycheck at that CD Warehouse, buying poorly labeled and typo-ridden bootlegs of bands like Garbage, Nirvana, Nine Inch Nails and, most often, the Smashing Pumpkins.
Of those boots, Pluggletric was one of my favorites. As its name suggests, half of it is acoustic and the other half electric. Of the acoustic stuff, "Today" and "Cherub Rock" are highlights, mostly because they lend themselves so well to the acoustic format – very mellow and chill. When it comes to the electric live tracks, the choice cuts include a blistering rendition of "Geek USA" and the epicly epic "Silverfuck," which is extended to 11 minutes in length here.
And if you think that's impressive, when I saw them live in 1997 they played a version of that song that was almost 30 minutes long. You may call that excessive, drawn-out and masturbatory, but I call it the point where the Smashing Pumpkins became my favorite band in the world until they disbanded three years later.