Tonight's post has a theme, see if you can guess what it is.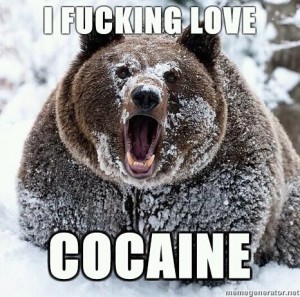 Renegade Soundwave
Cocaine Sex
Kray Twins
"Cocaine Sex"  is unapologetically pro-cocaine in such a way that its damn near quaint. At one point it even goes as far as to recommend that you "buy it" and "try it." Gotta love that reckless regard for social responsibility. If your knowledge of blow was limited entirely to that song then you'd probably want to go out and snort some snow right after listening to it. If you're looking for an anti-drug counterargument to the rampant "Just Say Yes!" philosophy of "Cocaine Sex" then just listen to "Kray Twins." Its the kind of pointless stupidity that would only sound good while high. Both these tracks are b-sides to Renegade Soundwave's amazing "Biting My Nails."
Grandmaster Flash & Melle Mel
White Lines (Don't Do It) (Freestryle Remix Edit)
Bonus Lines
Supposedly Melle Mel had a pile of blow under his mic while recording this track, and did hits between takes. Now THAT is a cognitive disconnect. But hey, cocaine is a hell of a drug.
Duran Duran
White Lines (Sound Factory Dub)
White Lines (Sound Factory Dub 2)
White Lines (Global Groove Mix)
White Lines (Freestyle Mix)
White Lines (Rif Raf Mix)
I already posted these remixes a couple years ago or so. But what can I say…